Hey everyone, as I'll be joining the Tief & Breit team from now on (bringing you some content from the UK), I figure I should tell you a bit about myself beforehand. My name is Scott and I'm a 21 year old Photography Student from Perth, Scotland. I'd quickly like to say thank you to Bastien for letting me contribute to the site. We have big plans for this year!
So if it's alright with you, I'd like to go ahead and explain a little bit more about my car. I got the car in January 2013 and it started off as a completely standard and fairly basic 323i Touring.
From then, parts such as the M Sport bumpers and sideskirts were sourced, genuine staggered Style 32's were snapped up and re-powdercoated and a replacement fender was bought to solve the rust issue. FK Automotive coilovers were purchased too. Then the car underwent a full respray in the original Titan Silver, with myself doing as much of the body work as I possibly could, in order to keep costs down.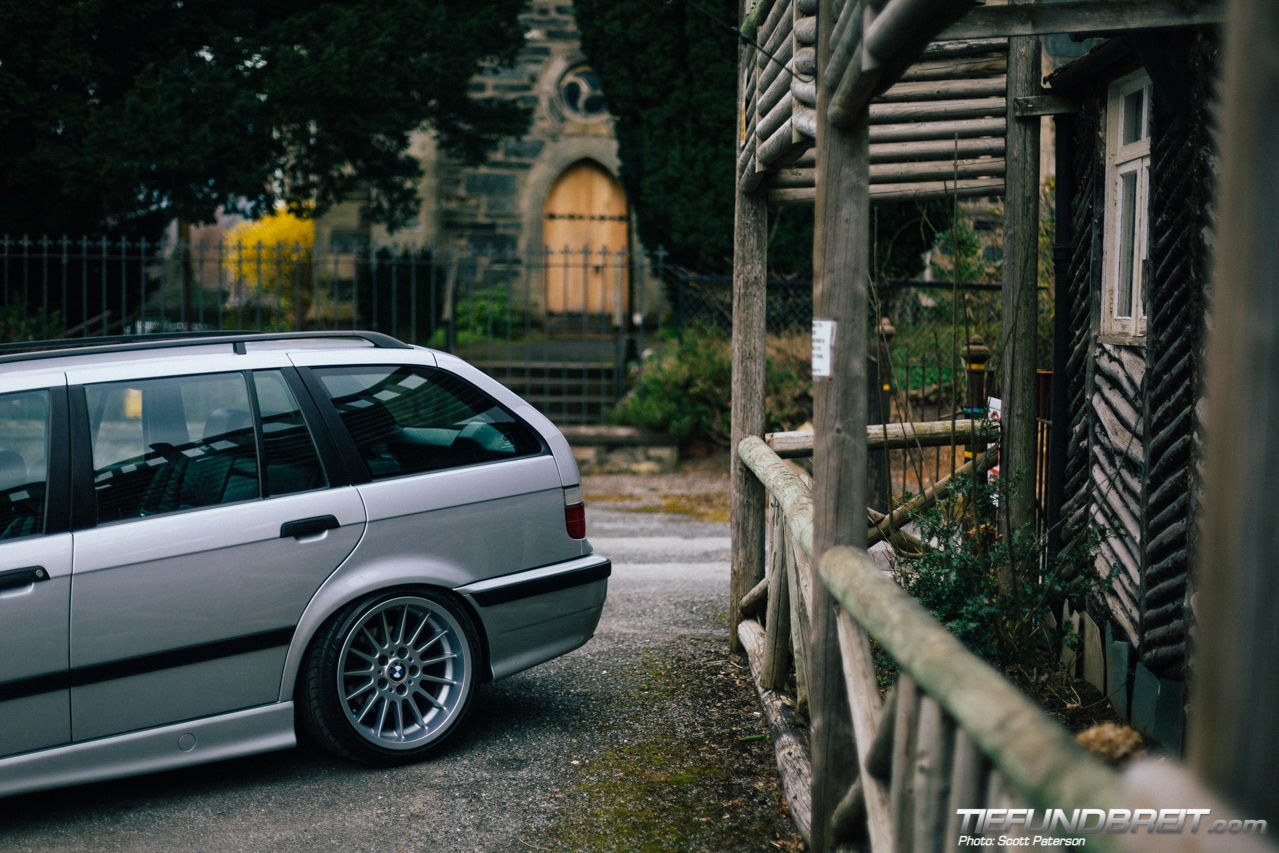 A few weeks later, the car rolled out the shop, rust free, with completely flat arches and a nice shiny new paint job. I was over the moon. The coilovers were quickly fitted as were new discs and pads and the Style 32's were mounted.
With the oustide being mostly "done" bar a few little touches, I turned my focus on to the interior of the car. A lucky trip to the scrapyard saw me walk away with an almost mint, heated leather interior and M Sport steering wheel. The interior has just recently been fitted and it is definitely a massive improvement over the standard cloth seats.
The interior is far from finished. I'm currently on the hunt for some OEM upgrades to essentially "Spec it up" and continue the OEM+ look. I'll be adding a discreet amp and subwoofer install too. I just hope it doesn't take me 4 years to find a set of BMW Individual door cards!
With this years show season quickly approaching, the car will be undergoing a few fitment tweaks and will be a little bit lower with the help of front camber plates. I'm also having the side skirts repainted as I didn't do a very good job of prepping them! Oops.
I hope you enjoyed looking at my photos and I didn't bore you too much with my ramblings (us Scottish are good at that). Stay tuned to the blog, as I'll be bringing you some more content from my corner of the world soon!
Also, if you want to check out my photography, you can visit my Facebook or check out my Instagram (@scottpatersonphoto)!