Imagine you're living in the early 90s. You're a successful businessman, rapidly climbing the career ladder. You're making good money. And now it's time to decide on your new car – you need something to spend that hard earned money on, after all. You are going to treat yourself with something nice. Something exclusive, but not too flashy. To keep it understated, bright colors are out. You want it to look sleek and elegant – there's only one real color choice, it has to be black. You settled on two different options – both equally refined, yet very different. And both hit the market in 1989. One is the sporty option, a Porsche 964 Carrera. Its smooth, flowing lines are a joy to behold and it's the right car to have some quality alone time on some backroads after a stressful day at work. The other option is more comfortable, a Mercedes Benz SL. Its nature as a convertible is more of a comfortable cruiser, ready to get you home in style. Which do you choose?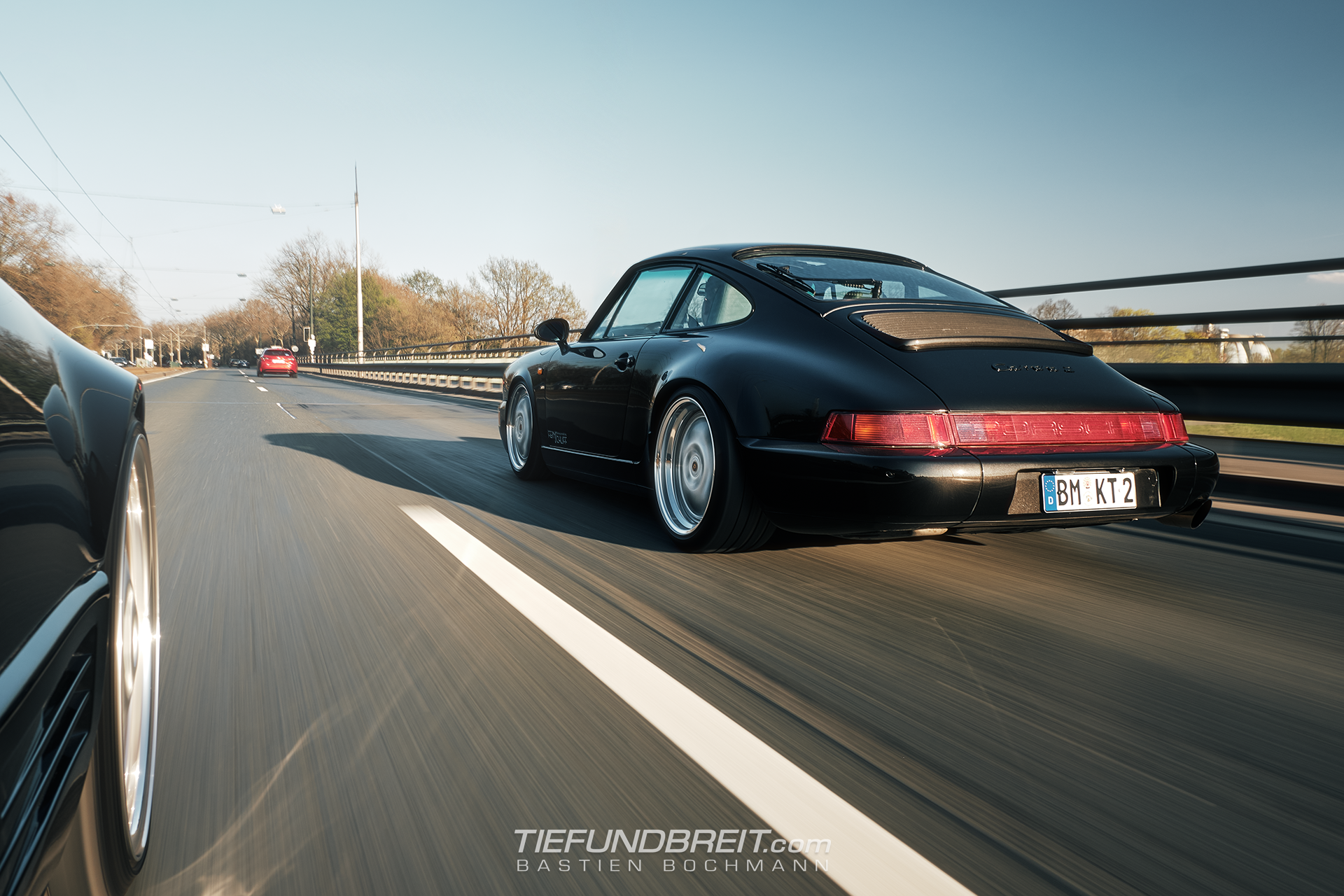 .
I know I would have a very hard time choosing between the two. For the two owners of these two cars pictured here it was an easier decision. The Porsche is in the hands of Kai Truschinski, owner of local detailing Shop 'Feinschliff' here in Bergheim (that's what the BM on the plate stands for, for our international readers). The Mercedes is owned by his good friend Marcel Bäumer, who is perhaps best known for his amazing W108 S-Class.
It was in late March that I met up with both of them for a shoot. I had recently rekindled my passion for photography and I really, really wanted to shoot some cool cars. I quickly called up Kai, whom I've known for 10 years now and told him 'Let's shoot the Porsche'. 'Sure, let me call up Marcel to come along in his SL' was his reply. I readily agreed.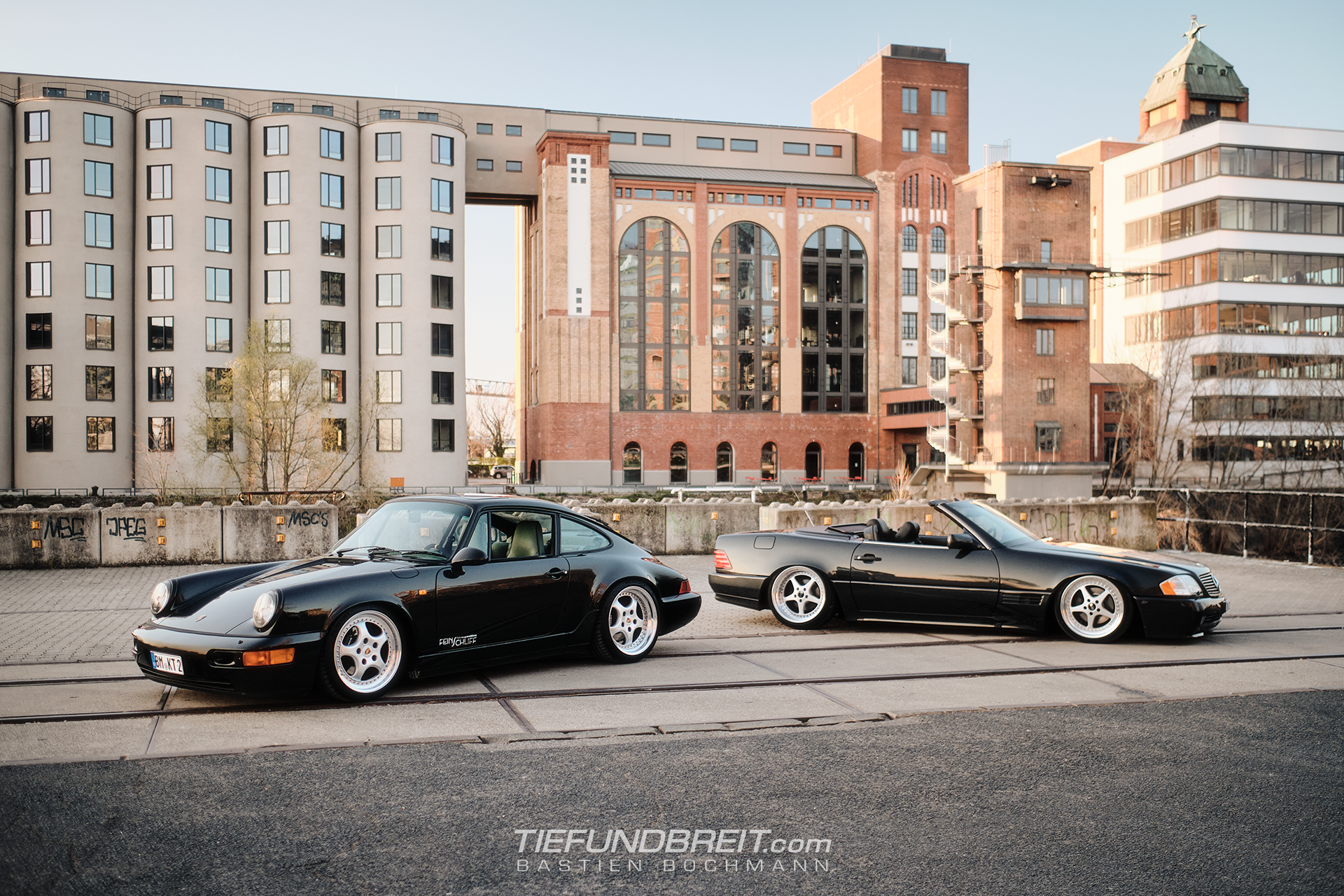 Kai has owned the Porsche for pretty much exactly a year now. Originally, he had not even planned on buying a Porsche, let alone a 911. Kai had recently sold some of his stable and so found himself with some cash that he wanted to spend on a sensible daily – a BMW 535d E61. A spacious diesel wagon with decent power that could be easily made to look rather cool with a drop and some wheels. The sensible choice. He hadn't found the right one yet when a friend of his came over for a coffee. 'I know of a car that we could potentially make some money with if we flipped it. It's a decent car and I've been maintaining it for the guy who owns it.' his friend told him. 'It's a Porsche 964.' Kai was loosely interested, yet still a bit skeptical as he figured a 911 was out of his reach. When he heard the price, Kai nearly spat out his coffee and basically bought the car on the spot, unseen. Not to flip but rather for himself. Let's just say that it was well below market-value and Kai would have been rather foolish not to buy it. A week later, he had the car delivered to his shop and 'the moment it rolled off the trailer I fell in love', he told me.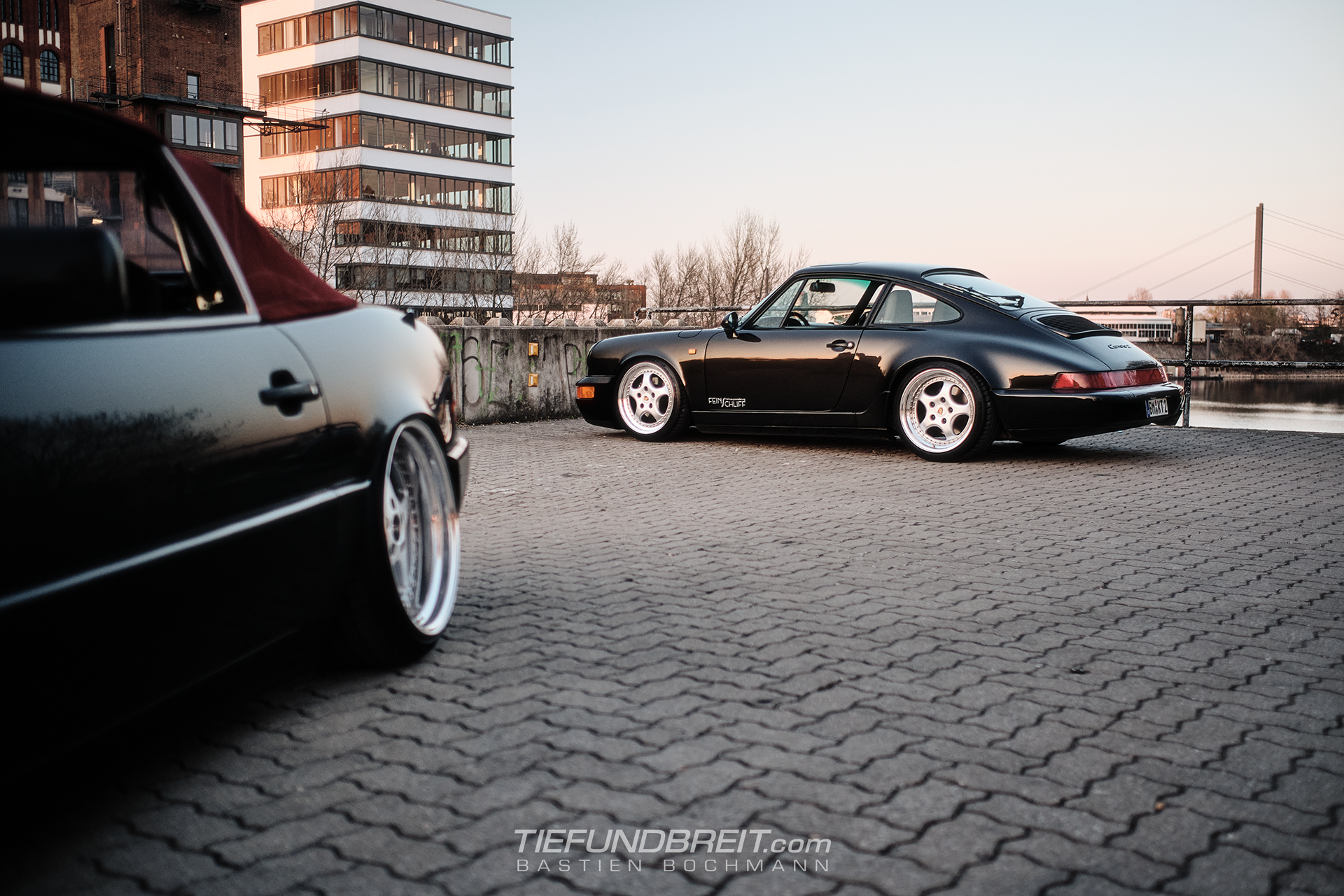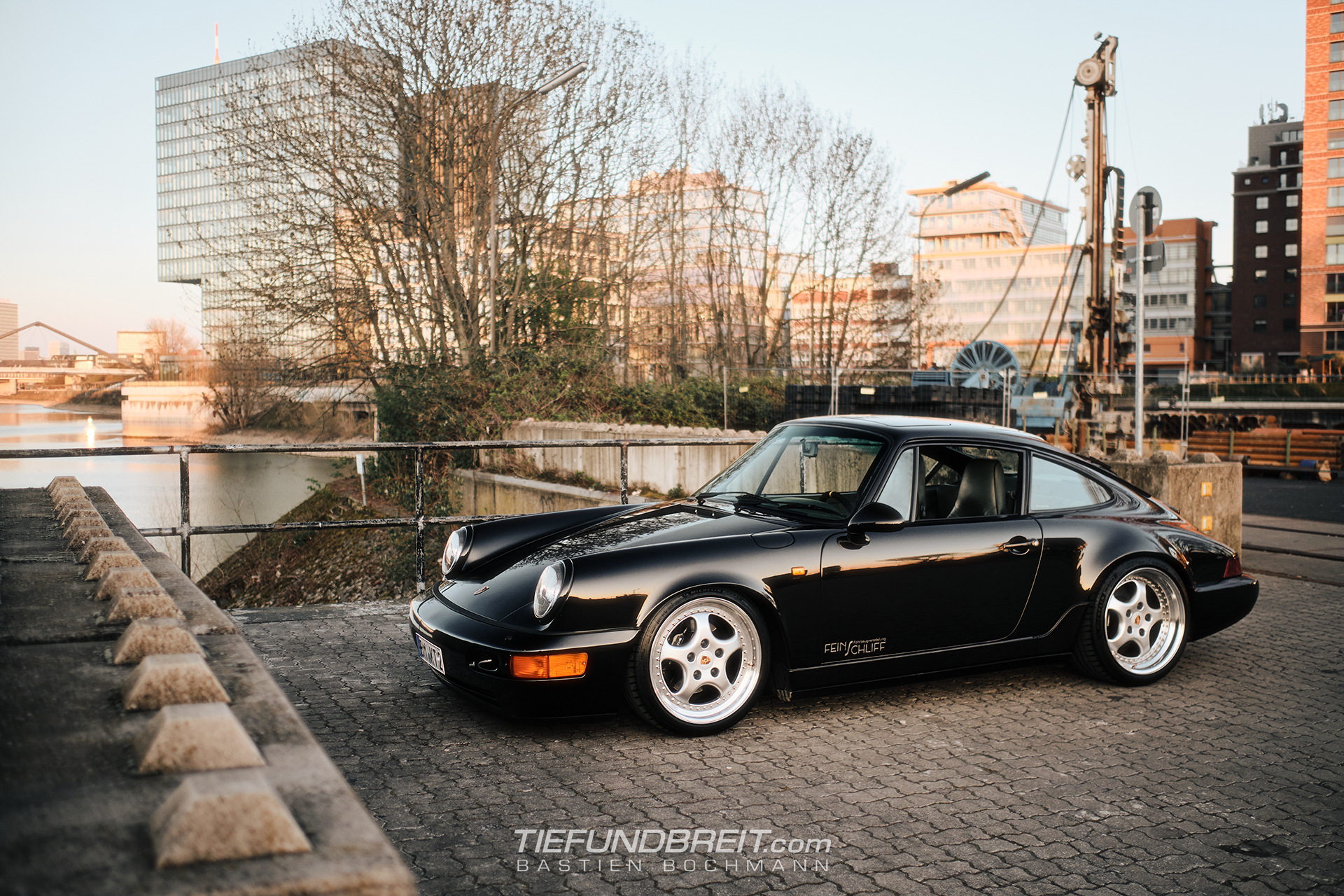 It's a '93 964 Carrera 2, so it's packing a 250hp 3.6l flat six and it's finished in an amazing color combination. Black on the outside, the interior is completely trimmed in Sherwood Green – seats, dash, carpet and all. I can't deny that I'm very envious of this color combination, as I've always dreamt of a black car with a green interior. When he got the car it was in decent condition and completely stock. Of course, being a detailer his first task was to get the paint as smooth as glass and he ceramic coated the paint as well. Seeing the reflections just flow over the insanely shiny paint of the 911 is mesmerizing.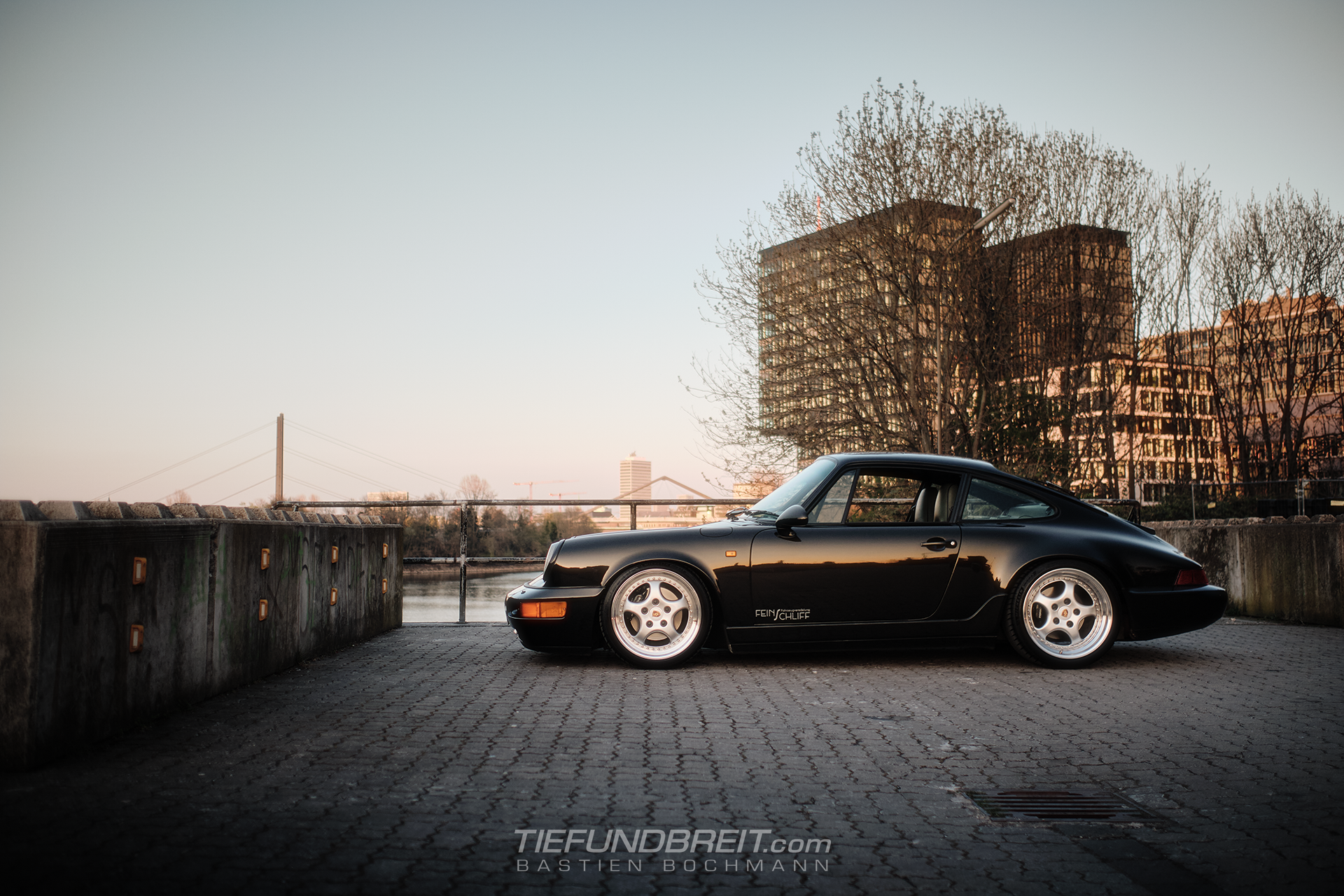 .
It didn't take long until he started to modify the car more to his liking. He fit Carrera RS air intakes to the front bumper and painted the headlight buckets black. The exhaust got a slight treatment with a Porsche Cup pipe and a AP Cardesign 105mm tip. The interior was kept stock and just fitted with a dished Momo steering wheel. The most obvious change is of course the healthy drop over the stock ride height – this was achieved by fitting adjustable KW V3 coilovers. The wheels are the next obvious choice – the 16 inch stock wheels were replaced by a set of RH P-Rad split wheels in 8.5 and 10 x 18, wrapped in 225/40 and 255/35 rubber respectively. For cosmetic reasons he also replaced the faded old rear lights with brand new units directly from Porsche.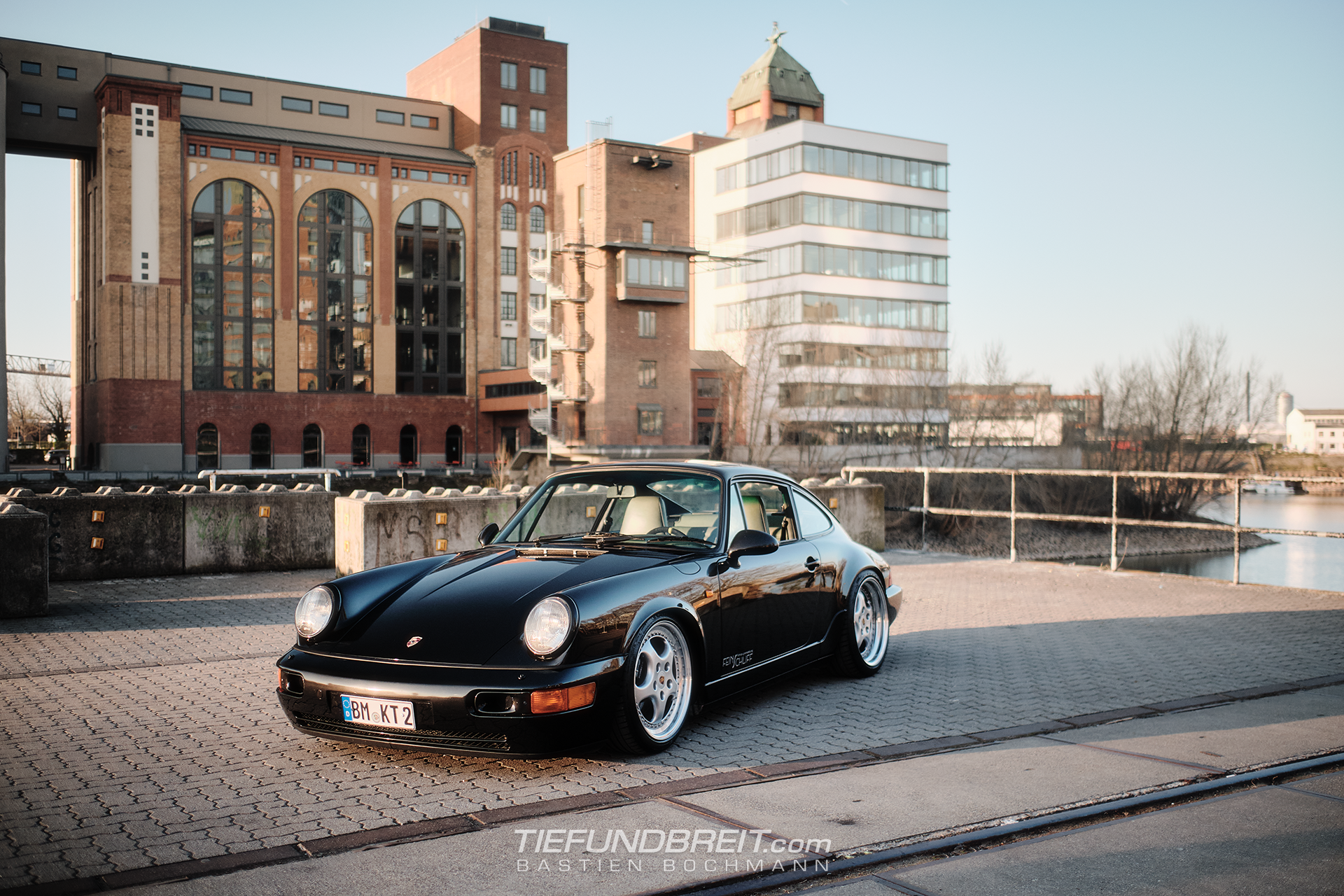 .
The story of Marcel's SL starts out a bit differently – He's been a Benz guy for quite a while and his current drug of choice are OG 90s Mercedes with interesting specs. Before the SL he had already owned a W124 Coupe, also in black. Switching to an SL was the next logical step, as he puts it. While scanning the local for sale ads as us car guys tend to do he stumbled upon this 1990 R129 SL300. A very early R129 SL yet it had a lot of options already like A/C, cruise control, heated leather seats with memory and more. All that is not too special for an SL. What really decided it was the roof – when Marcel saw the blood red canvas top over the black paint, he just HAD to own this car. Something I can understand very well, as it's just an epic combination.
.
When he got it, the car had some cosmetic issues that he fixed by constantly fitting some better parts as he found them – mostly interior panels and such. All the while he wanted to keep the car true to it's 1990 self, though. He restrained himself not to go overboard with modifications apart from what was needed to make the car stand out.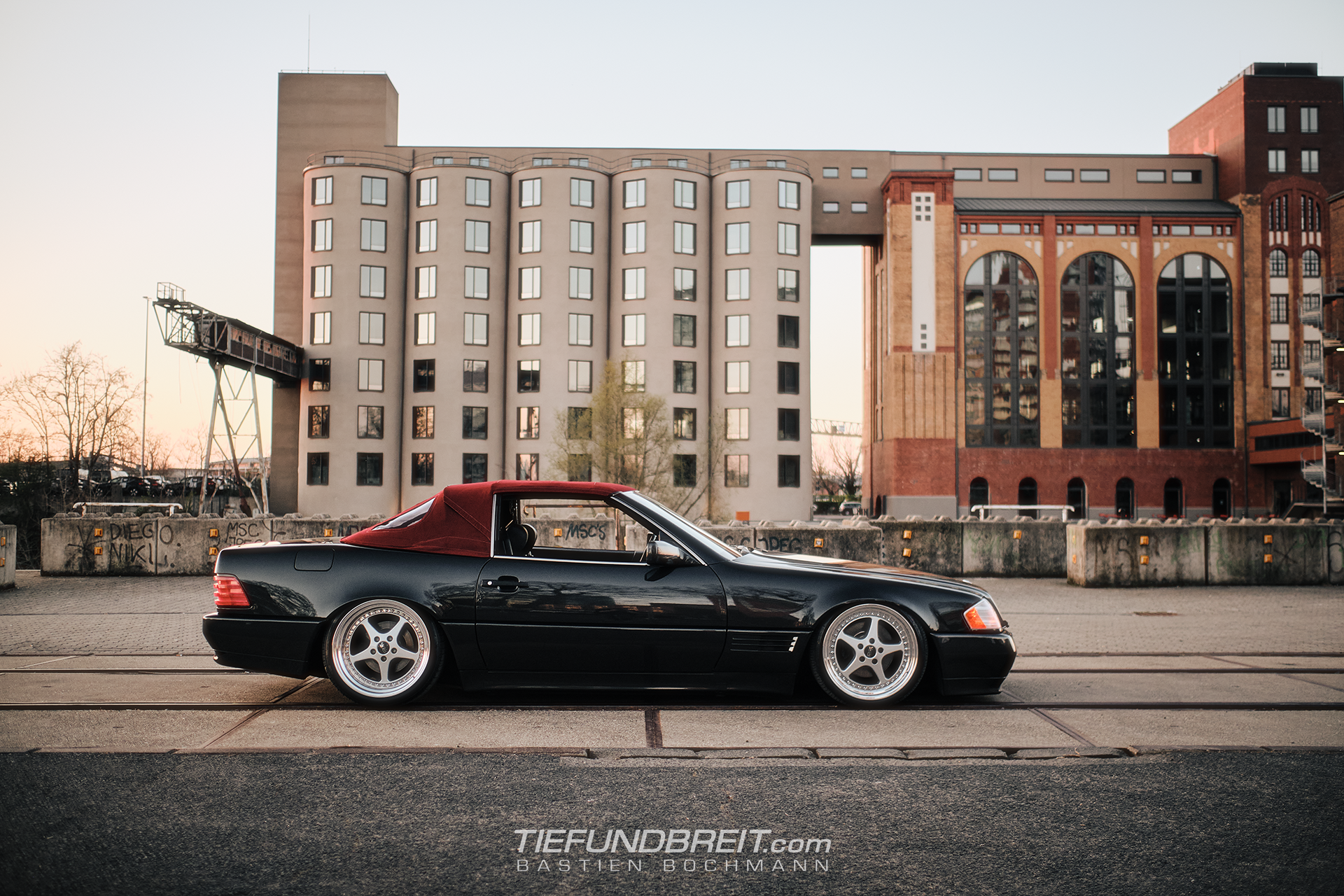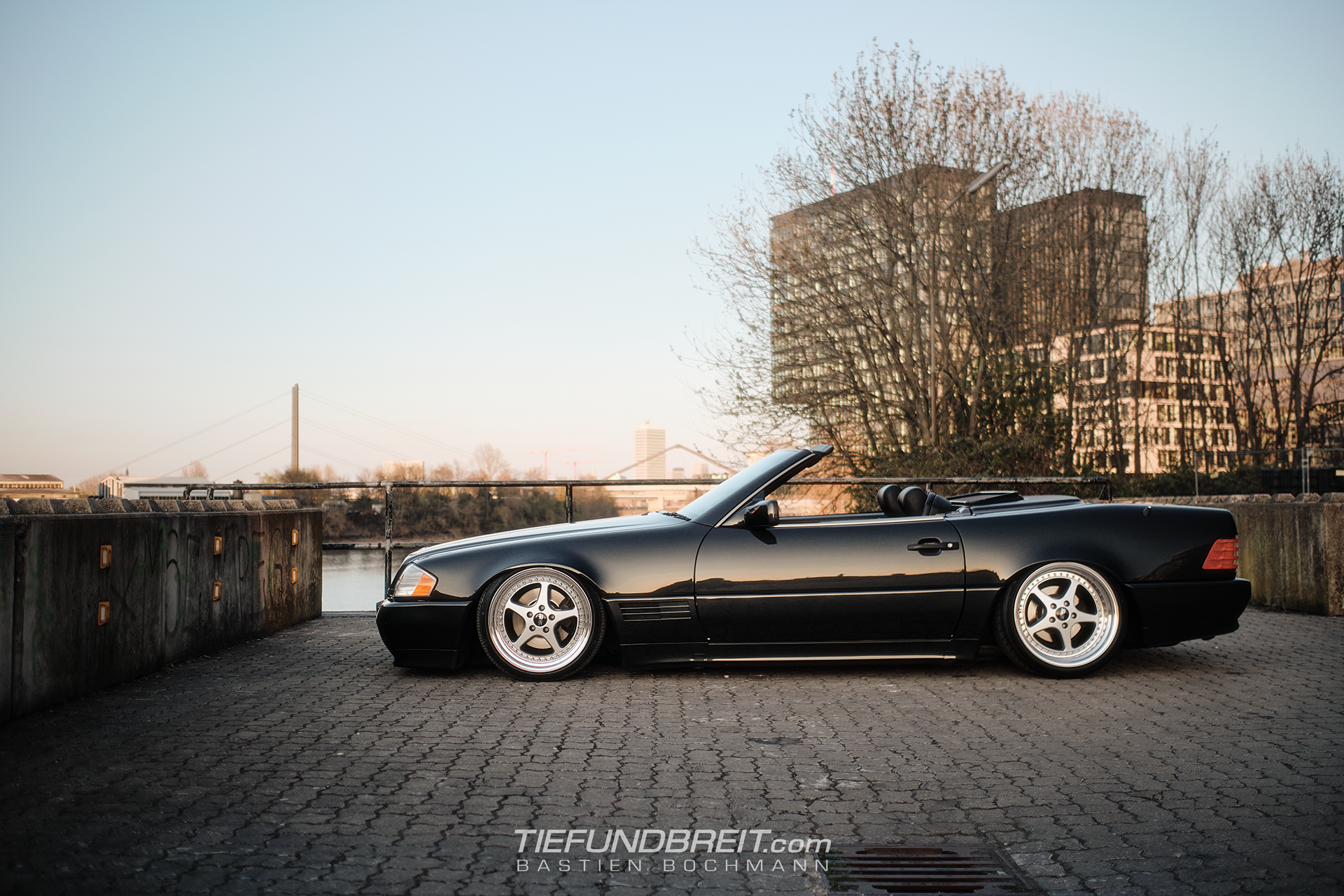 .
Marcel likes his cars low – very low. This was achieved by fitting a TA Technix air ride accompanied by a Airlift 3P air management system. The whole air setup was mounted completely hidden from view in the spare wheel well, so the trunk is still fully usable. Having ridden in the car, I can attest to it being very, very comfortable.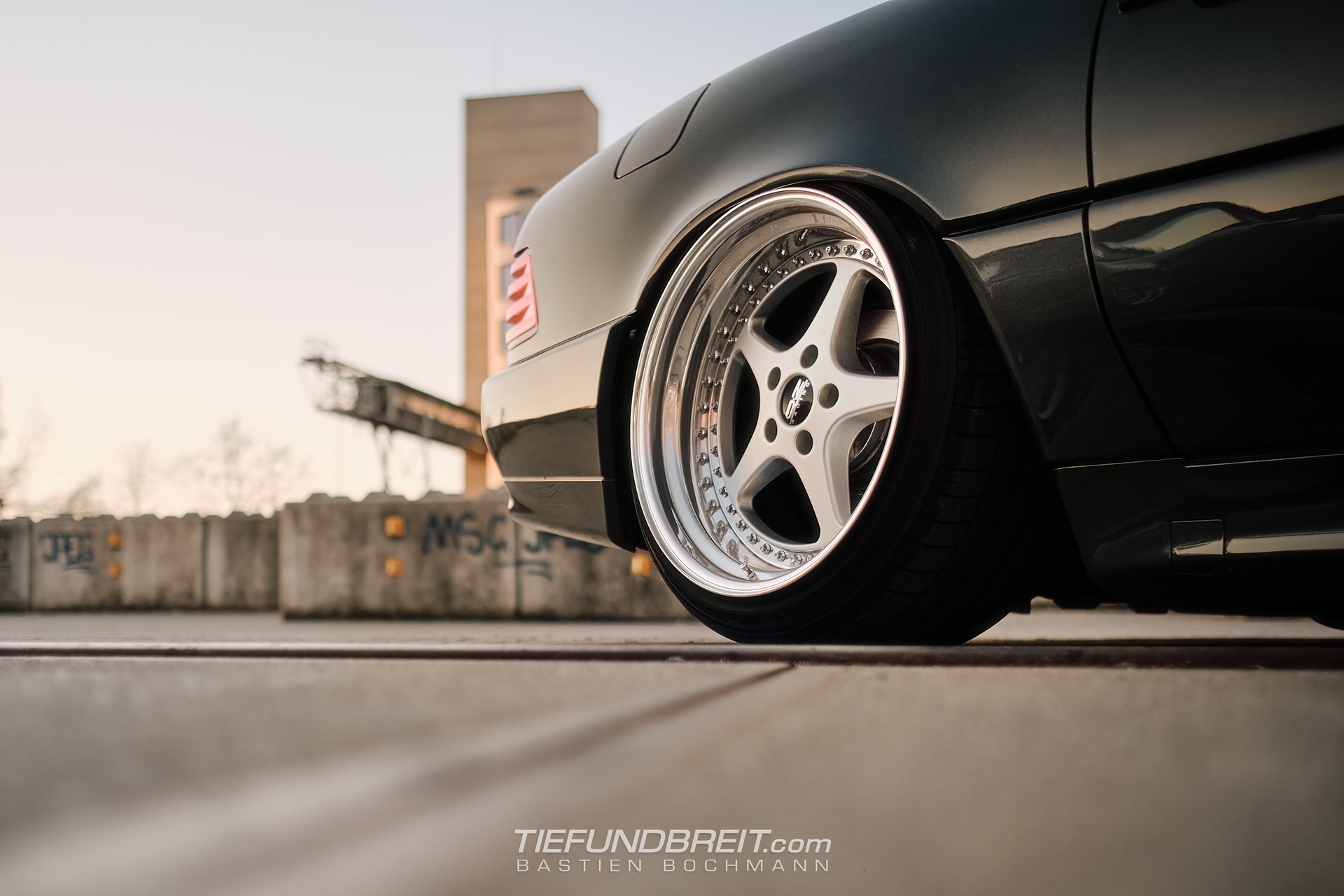 .
The wheels are what makes or breaks a car – and Marcel proved that he's quite handy with picking out wheels with a set of three-piece OZ Mito 1 that he rebuilt. They originally were 8.5 and 10 x 18 but he rebuilt the rears to 11.5 x 18. Tire dimensions are 205/40 and 255/35. Since the shooting he's fiddled some more with the wheels and has widened the fronts to an even more impressive 9.5 x 18 to get rid of the spacers he was running before.
Marcel is currently in the process of getting the car ready to be displayed at this year's Essen Motor Show and has now also fitted some new headlight glass, some wood paneling in the interior got replaced with better ones and he's also swapped the seats out for ones out of a later SL R129. If you get the chance, go check out his car at the EMS – it's worth it.
So, let's go back to my question from the beginning of this post. Which one would you choose? I for one… pick both.