It was last September that I met Josh. I was on a road trip that took me through England, Scotland and Ireland.
Josh was introduced to me by my friend Scott (whom you might remember from this post) when I stayed with Scott for a few days up in Perth, Scotland. As soon as I laid eyes upon Josh's Jetta, I just knew I had to shoot it.
A few days later we met up in the evening and went cruising through the town of Perth. The Jetta somehow looks right at home here – it's the perfect cruiser to stroll through the city at night with the windows down, the red paint gleaming in the city lights.
Probably the first thing you'll notice about the Jetta is how it's fenders are hugging a set of polished Zender Turbo 2 in 16-inch sizing.
These are very period-correct wheels and they match the Jetta like they were made for each other. Josh managed to source these from Croatia after a lengthy search.
In Josh's own words 'I got the Jetta 3 years ago, all original apart from the suspension. I stripped it and removed the door and arch trims for a fresh lick of paint and after that replaced the trims with the stone guards that came on even older Mk2s.'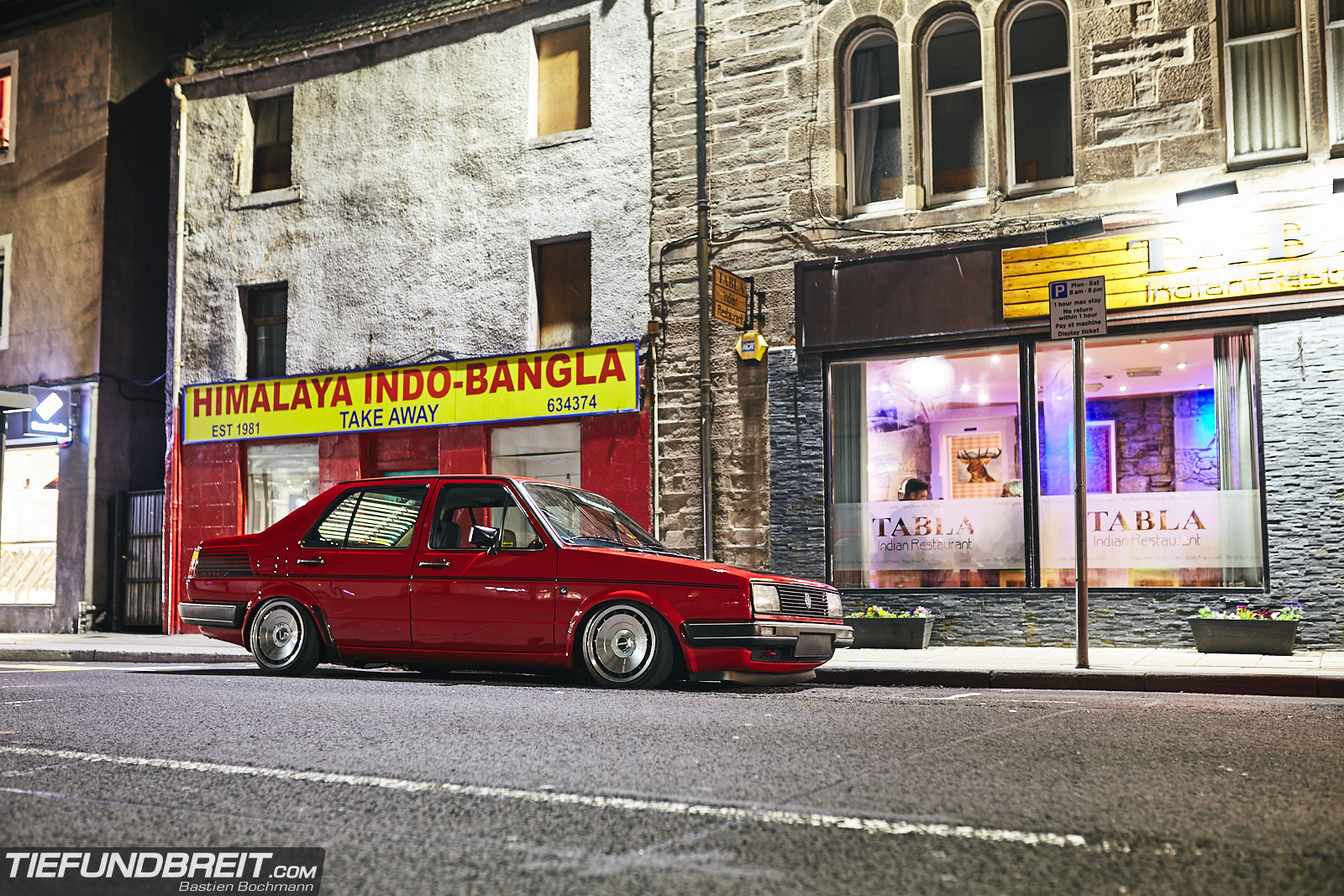 Josh's car is a relatively early Mk2 – from 1986, just three years into the 1983 – 1991 production run. One thing that actually proves it's an early car is the wiper panel.
For the first few years, Volkswagen took left-hand drive shells, shipped them over to the UK and converted them to be right-hand drive. They did not bother changing the wiper panel entirely, so an early model UK car will actually have three wiper holes, one which is just plugged up.
Looking through the rear window you'll notice a window blind, which Josh found all the way over in Mexico and had it shipped over. The windows are surrounded by the OEM chrome window trim.
This matches the bumpers which are early model small bumpers with chrome trim.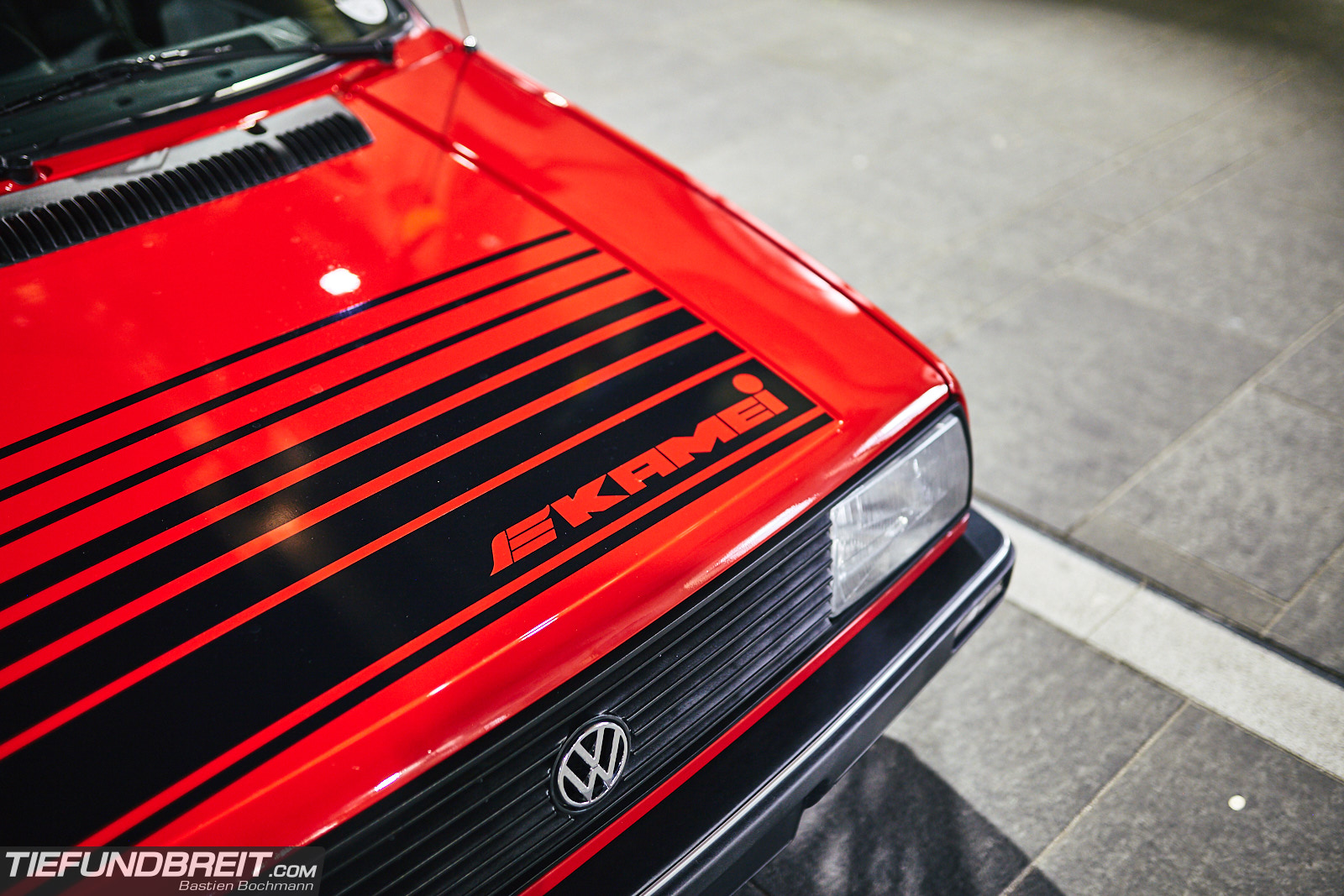 Josh fitted a Metalplast bonnet scoop which adds a nice touch of retro, sitting just above the Kamei bonnet decal. A fitting Jetta decal has been added to the car's side.
One of the quirkier features of the car is the exhaust – it's a side turned tailpipe, finished in polished stainless steel.
The interior has been fitted with a Porsche glovebox lock and an OMP steering wheel. The passenger side door has been fitted with a wing mirror blank to keep things cleaner.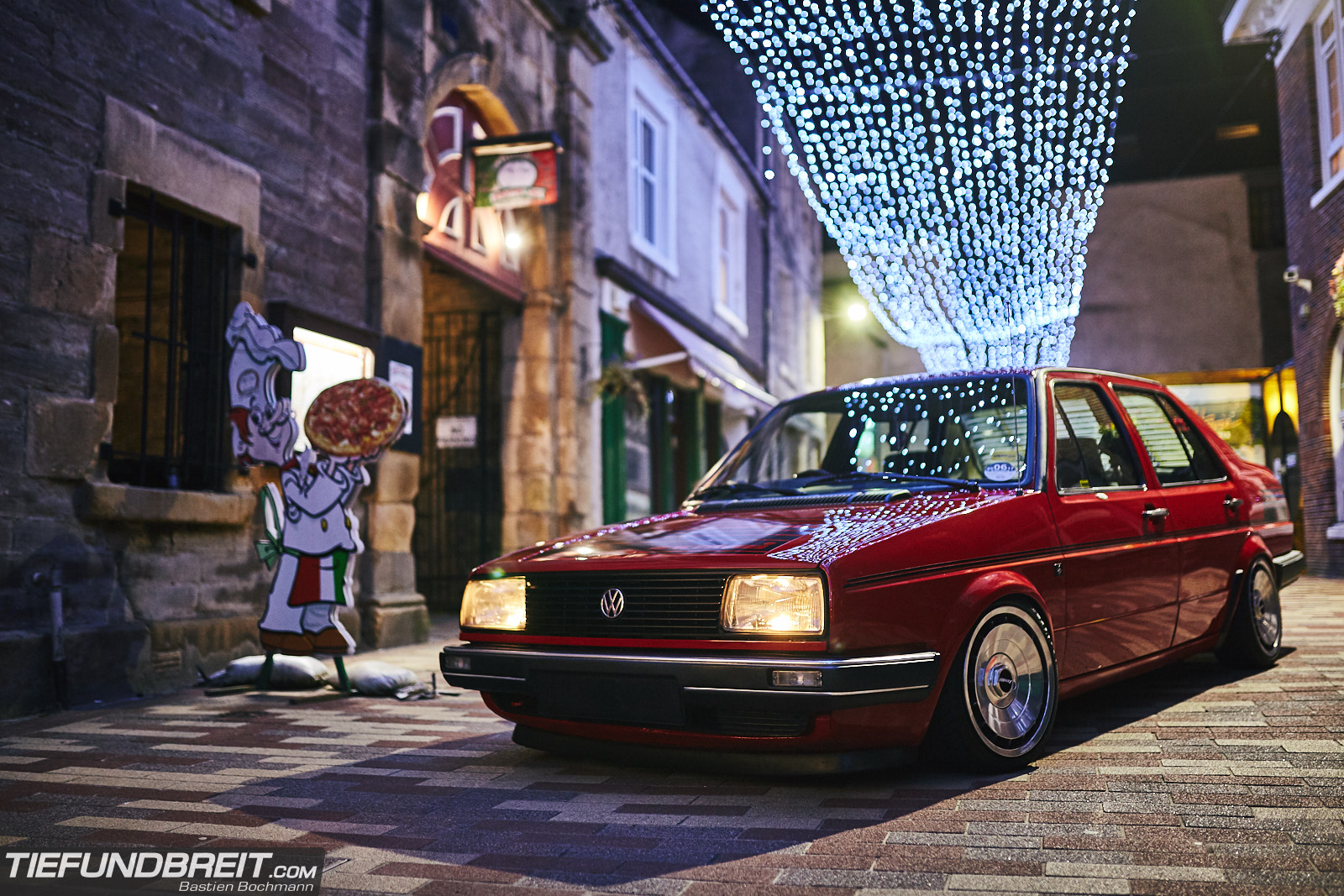 All in all, Josh's Jetta is a wonderful example of a well-sorted Mk2. The car is not over-the-top, it's subtly executed yet boasts an incredible amount of style and period-correctness.
Josh is always thinking of new ideas for the car and I for one can't wait to see where the journey with his Jetta will take him.
Bastien Bochmann
IG: @bastienbochmann