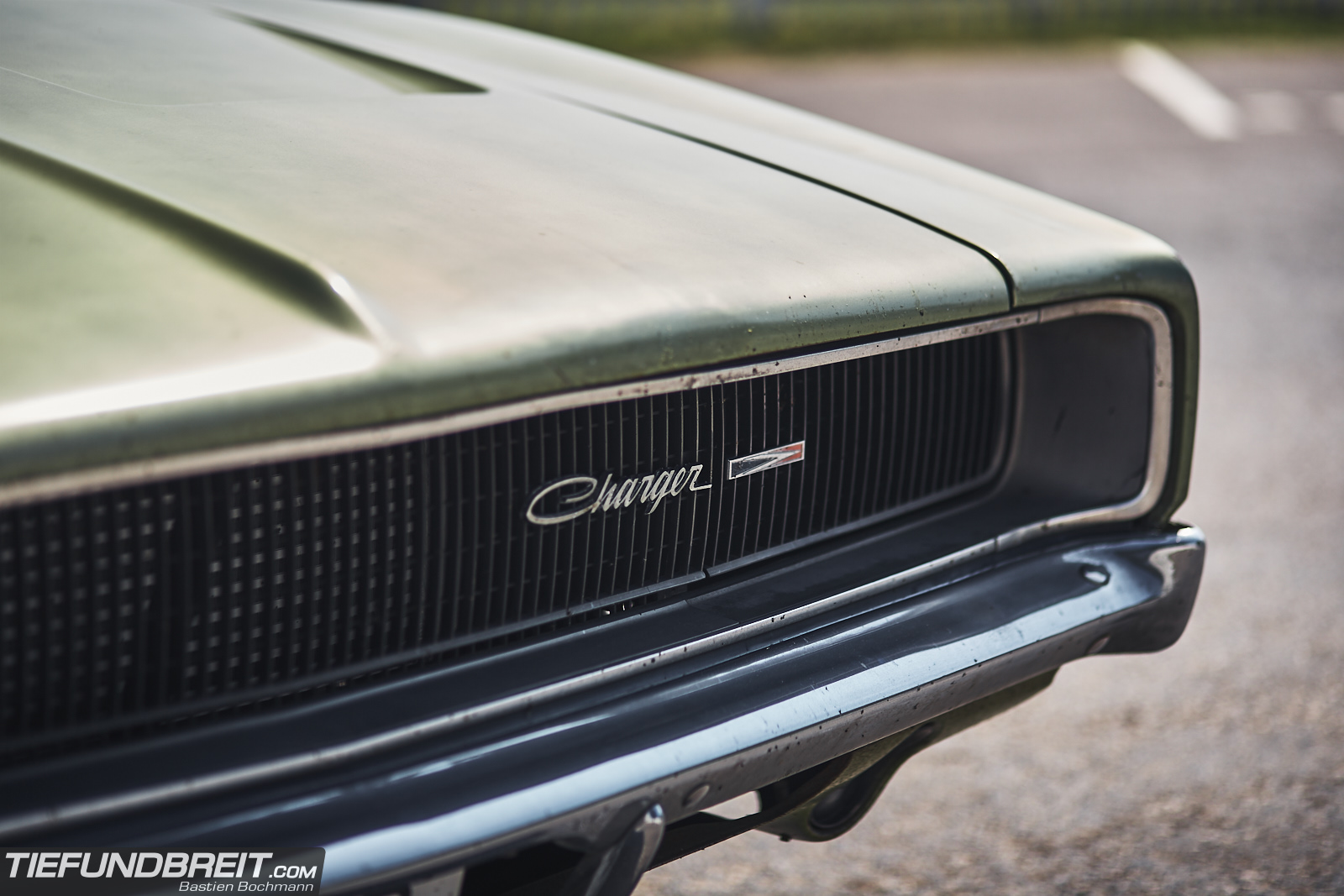 When it comes to muscle cars the Dodge Charger is one of the cars that immediately springs to mind. Especially the 1968 model with it's iconic shape, made famous through countless appearances in Hollywood movies. And of course, a Charger comes with a healthy V8 rumble. Who doesn't love that?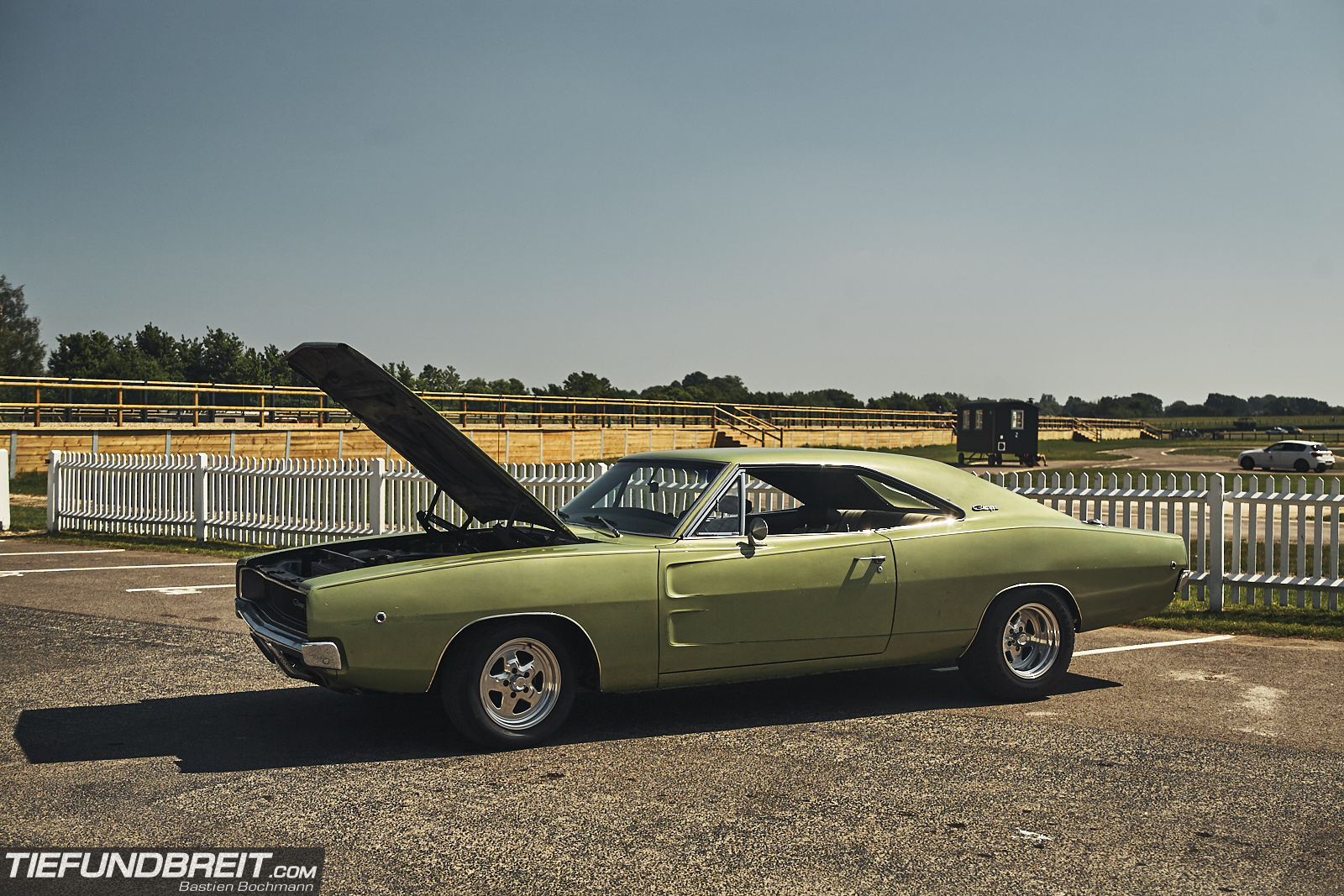 Which is exactly why I did a double take when I walked past this Charger at the Retro Rides Weekender. I had quickly dismissed it as a relatively stock charger from afar until I spotted what is hidden underneath the hood. I had to stop and stare for a moment because it was so entirely unexpected. This Charger is missing two cylinders. And it's running on the 'wrong' fuel, as well! Definitely not one for the purists out there…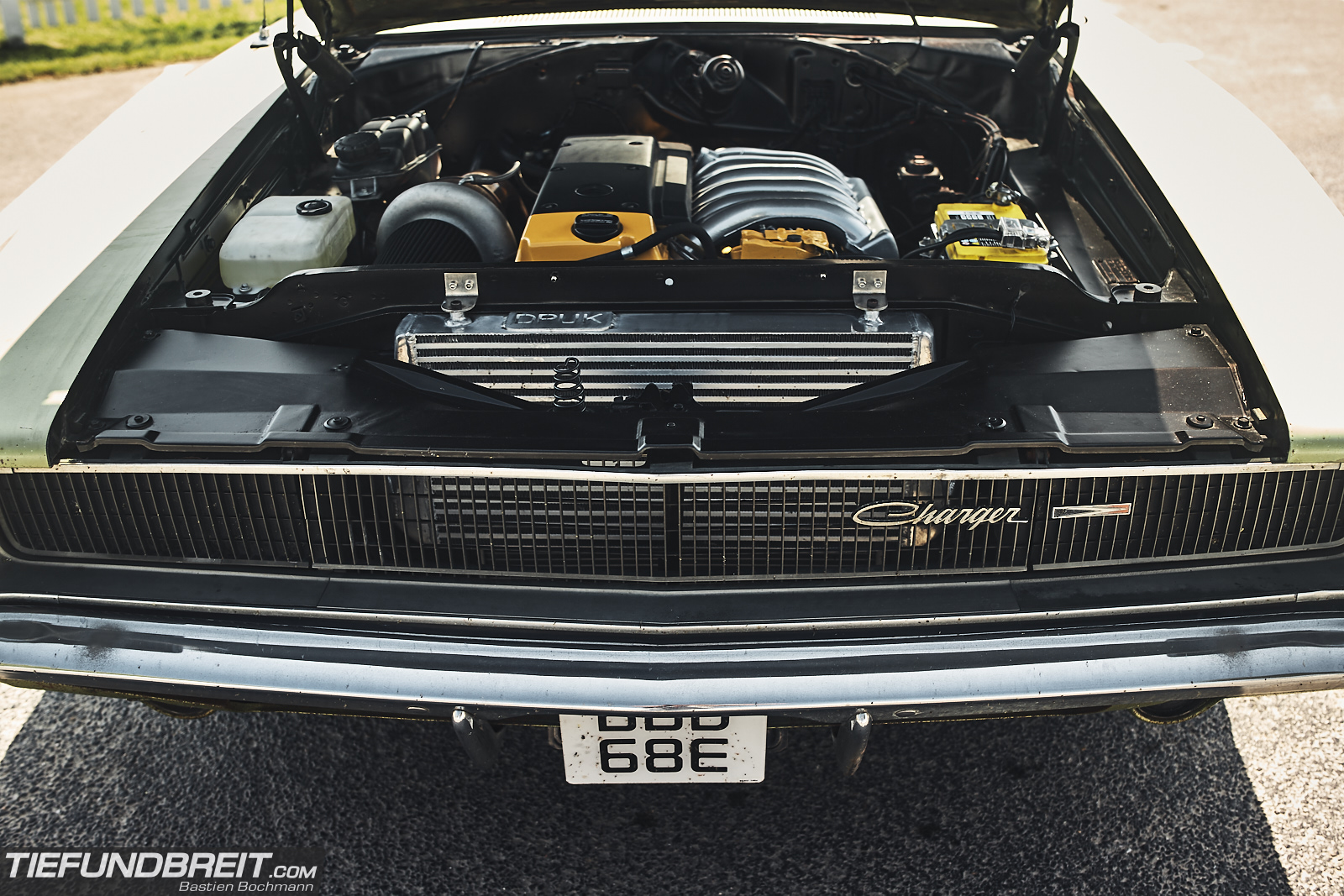 Because the V8 got replaced by a Mercedes OM606 – a 3.0 liter 6-cylinder turbo diesel engine. Diesels are usually not my cup of tea, but I knew then and there that I just had to shoot this car! A quick look around and I had quickly located the owner and we set up a shoot for later that day, after the show had largely wrapped up.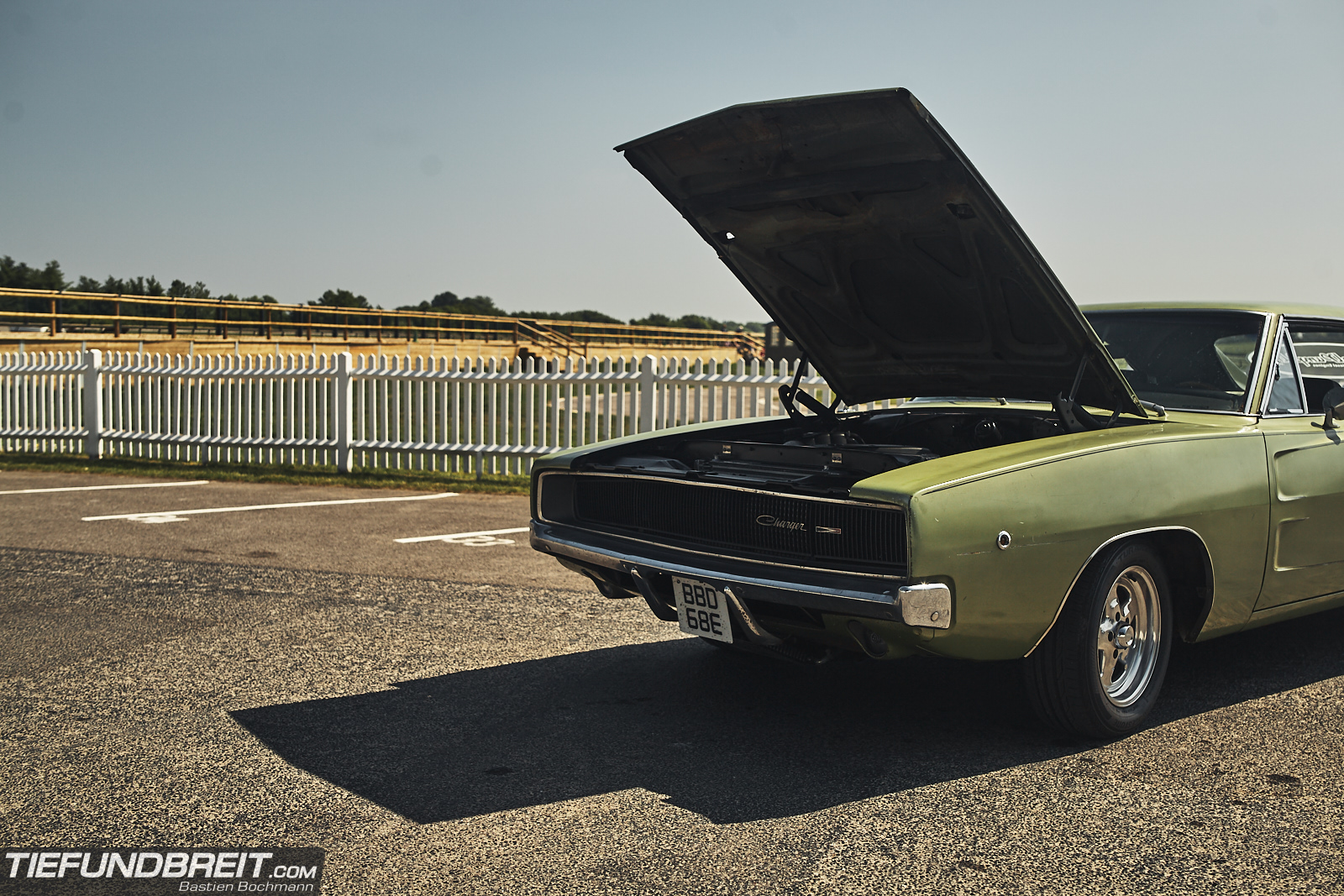 In chatting with the owner, Luke Dale, I quickly found out the back story of this car. Luke owns a company – DieselPumpUK, a diesel tuning company especially focused on the Mercedes Turbodiesels. That explains the choice of engine – however I was still unclear of how the engine and the car became one functioning unit.
The car itself is a 1968 base model Charger that was originally fitted with a 318cui V8 mated to an automatic transmission. Luke had owned the car for a few years and kept slowly restoring and renovating it. He had mostly spent his attention on the interior so far and had everything re-trimmed but not yet installed. All the while he originally had the plan of installing a 440cui Chrysler V8 that he was building in his garage at home – custom pistons, a high performance transmission… the works.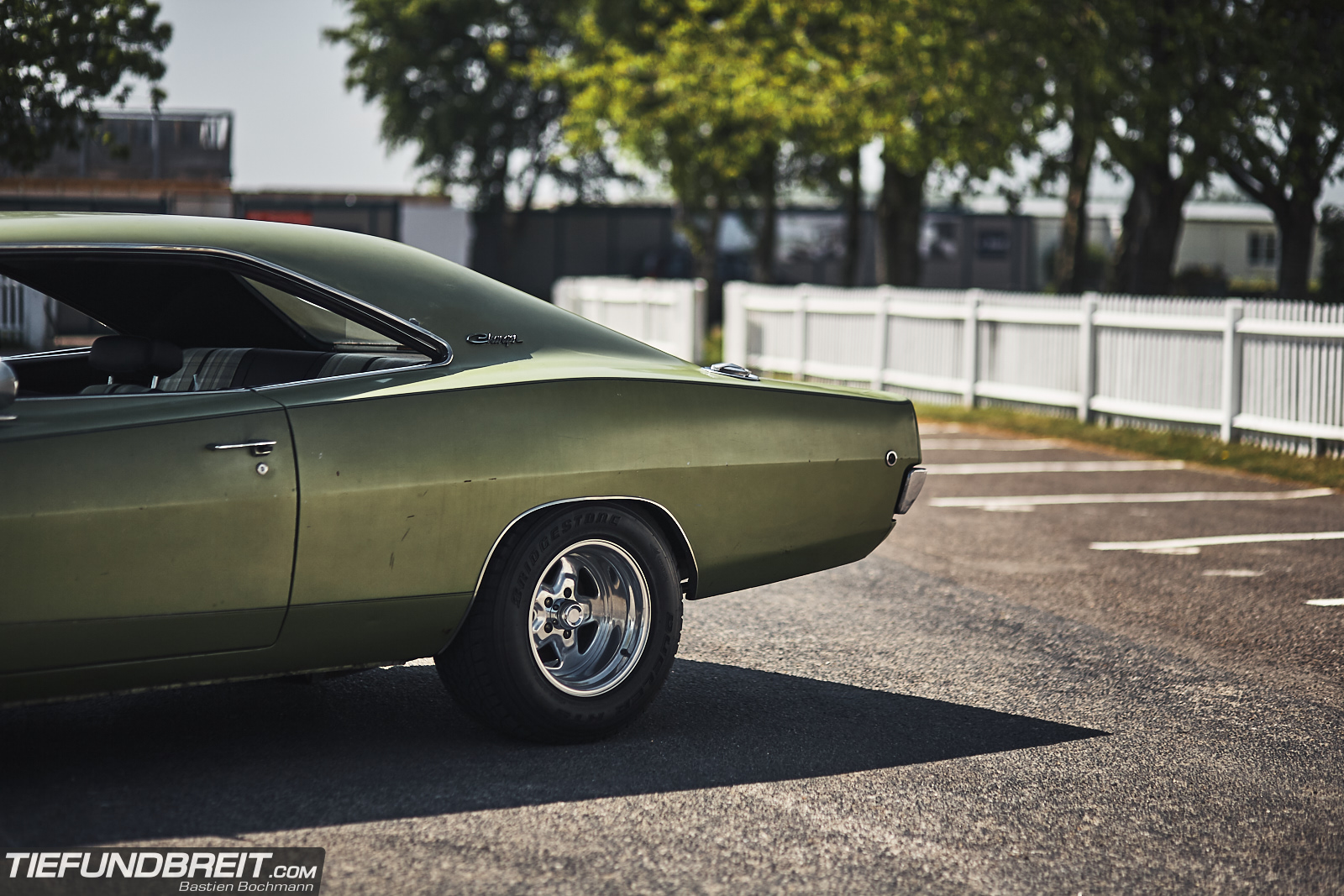 However, when he found out that the guys from Roadkill would be coming to the UK and hosting a meet there, he quickly decided that the Charger had to be there. And it had to stand out from the crowd.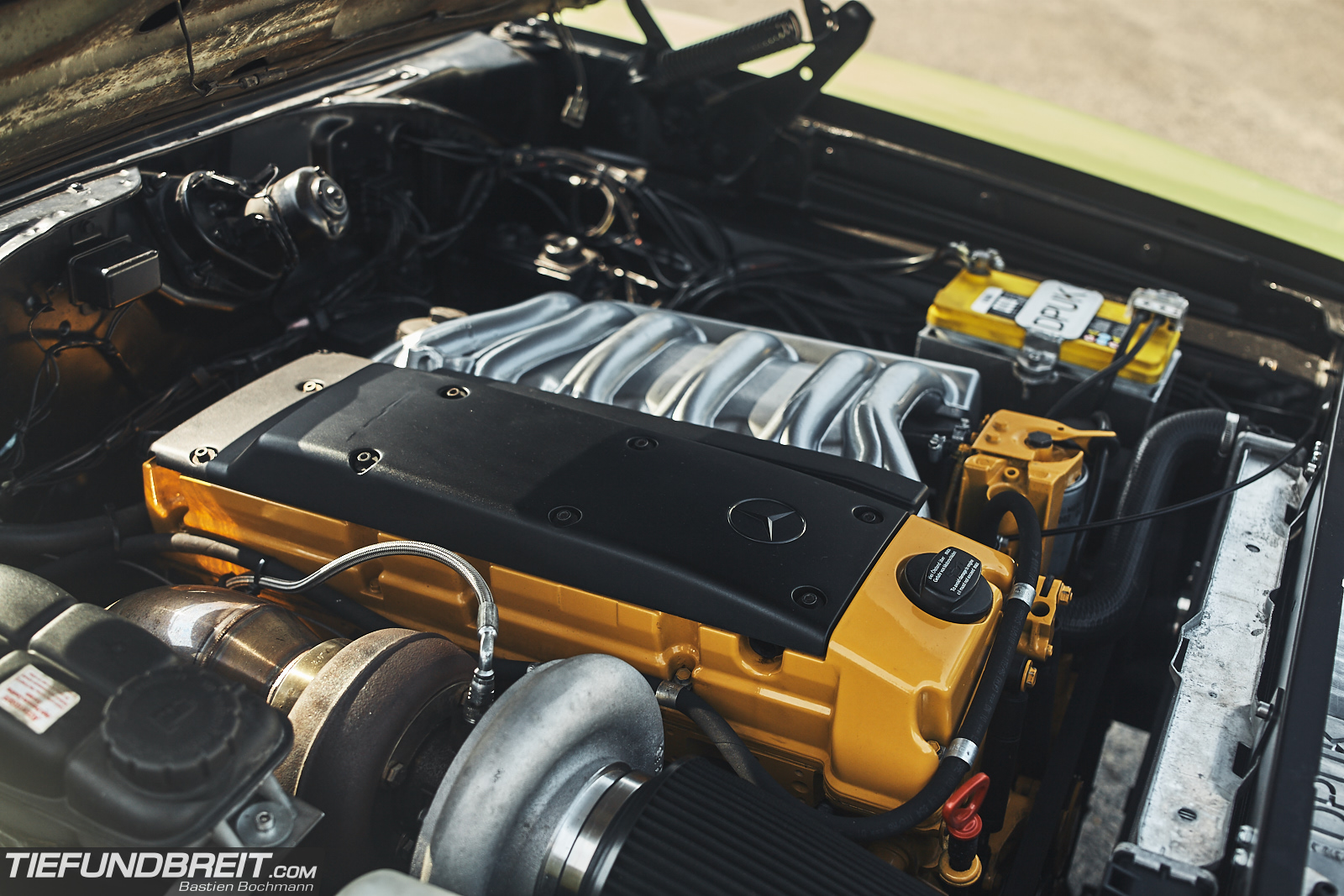 With only 10 days until the meet, he and his team at DieselPumpUK quickly got to work. The old 318 V8 quickly vacated the engine bay and a replacement was already knocking at the door. The new engine is 30 years younger than the car, being sourced from a '98 Mercedes E300TD. It got an overhaul, some fresh CAT yellow paint and some bolt-on modifications, quite a few of which DieselPumpUK fabricates in house.
I think it will be better to just leave you with the list of engine mods Luke provided me:
• OM606 engine taken from a 1998 mercedes e300td
• Painted the engine CAT yellow
• Engine given a refresh of gaskets etc but NO internal modifications
• DPUK quickspooler valved manifold and s300 billet Turbo
• DPUK billet 8mm injector Pump 6200rpm Govner
• Stock injectors tested
• Block cooling modification
• Gearstar GM4l80e PRO series Auto/manual transmission rated to 1200bhp
• Yank racing 3400rpm stall converter
• B&M billet shifter
• DPUK billet transmission adapter
• 4 inch side exit exhaust
• DPUK intercooler build
• Custom battery and mounting
• Bosch 044 lift pump from stock fuel tank
• Eaton Limited slip differential
• Engine bay resprayed in 2k satin black
• Custom guage install in remote box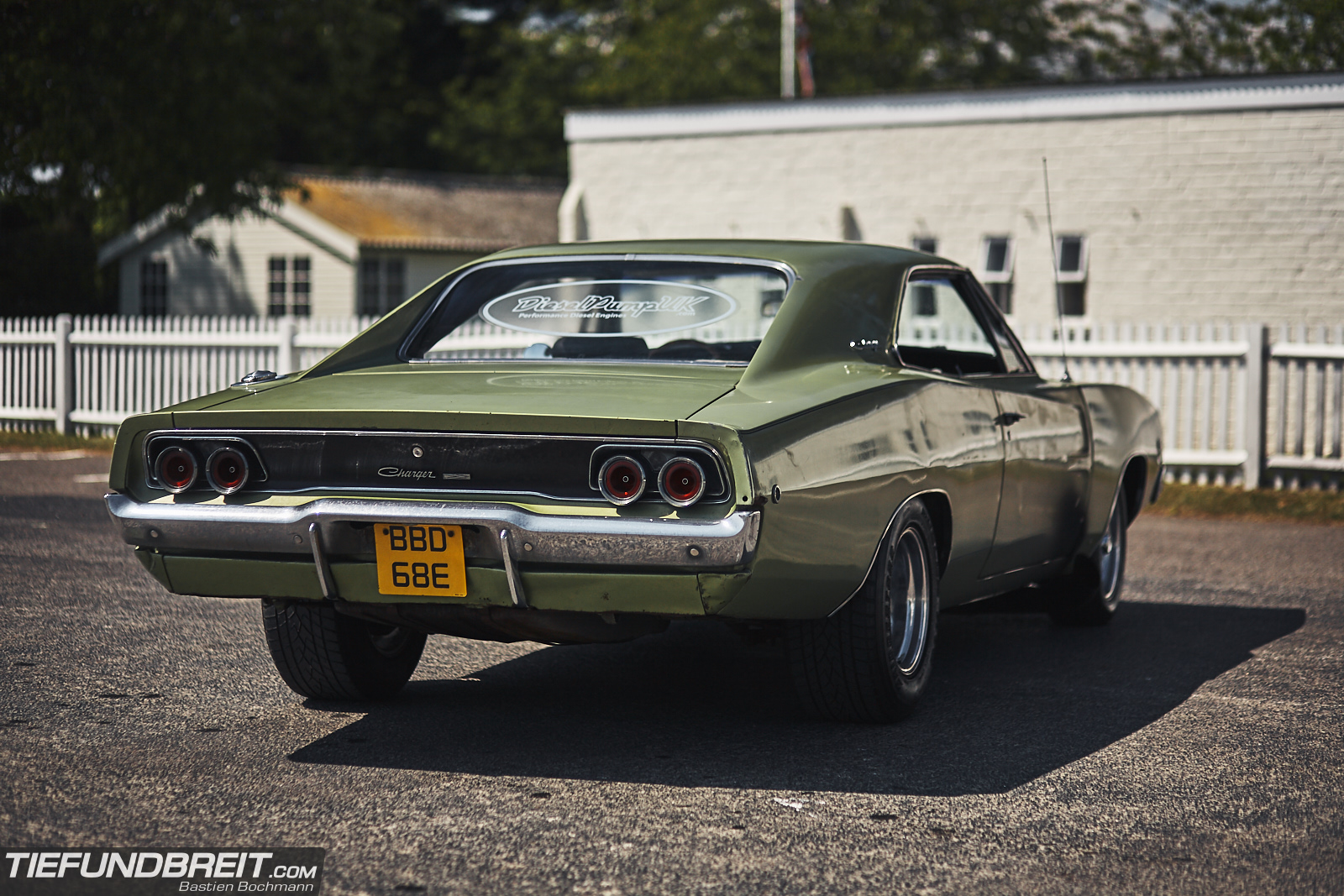 The interior he had re-trimmed also needed to be installed and so the team was very busy in the time just before the Roadkill UK meet! It paid off, though. When they rolled in with the Charger, spewing black smoke out of the side exit exhaust, all eyes were on them. They even won an award for the car at the show!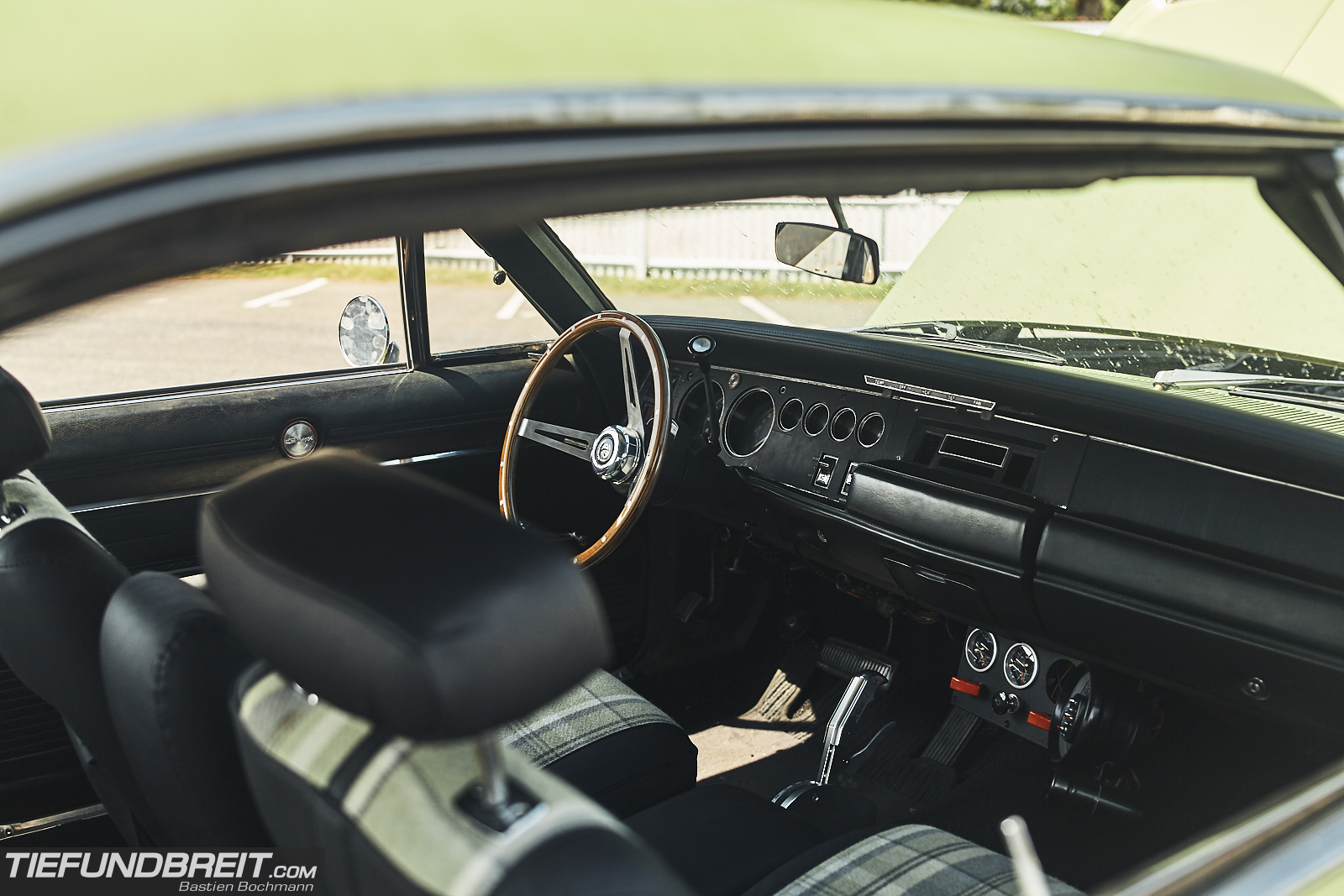 When they put the Charger – which the team actually nicknamed 'Vin Diesel' – on the dyno they managed 680hp and a whopping 900lb/ft (or 1220Nm) of torque! Needless to say that wheel spin was an issue during the dyno runs… There's actually some videos of the car on youtube, some of them even include the dyno run like this one! Have a look!
The shop has made quite a name for itself in the UK by now and Luke is always very busy with working on customer cars. Which is also the reason the Charger still sits on the stock suspension and stock drum brakes – there's simply no time to work on their own projects! So driving it does need some strong nerves at the moment! Luke assured me that a better suspension and brake setup (a Wilwood big brake kit is planned) are in the works, though.
I'll be the first to admit that I'm not a big fan of diesels. This Charger might have just changed my mind, though. The built OM606 sounds like some piece of WWII war machinery and seeing the car spew intense black clouds from it's 4 inch side exit is something else. It's utterly unexpected on a muscle car and that's precisely why I was so taken by the Charger.
Some will call it sacrilege, some will say it's absolutely wrong to do a swap like this – I say, it's absolutely right! The tried and true methods for a car often yield good results. To stand out from the crowd, it takes someone who thinks outside the box and who's not afraid to be different. Luke and the DieselPump team have  definitely achieved this with the Charger! Can you imagine better avertising for a firm specialising in building performance diesel engines and dropping them in whatever cars the customer wants than a classic muscle car with a mental turbodiesel?