I admit that I'm not the biggest fan of old cars – so when Bastien invited me to join him on a trip to the UK to visit the Retro Rides event, I was a bit hesistant at first. I'm very glad I decided to come along, though! It was actually my first trip to the UK and now I keep constantly asking myself 'Why have I never visited this wonderful country before?'.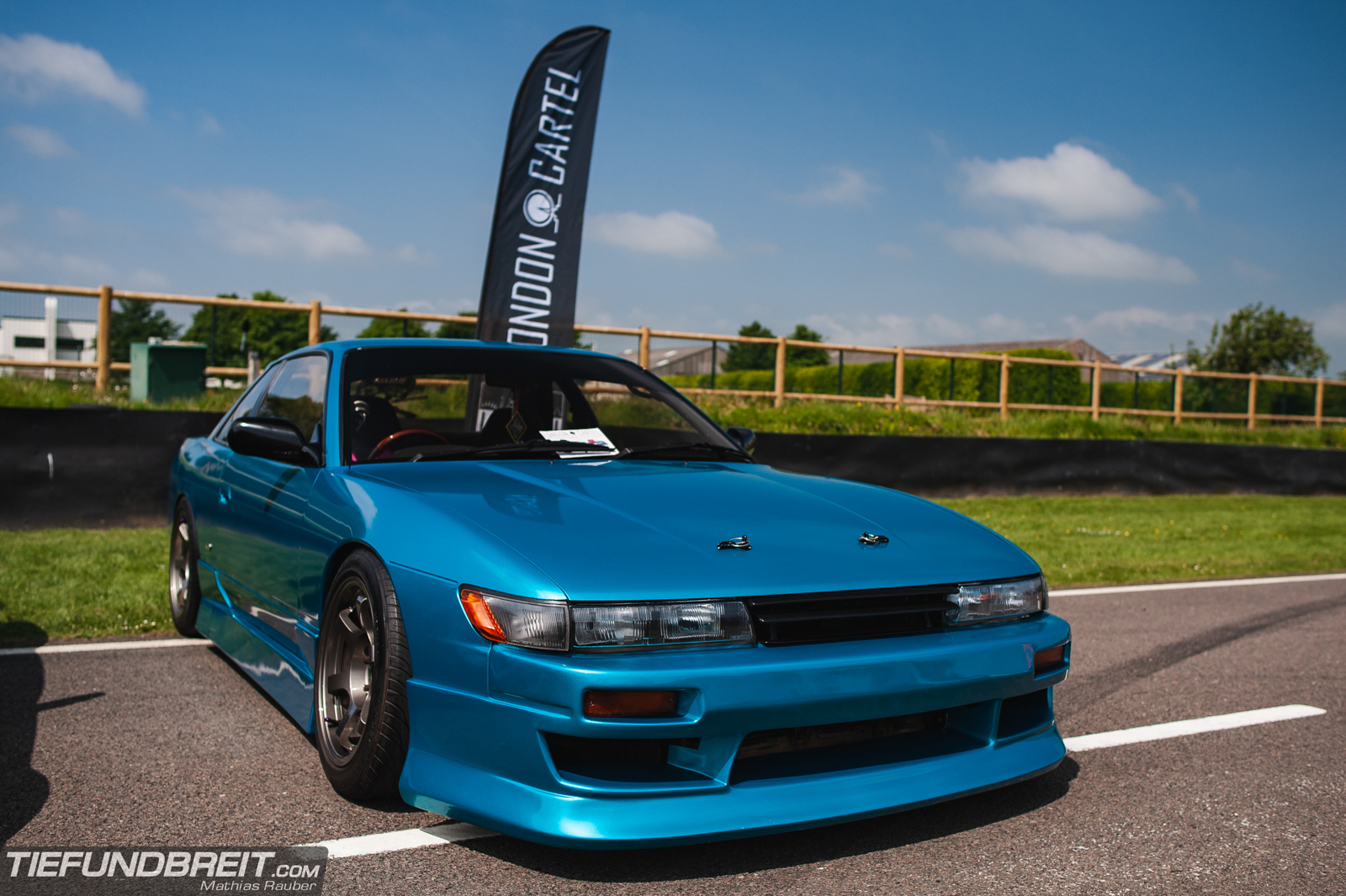 But let me start with the event itself. Having driven all through the night (we set off from Bastien's place at 23:00 on Friday and arrived around 9:00 in the morning on Saturday at the show) we were quite exhausted on day one. However, we immediately felt re-energized when we set foot on the hallowed grounds of the Goodwood Motor Circuit where the show was held.
Having never been to Goodwood, I was a bit surprised at the layout of the venue. For those that have never been, it's a old racetrack from the late 40ies and it has retained it's classic vibe over the years. The track itself is very flat and you can almost see the whole track from any of the viewing areas.
As the track was open to drivers on saturday, there was a lot of interesting metal zipping around the track. This AE86 was absolutely screaming when it hit the gas.
This tiny Mini looked like it'd be heaps of fun on the track.
I later spotted it in the paddock with the bonnet off. Nicely worked over engine, a lot of detail, Carbon fibre arches… amazing. I wondered if we could take it home with us, I'm sure it would've fit on the bed of Bastien's truck!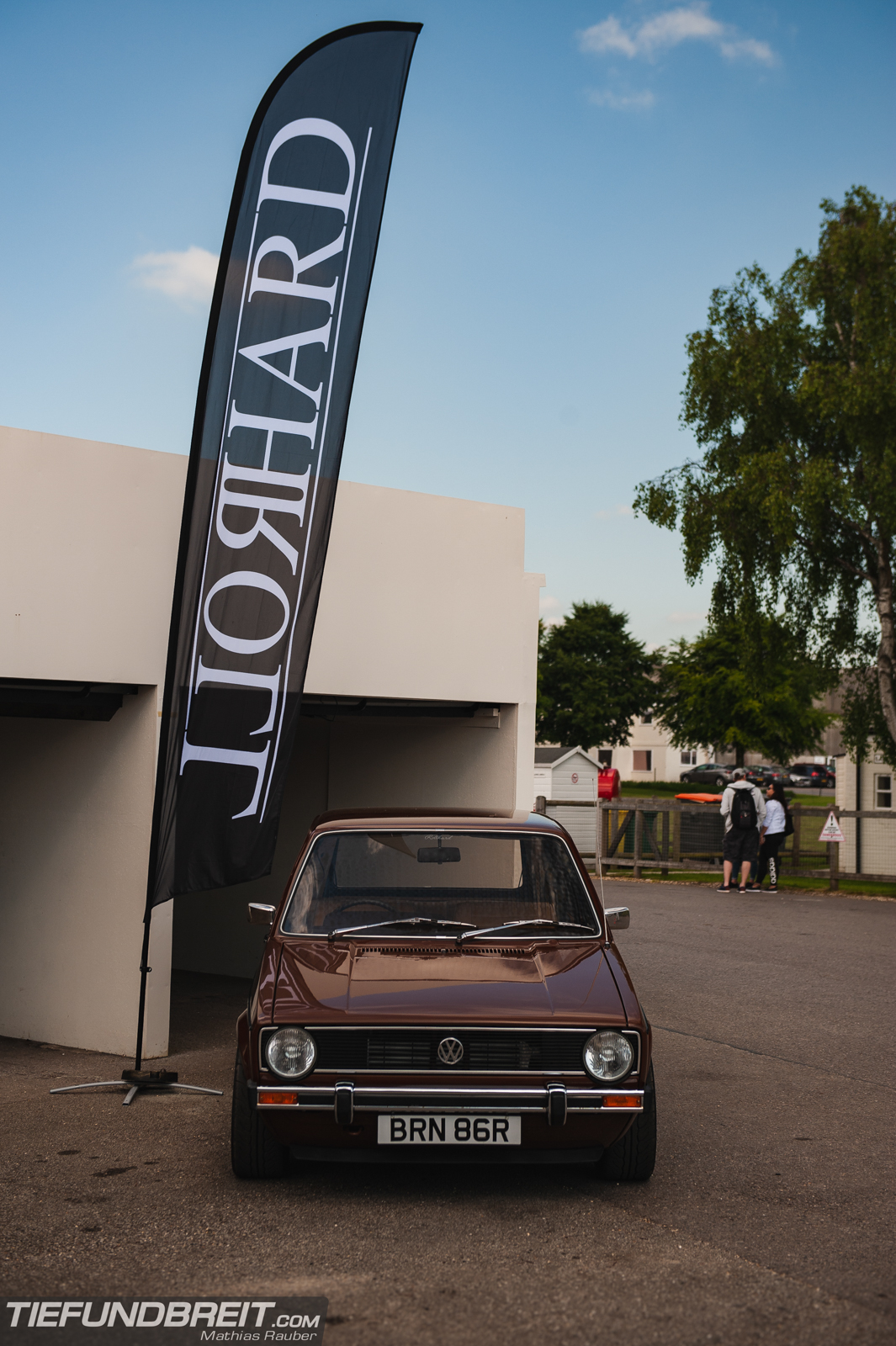 The guys from RollHard had created quite a selection of cars on display right in the prime spot of the event.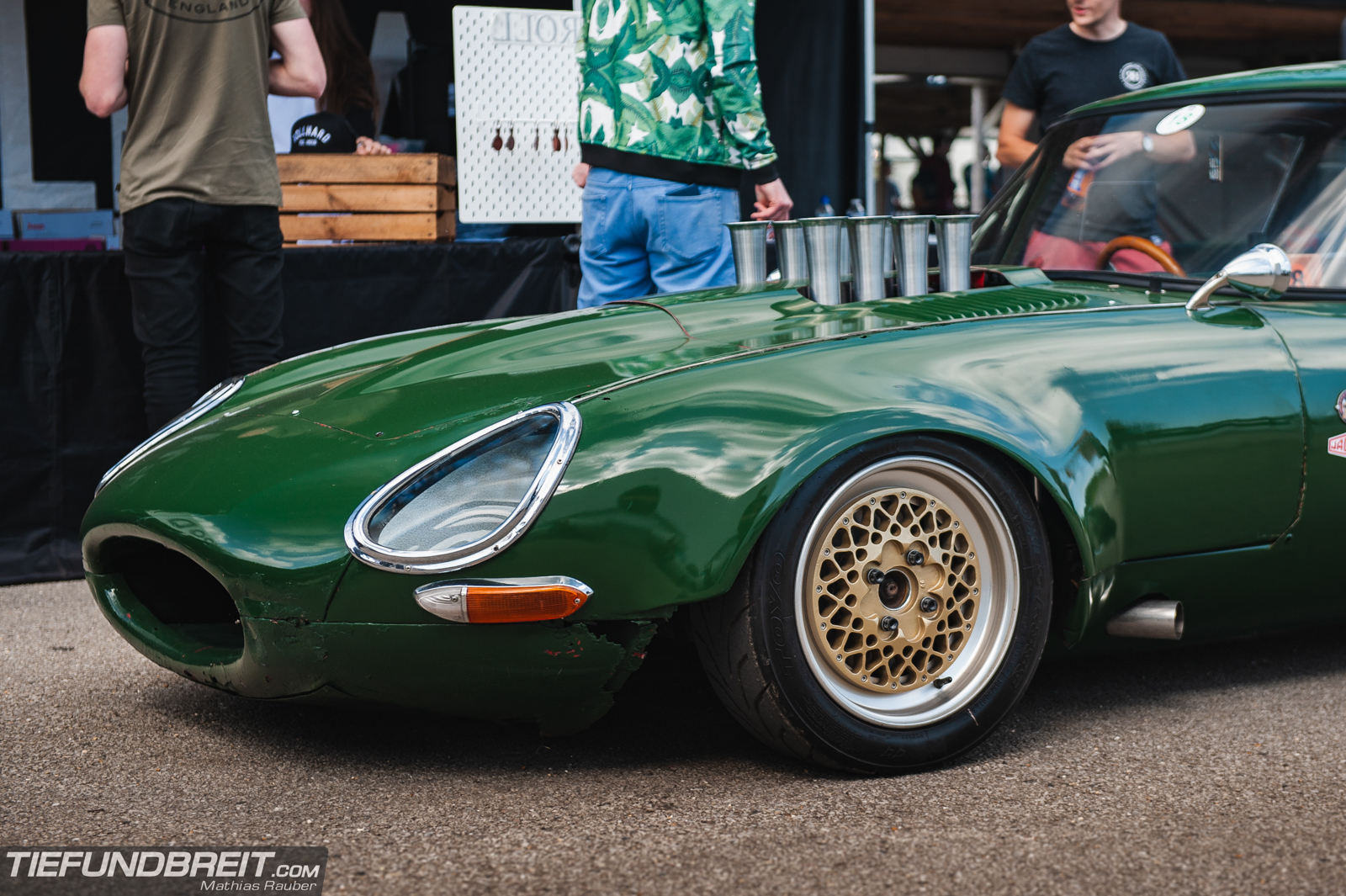 It's no wonder RollHard enjoys such a good reputation – they always put on a strong showing of cars and they are amazing people as well and approachable for everyone.
I loved the variety of cars. I usually enjoy more modern-ish BMWs or japanese cars, but checking out the other scenes at the show was refreshing. For example this super clean Golf MK1 with a lot of custom made carbon fibre parts…
Or this Mercedes-Benz 1000 SEL, which Bastien already spotlighted in his coverage. I'd never seen anything like this before – usually, when you see a W126 in Germany, it's either a stock survivor, or a restored example in grandpa spec. I'd never heard of a 1000 SEL as well – Bastien and Andy informed me that a few 80ies tuners like Trasco offered souped up variants of the W126 with very luxurious interiors. I'm not sure if this is a genuine one, but it's amazing nonetheless. Completing the outside look is a set of clean BBS RF with colour matched centers and a Wald bodykit from Japan.
As I'm sure you've seen in the header image, it seems the event attracted a whole pack of Lancia Delta Integrales. These rally monsters have become incredibly rare on the streets and I can't recall when or if I've ever spotted one on the road in Germany before.
The second day came as a bit of a surprise – we definitely didn't expect there to be so many cars scattered around the length of the track which had been repurposed as a display area for the sunday! It seems the weather gods smiled upon the Retro Rides show as both days proved to be perfect summer days with no clouds, no rain and hot temperatures all day. And people say it rains everyday in the UK!
I like japanese cars. The strong presence of a lot of old japanese rides at the show definitely surprised me, but it was a happy surprise. One of the rarer models was this R30 Skyline wagon.
This Honda Acty was probably one of the most quirky cars at the show. Just look at it! If that doesn't put a smile on your face, I don't know what will.
Back to the German cars – this 190E was pretty sweet! I'm usually not a big Mercedes fan but this weekend definitely opened my eyes to how cool some of the old Benzos can be.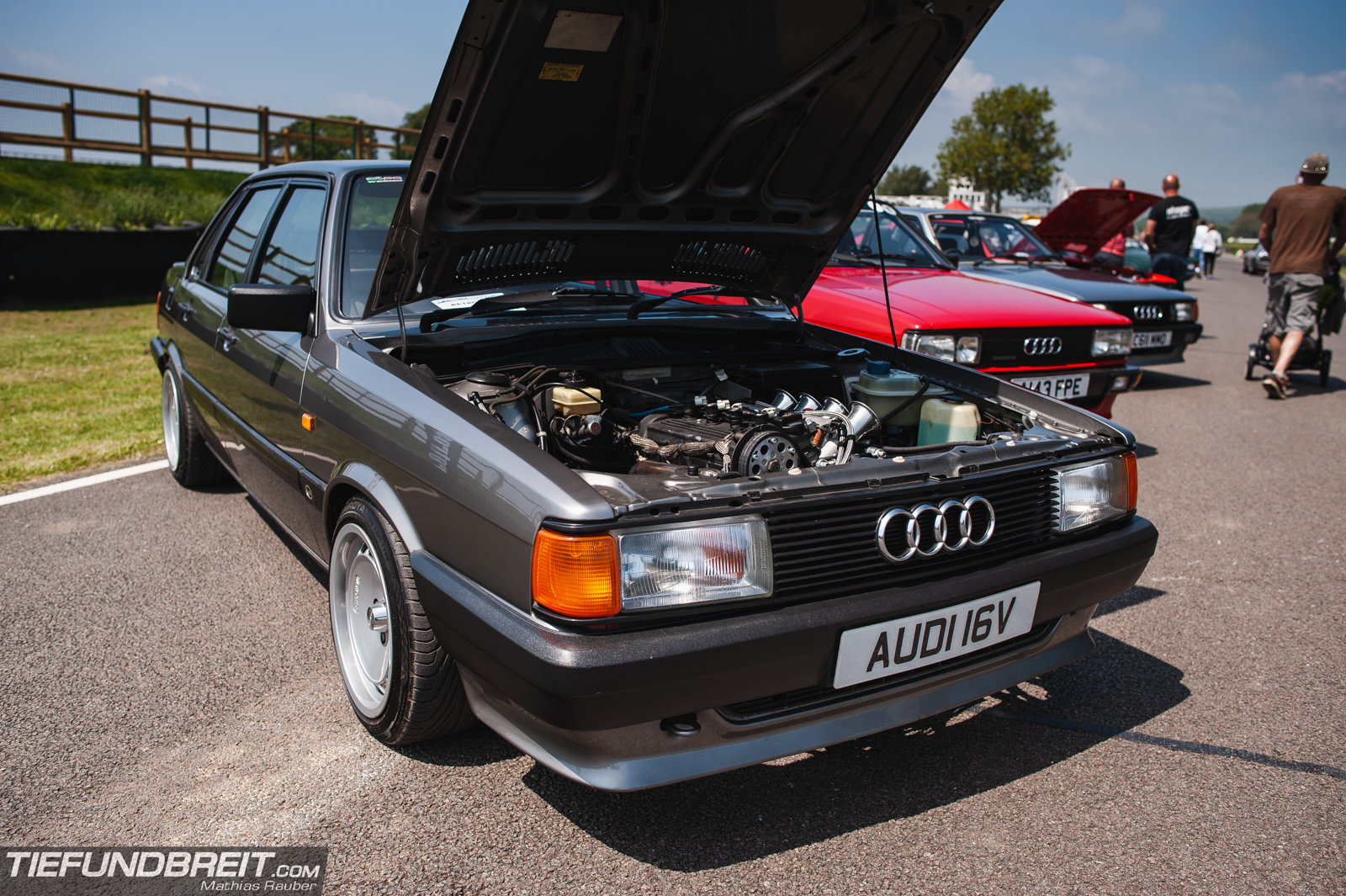 This old Audi 80 was one of the coolest old Audi's I've seen. Just look at that sweet engine setup! Mhhhh, those intakes…
I'm definitely glad I joined Bastien on the trip. Retro Rides was an amazing experience and the UK turned out to be a beautiful country. I'll be back in the UK this weekend for Players Classic, so you can definitely say I've been bitten by the UK bug!
For now, enjoy the rest of the pics and stay tuned for our last feature car we shot at Retro Rides – a race inspired BMW 2002ti from Germany – and my upcoming coverage of Players Classic!