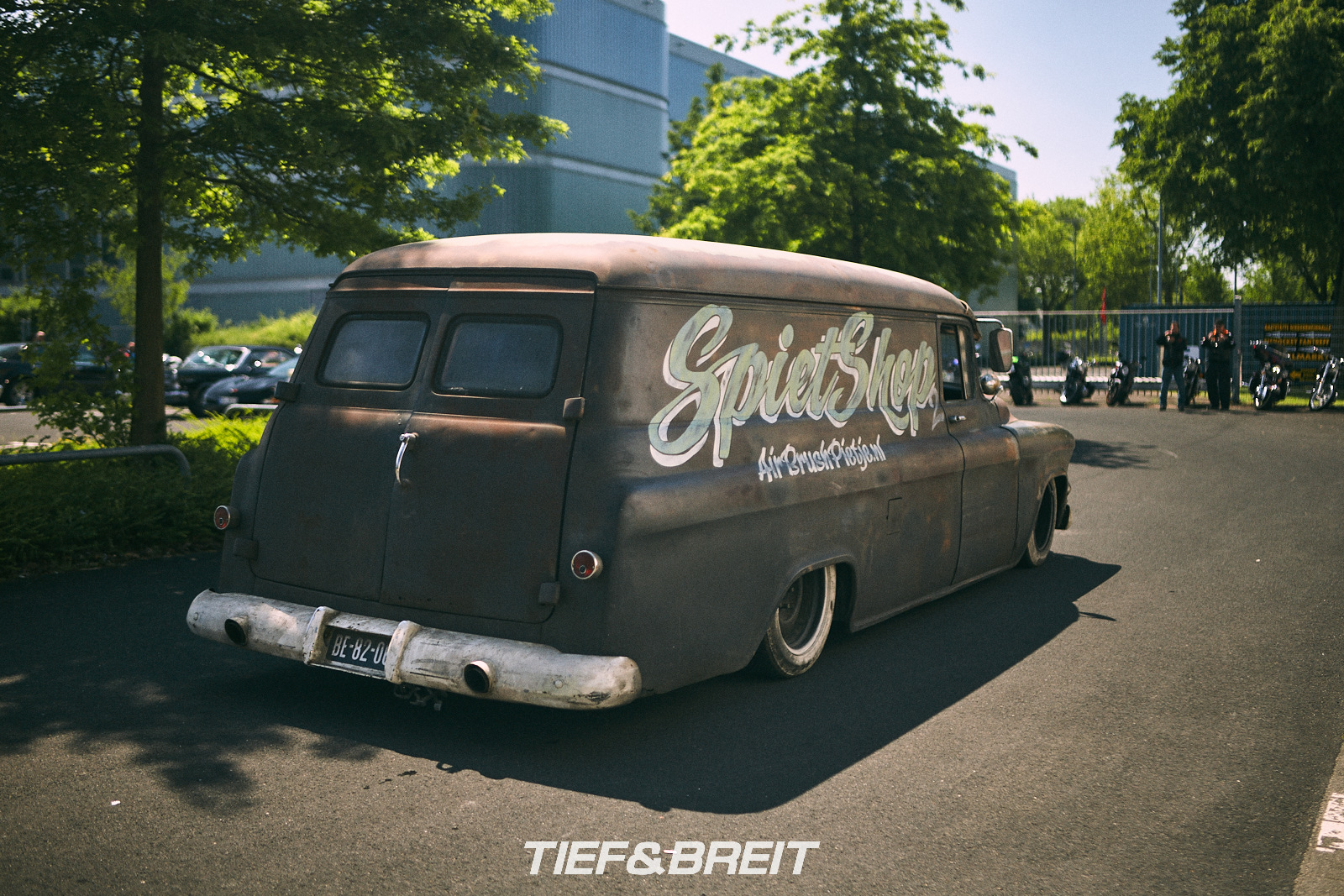 You may be thinking that German car culture is only about european cars and maybe some asian cars, as that's what we've shown in the past. No, in fact there is a huge and healthy scene for big ol' gas guzzlers from 'murrica here in Germany! I did briefly touch on the topic in the recent post about Ink Hopper Festival but there's a lot more to it.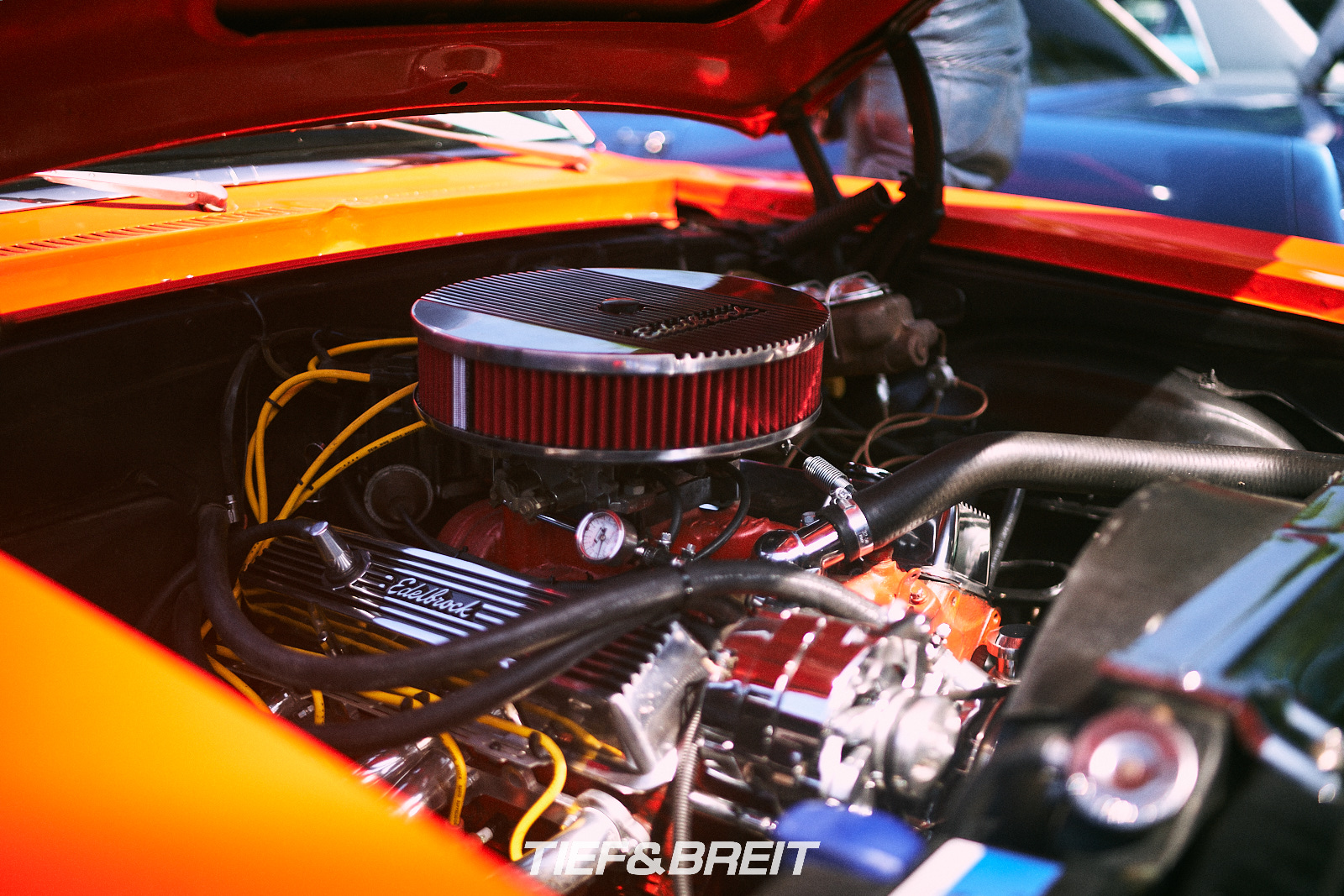 We Germans do love us some big, rumbling V8s. American cars have always had their fans over here. They're incredibly different from all the tiny four cylinder econoboxes we're used to. That's not to say that there's no people who dislike them – in fact, people either love them or hate them. Driving a gas guzzling, thunderous V8 in today's times either gets people excited or they will spew hate because obviously you're the cause for climate change.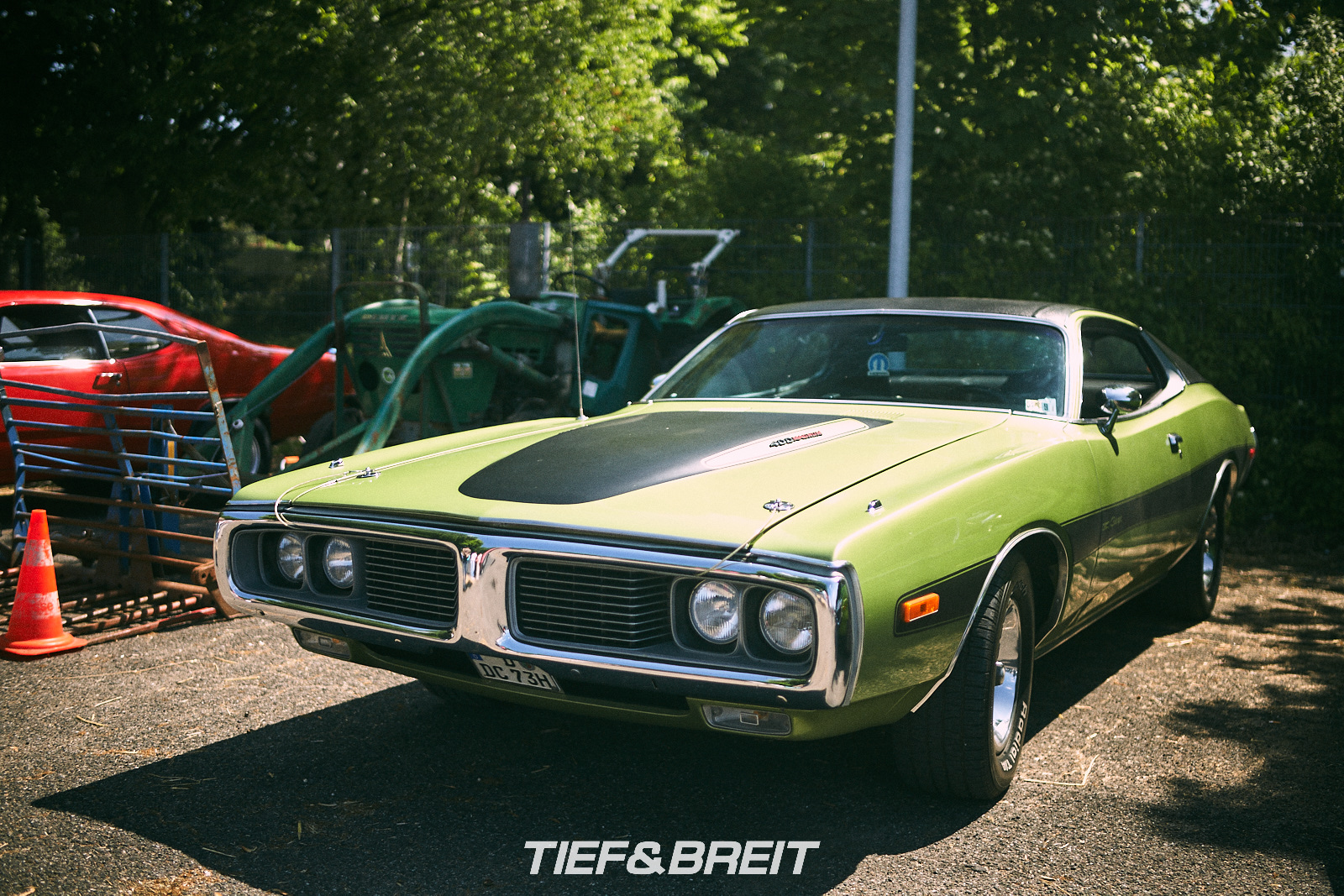 For the people who've fallen in love with these cars it's often more than just a car – it's a way of life. Often you'll see these guys and girls dressed to the nines in period correct clothing that matches their car, while some tunes from yesterday sound from their radio. And as people tend to do, they love to gather together.
Such was the case with Primers Run. Primers Run is a US car show organized by Primers Car Club. The location was provided by Mo's Bikertreff – a local eatery that mostly caters to biker's but also hosts all kinds of car meets and shows. Located in the town of Krefeld it has managed to build a nice reputation over the past few years and most events are very well attended. If you're in Germany near Krefeld, you might want to stop by – there's usually something cool going on!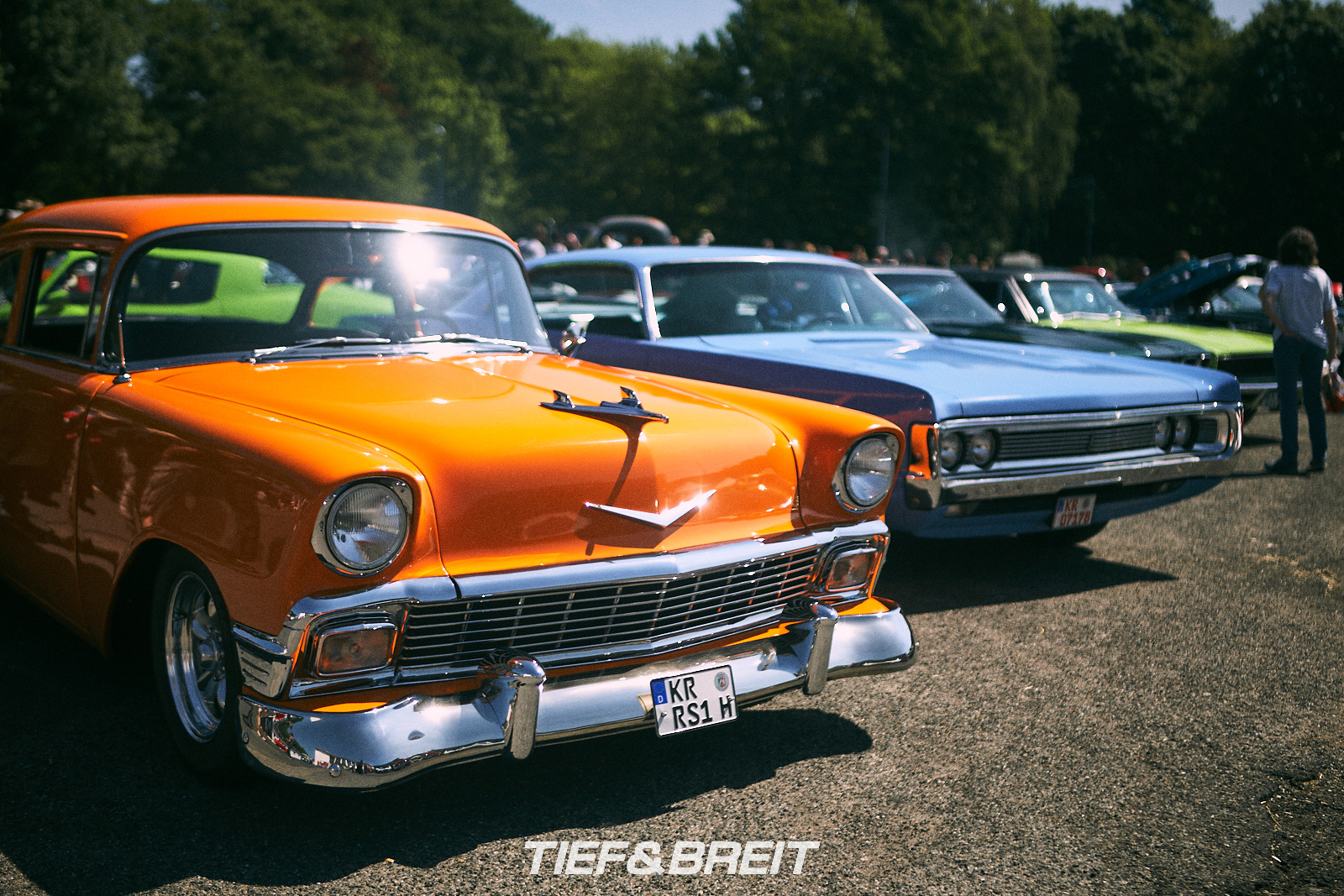 Primers Run is tradionally held on Father's Day in Germany – that was last thursday (25th May). As it coincides with a national holiday, the event was positively packed! The sun was beating down and making all the bright colours of the vintage iron pop. There couldn't have been better conditions for the show, really.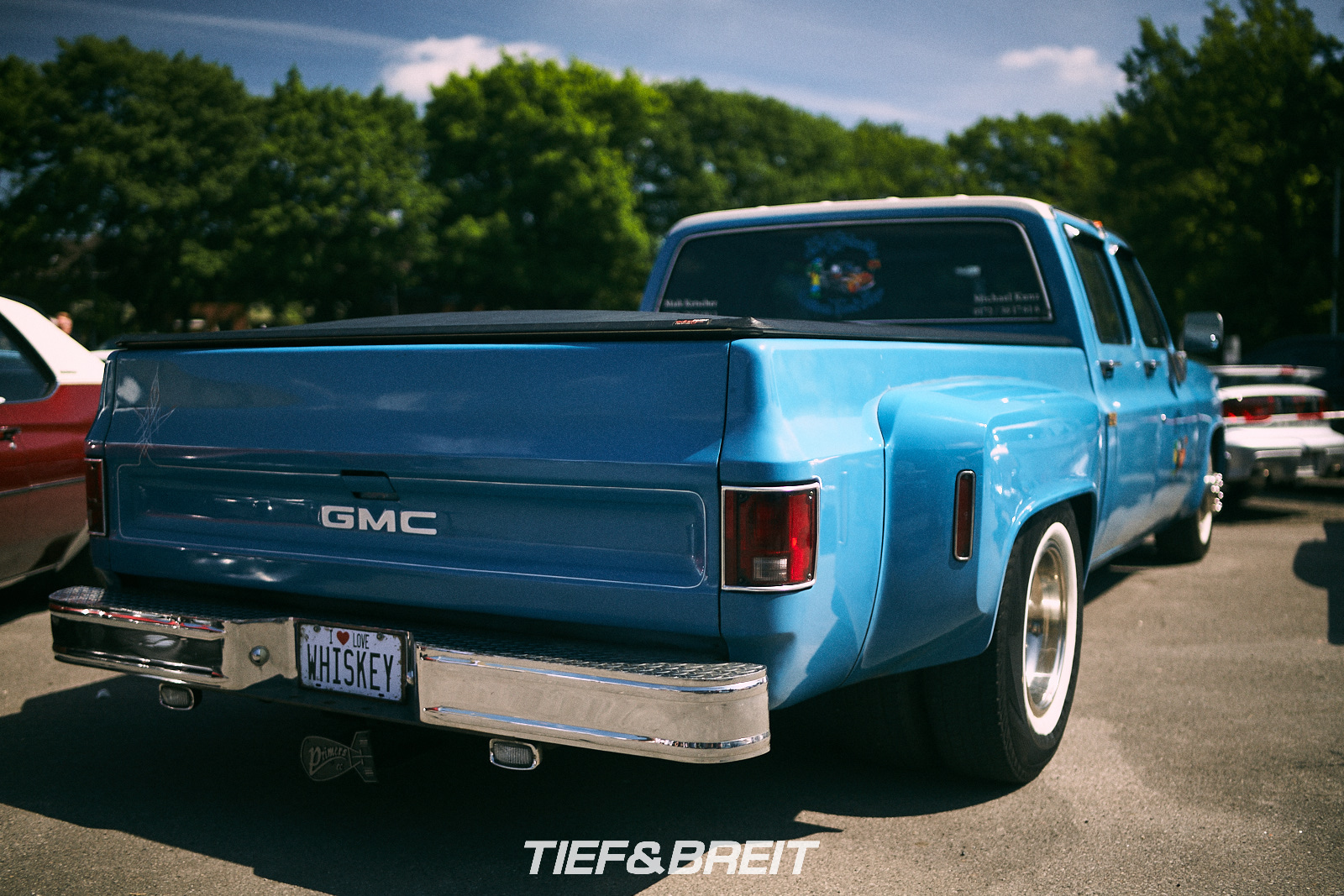 Any american car was welcome which resulted in a very broad spectrum of cars. Of course there were the usual muscle cars you think of when you hear US cars – Mustangs, Camaros, Chargers. But there were also a lot of other, vastly different vehicles such as this GMC dually pick up.
One of the things I loved most about many of the cars was how many loving details they had applied – take this Ford E-Series van for example. It's a 8-seater, so it was sold under the Ford Falcon name. Covered in satin blue paint it's got some fine pinstriping and some other charming details.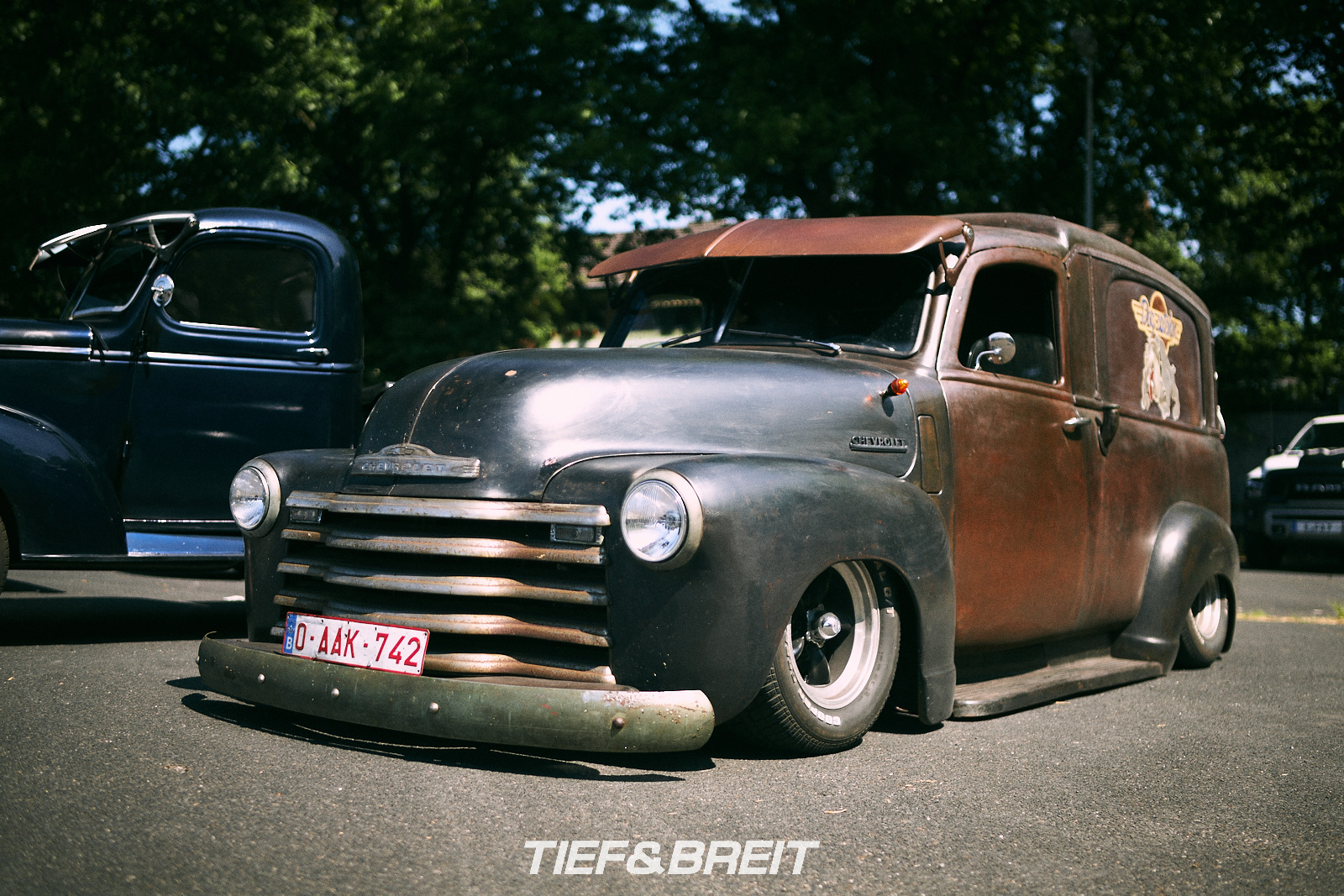 This Chevrolet panel van on air suspension was a real show stopper. I had to wait quite a while to grab some photos of it that were not crowded with people! I happened upon this thing on the way to the show and traveled behind it for a while – let me tell you, if you want attention you need to drive something like this.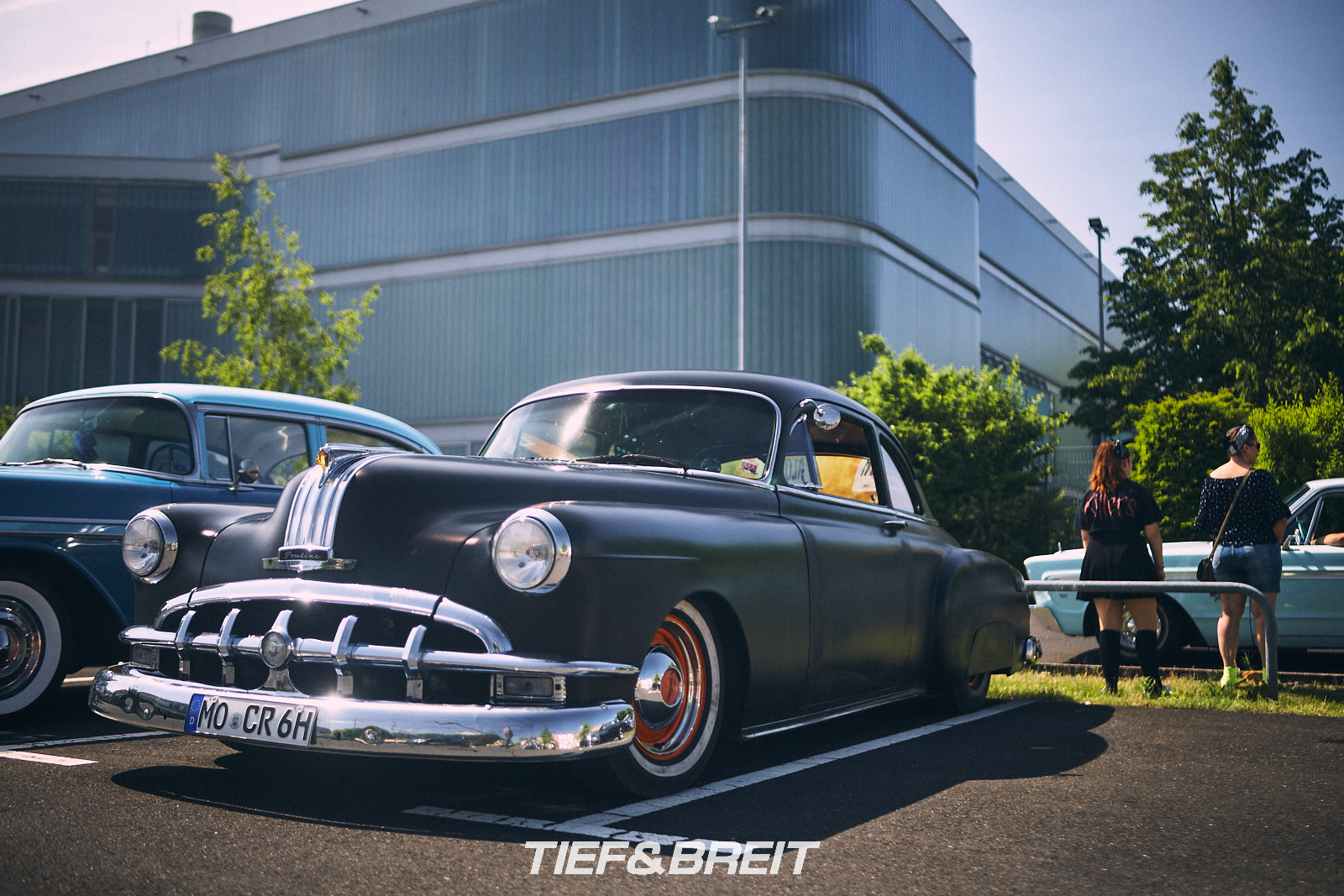 It was wonderful to see how there were all kinds of american cars welcomed to the event – wether it was an old farm truck, a shiny showroom restoration or satin black mild kustom like this one.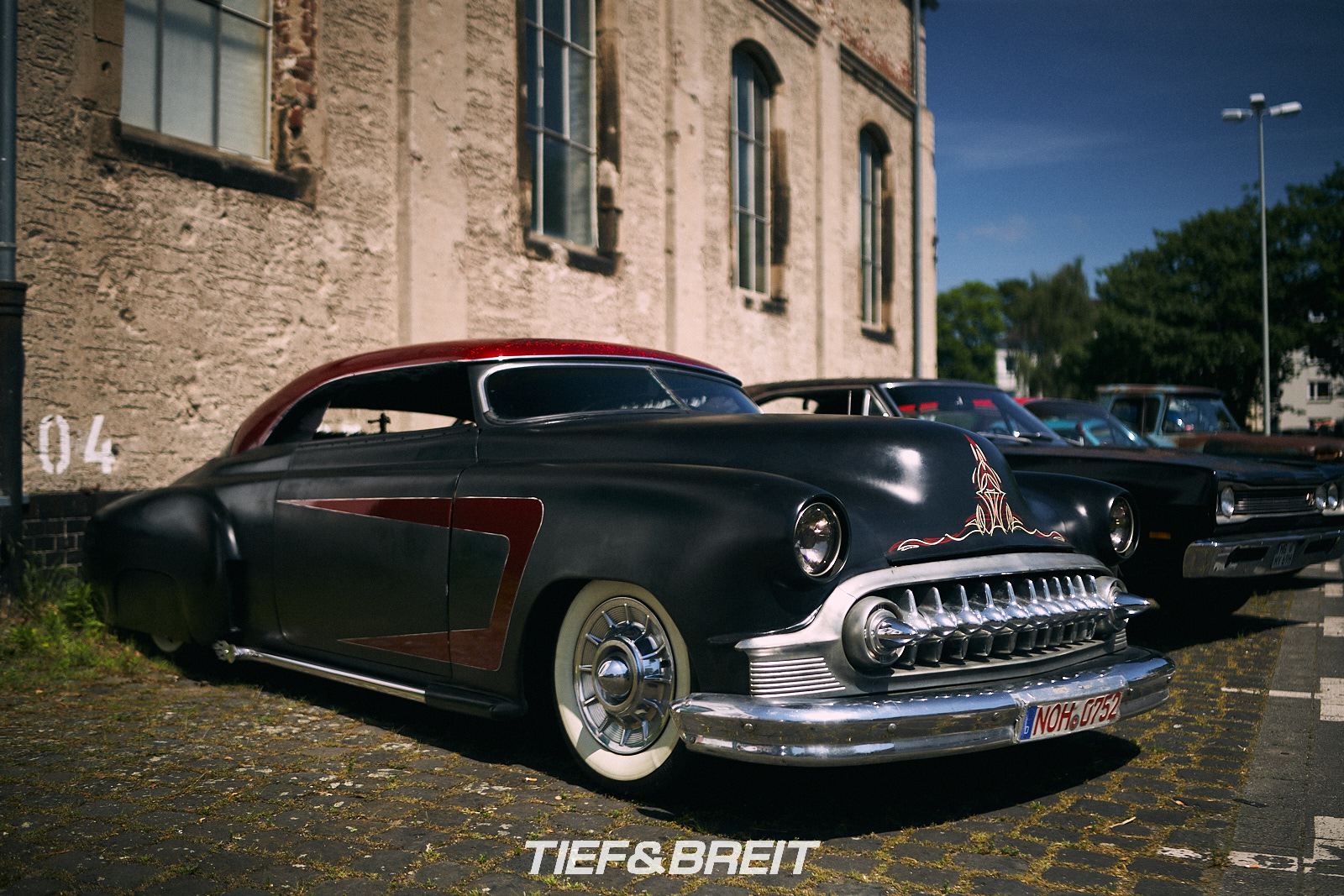 There were also some more modified kustoms – like this one with a chopped roof. Check out that shaggy headliner!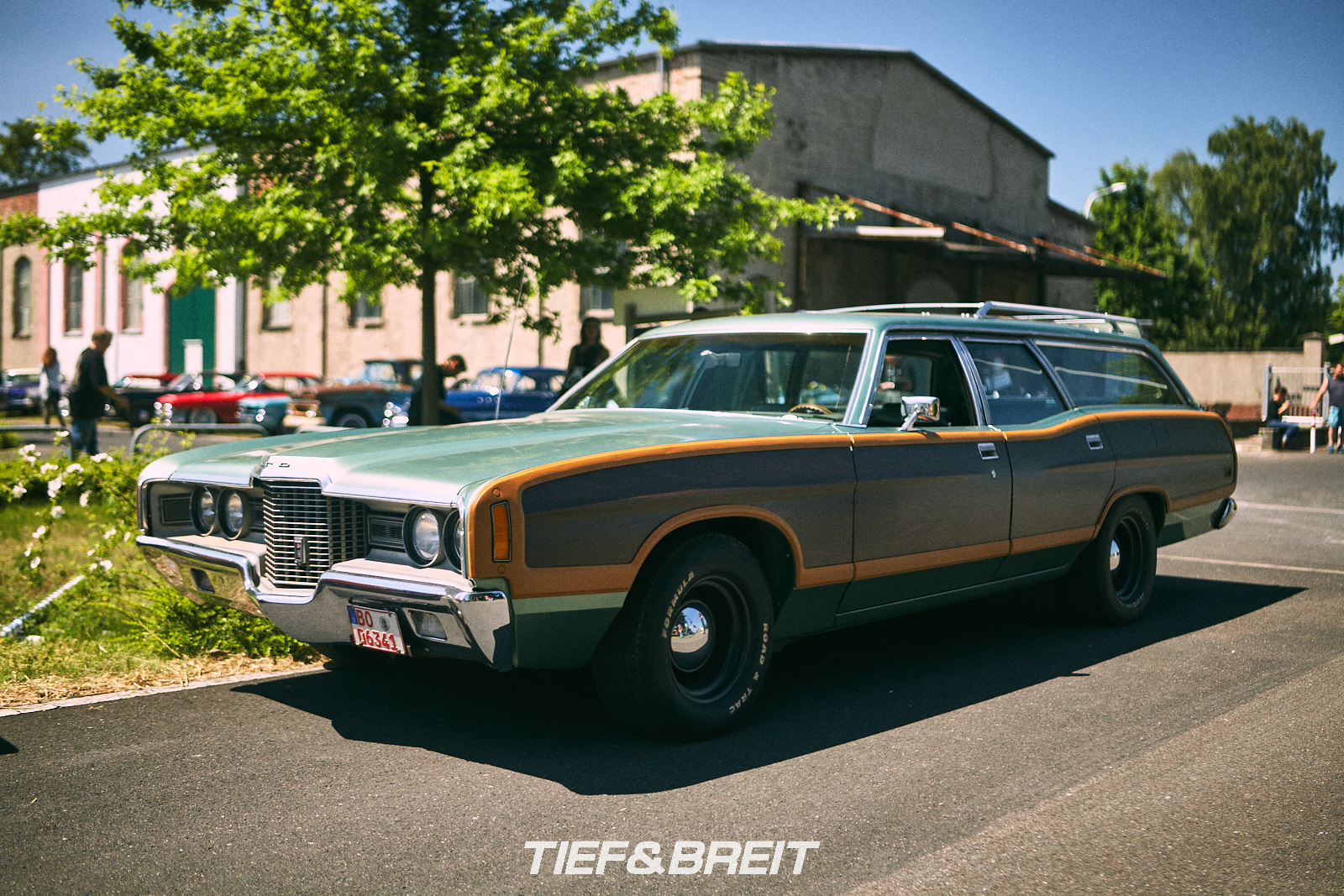 It's a bit mind boggling to see how large cars used to be in the US. This Ford Country Squire was huge! It's almost as large as a truck!
Speaking of trucks – you may have been wondering what I took to the event. I sold the Audi a while ago and have been dailying this beast for some months now. It's a '04 Dodge Ram 5.7 Hemi 4×4. One thing I can tell you – German parking spaces were not meant for these!
Owning a pickup truck myself and having fallen in love with the utility and beastlyness (is that a word?) of it, I can see how someone would spend so much money and efford to restore something that was always intended as a work truck. I loved this Ford F-100.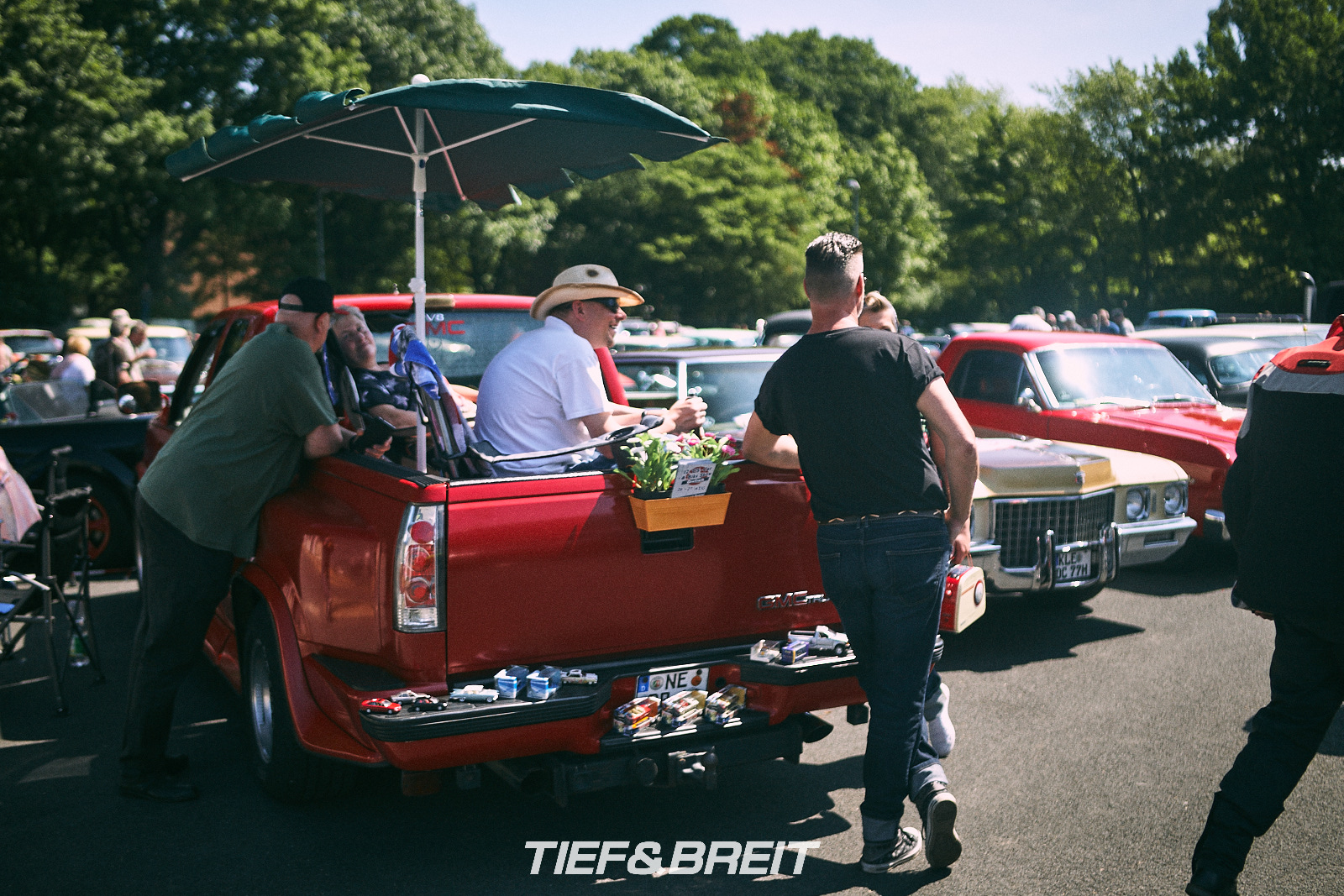 Speaking of pickup trucks… yeah, I think these guys might be trying a bit too hard to be a redneck.
The bumper sticker on this Chevy Nova says 'Fahrschule' – the German word for Driving School. Yeah, right!
Another car that I instantly fell in love with was this Buick LeSabre. The bodylines are a work of art.
As the location is a popular biker hangout it was a given that there would be some rather cool bikes in the lot. I will freely admit to knowing next to knothing about motorcycles, but there were a few that grabbed my attention because they had a certain style!
This Dodge Coronet was another example of all the cool little details. I'd wager it's probably got some oomph to back up the looks.
I feel the need for some closing words. I must apologize for being very quiet with blog posts lately. We do have quite a bit of stuff we need to post and we're planning on attending a lot of events this summer, so Matze and I will be quite busy bringing you quality content from all over Europe along with some guest posters. Stay tuned!