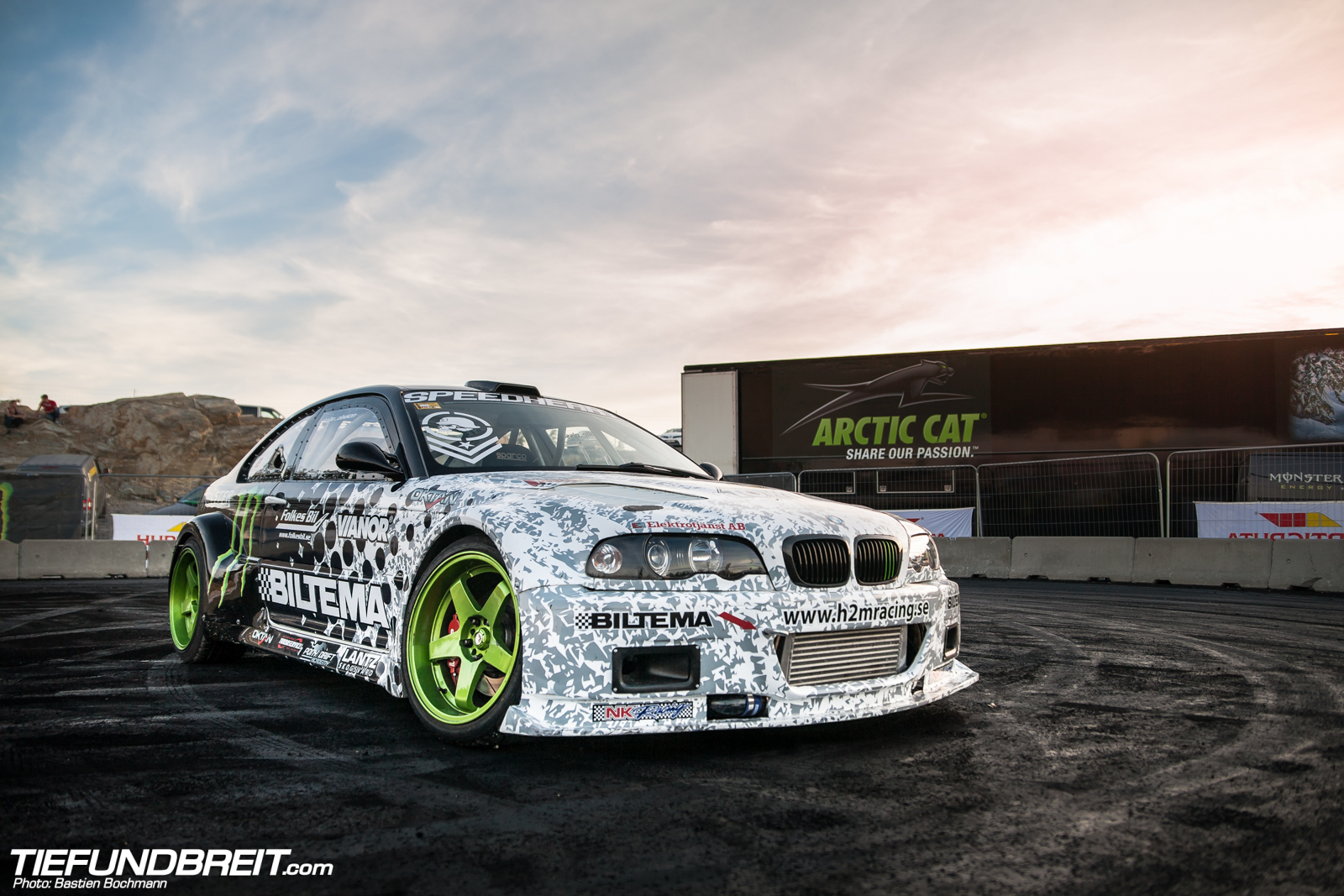 Originally, I shot this car for a print magazine when I was at Gatebil last year. However, it somehow fell under the table… but I've cleared it with the necessary people and I'm now able to post the pics and article on here.
If you're not living under a rock, you'll have noticed by now that Scandinavia has put out some truly impressive cars – amongst them many that make you question the owner's sanity for a bit. If you want proof of that, I dare you to travel to Norway or Sweden and hit up one of the Gatebil events. In between the sound of cars screaming and tires squealing and the smell of lots of race fuel and burnt rubber (mostly burnt rubber though, as that is pretty much all you'll smell at a Gatebil event), that is where I found this all out drift machine disguised as a E46.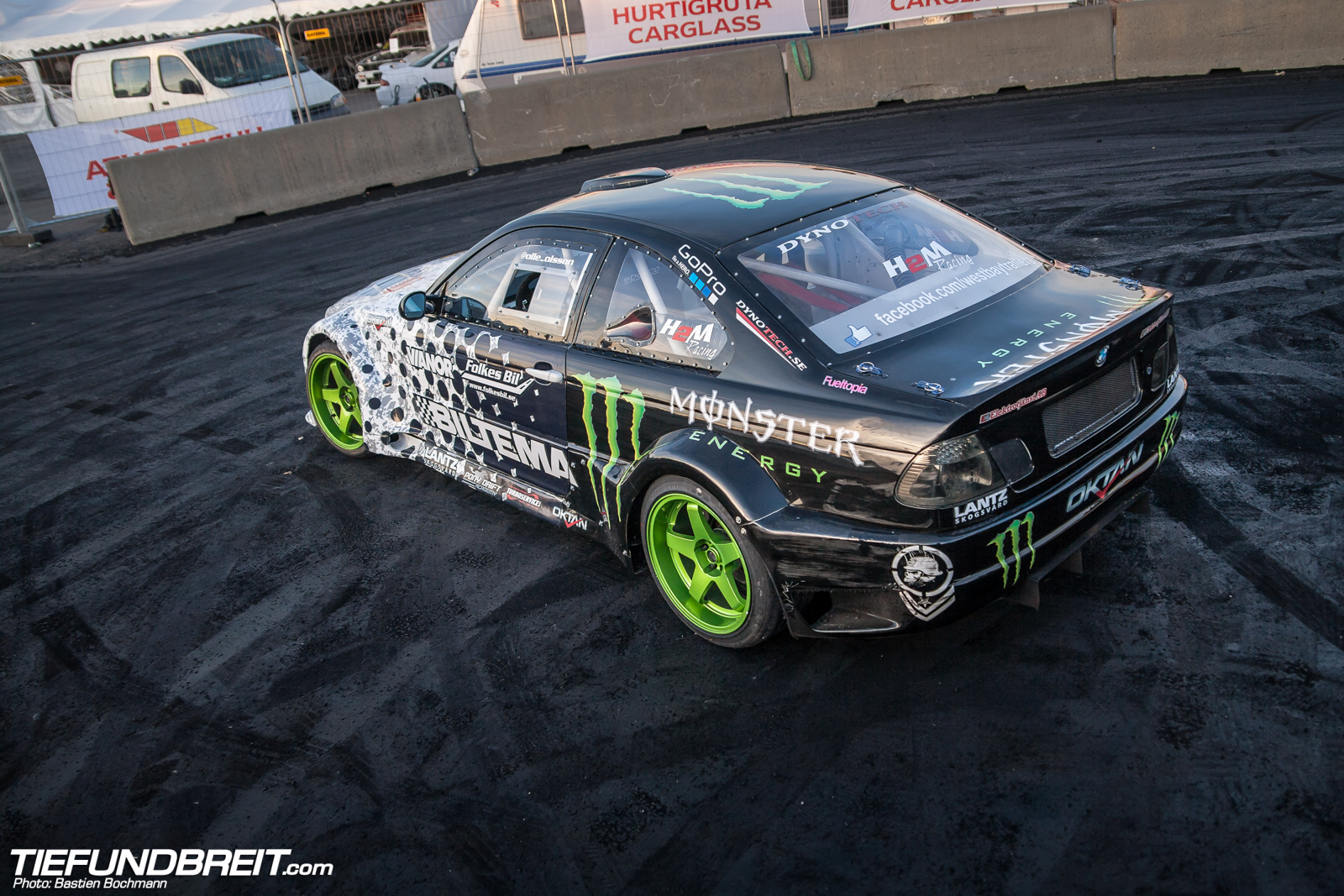 The first time I ever laid eyes on this unique machine was when I was standing in the infield of Rudskogen Raceway's last corner at this year's Gatebil main event, shooting cars as they flew by sideways. The loud yet instantly recognizable screaming of a BMW V8 made me listen up and when I spotted this E46 shooting around the corner with enough smoke billowing out from the wide wheel wells to darken the heavens – well, that's when I knew this car must be something special indeed. I immediately set out to find out more about the car. After some looking around, I found the car sitting under the Monster Energy booth and promptly set up a shoot of the car in the event's burnout pit, which seemed oddly fitting, as shredding tires is this car's mission objective, although it usually does so when travelling at breackneck speeds.
The driver of this BMW is Olle Olsson – Olle heads a media production firm in Sweden called Speedheart.se (they did some slick Gatebil videos, go search for them on youtube!) but he is also a professional drifter. But as a matter of fact, drifting was not Olle's first love in sports. It turns out, he only found his way to drifting after tragedy struck him in the form of an accident. Olle used to be a Snocross racer and freestyle rider – that means he did some really insane things with snowmobiles! Today, he sadly can't enjoy this first love of his anymore because he broke his back. In fact, he is lucky to still be able to walk.
Being a very active guy, Olle wouldn't let his injury keep him down for long and so he went in search of a new sport that he could enjoy. He ended up trying his hand at motorsports, drifting to be precise and fell in love with the sport. Olle told me he couldn't find a car he liked out of the box, so he decided to simply build his own. And the result seems to be one of the best suited drift cars in Scandinavia right now. And this is actually the first car Olle and his helping friends have built!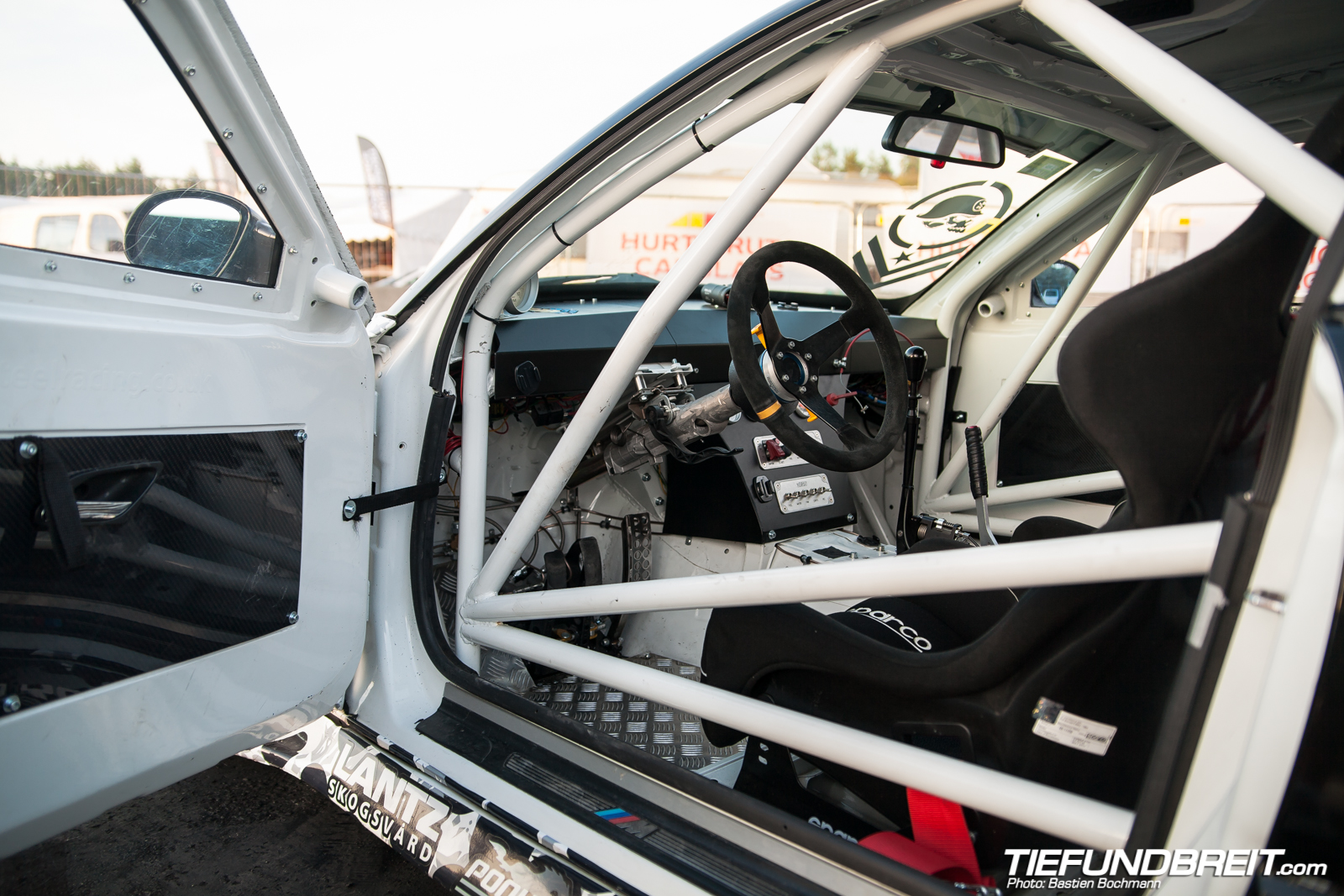 The wild E46 on these pages started life as a run of the mill 323ci from the year 2000. Straight from the start, one of the first things Olle did was to strip the chassis completely of anything not necessarily needed for drifting. A custom fabricated rollcage was put in for added safety and chassis stiffening and the chassis was strengthened where ever it made sense. Two Sparco bucket seats keep the occupants firmly seated when the car is blasting sideways down the track. A custom barebone dashboard has been built with only a few gauges for temperature, oilpressure and engine RPM remaining – with no speedometer in sight. Additionally, a custom floor mounted pedal box has been installed as well, to help with those heel-toe downshifts.
When you first look at the car, the thing you will immediately notice is the aggressive widebody kit. The kit consists of a pair of front fenders, widened rear arches which have been grafted on, a pair of matching sideskirts and of course a wider front and rear bumper which match up to the new width of the fenders. The rear bumper received a integraded diffusor as well. The lightweight kit is made by a company called Geoff Steel Racing from the UK and Olle had it imported to Sweden. Mind you, the widebody conversion was not the only major modification to the car's body. All the other parts that might look untouched at first glance, like the hood, doors and trunk, have been swapped out for lighter fibreglass parts as well. Only the doors are a give away though, if you manage to notice the smaller window opening. The windows actually were treated to the same philosphy – being replaced by lighter plastic items. The end result is a seriously lightweight E46! The outside of the car was then painted and accordingly wrapped in the colors of Olle's sponsors Black, white and lime green, as one of his main sponsors is Monster Energy.
The car hugs the ground using race ready Öhlins TTX suspension – completely adjustable, of course. Additionally, Olle went for a Wisefab steering lock kit in the front which enables the E46 to get over 60 degrees of steering lock for that all important counter steering while going sideways! In the rear Olle mounted adjustable Wisefab control arms for easy camber adjusments. Stopping power is provided by 330mm brake discs mated to Willwood calipers – with a dual caliper setup in the rear. Of course, with this E46 being a drift car, a fly off handbrake was mandatory. Covering the impressive brake setup is a set of lime green Rota wheels – easily replaceable if he breaks one while drifting.
The powerplant in this Coupe, as already stated, is a BMW V8. Now, dropping a V8 into BMW's rather compact 3-series is not a new thing by far. E30 guys have been doing it for ages and in fact the swap is very well documented and by now it seems every other E30 is running one. BMW did it themselves in the E9x M3. However, the E46 and it's predecessor, the E36 are a slightly different matter. On both platforms V8 swaps have been done before, of course. But a BMW V8, wether it be M60, M62, S62 or any other BMW V8, is still not very common to see in these chassis, mainly because of the challenge of installing one. When Alpina did it in the E36, they did some radical changes to the sheet metal of the engine bay like moving the firewall back a bit. The main issue is that the front axle conflicts with the position of the oil pan. When people swap in V8s in the E36 and E46, they nowadays go with the tried-and-true setup of swapping in a Chevrolet LSx series engine. Olle opted for a M60B40 to keep things in the BMW familiy but to spice things up it is force fed by a Schwitzer truck turbocharger. To handle the power the engine has been overhauled and strenghtened. In the course of the rebuild, the engine received forged pistons, stronger valves and rods and a more aggressive set of camshafts. To fit the M60 into the E46's engine bay, Olle converted the engine to a dry sump setup to clear the front axle and also to be able to mount the engine as low as possible for a optimal center of gravity, the engine was converted to a custom fabricated drysump system running a AutoVerdi oil pump. The fuel system has been upgraded to two Bosch 44 fuel pumps and an ATL fuel cell to keep up with the engine's demands for fuel. The fuel cell and pumps have been mounted in the trunk, along with a rear mounted oil cooler. Speaking of fuel, the car is setup to run on E85 fuel as is quite common in Sweden today. To handle the massive power output, the engine is mated to a uprated Samsonas gearbox via a Tilton performance clutch. All these modifications make for a massive 800 WHP and according to Olle 'it work's just fine'! Hah! That must work more than 'just fine' in my opinion. I can only imagine what it must be like. A sentence like this just proves that Olle is a true Scandinavian gearhead. They all seem kind of insane when it comes to cars and I love them for it. Anyone who has ever experienced the crazyness of Gatebil will understand what I mean.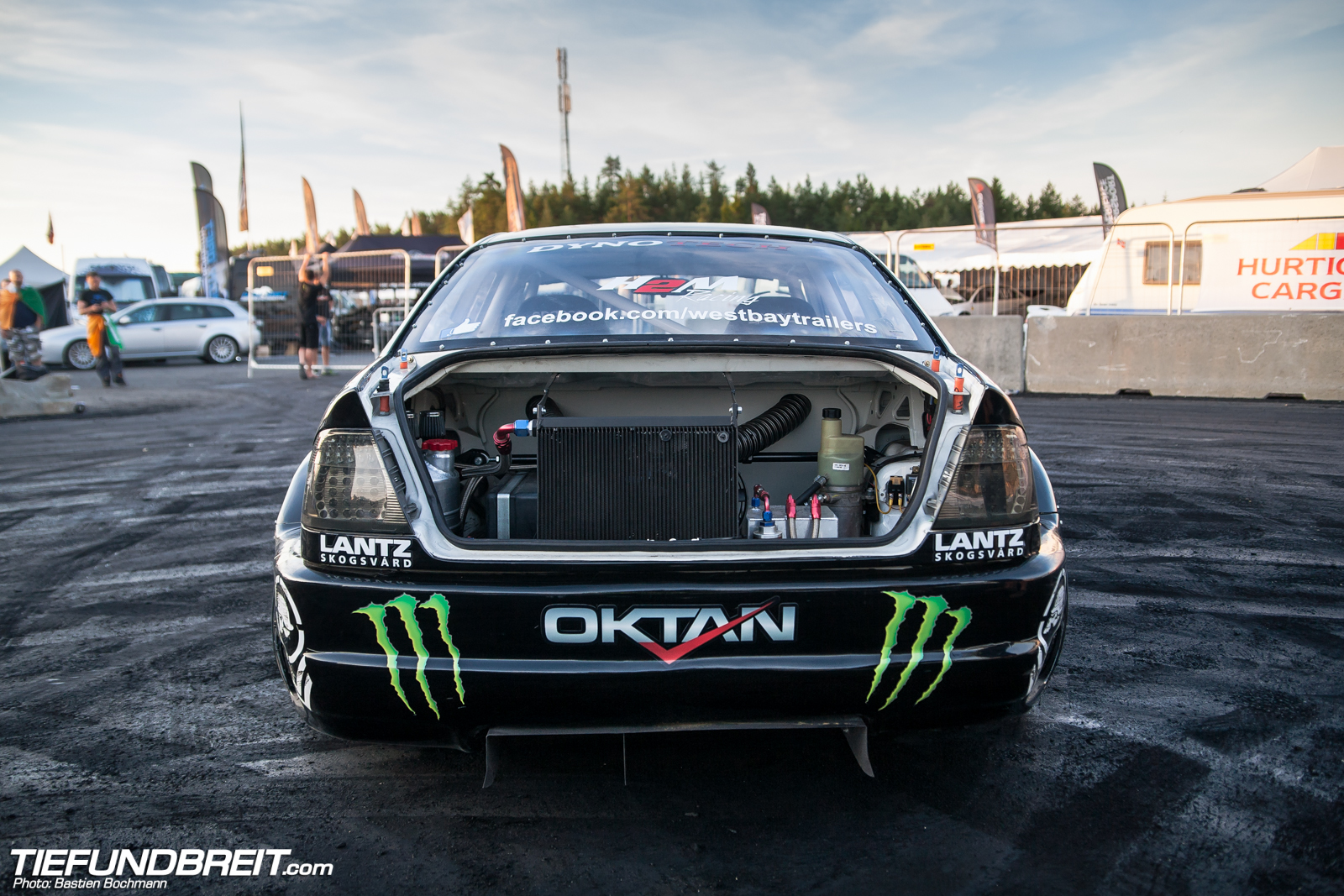 And while the list of modifications to this car on it's lonesome is certainly impressive enough, all the work on this car, including all the necessary fabrication for the engine swap and drysump conversion, has been completely carried out by Olle and his friends. Considering that this is the first car they've ever built, I'm anxious to see what else Olle and his mates will get up to!
Alas, Olle recently sold the car after preparing it for the new owner with a fresh new livery but I'm sure he already has the next stunning drift car lined up. I'm quite anxious to see what it will be and I hope to see him blasting around in it next year at Gatebil.