Let's rewind a few yars – back in 2019 I drove a huge Dodge Ram pickup truck as my daily and I loved every minute of it. I had no plans to sell it. Then I found myself idly browsing the used car classifieds and spotted something that instantly short-circuited my brain. I could buy a Porsche 944 for roughly what my truck would fetch if I sold it. A few days of thinking and I put the truck up for sale and it sold very quickly. I immediately started searching for a suitable 944 – a few weeks later, I had found a super clean '87 944S that I took home.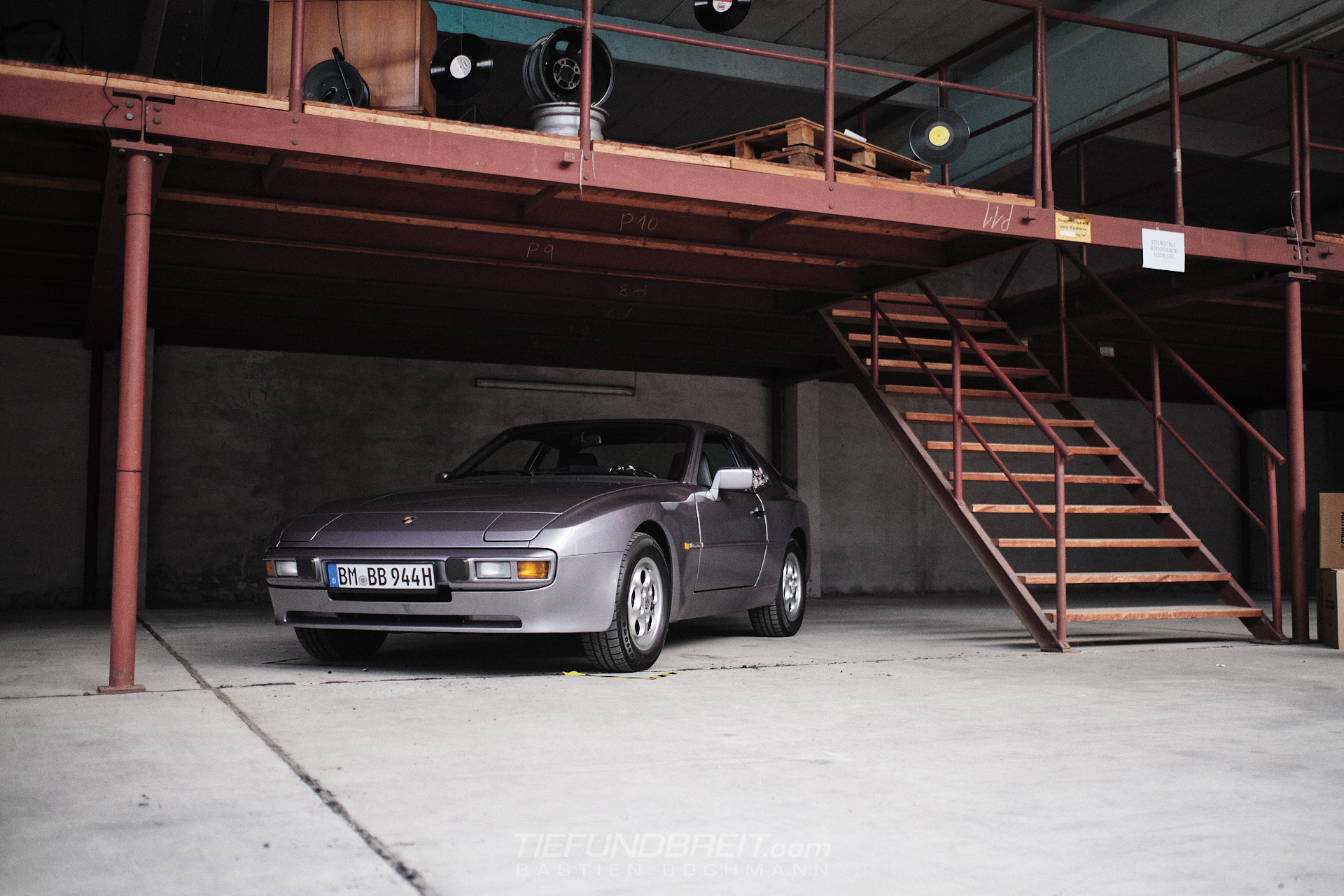 I slowly started to make friends and acquaintences in the Porsche community and quickly met Tristan. Tristan runs Soulful Machines, a Youtube-Channel catering to classic carsl, and drives a Porsche 924 himself. After a few meets and cruises Tristan started hatching the idea for a meet of his own, something to celebrate Porsche's underdogs – all the Transaxle Porsches ranging from the 70s to the 90s. He finally made it happen last year.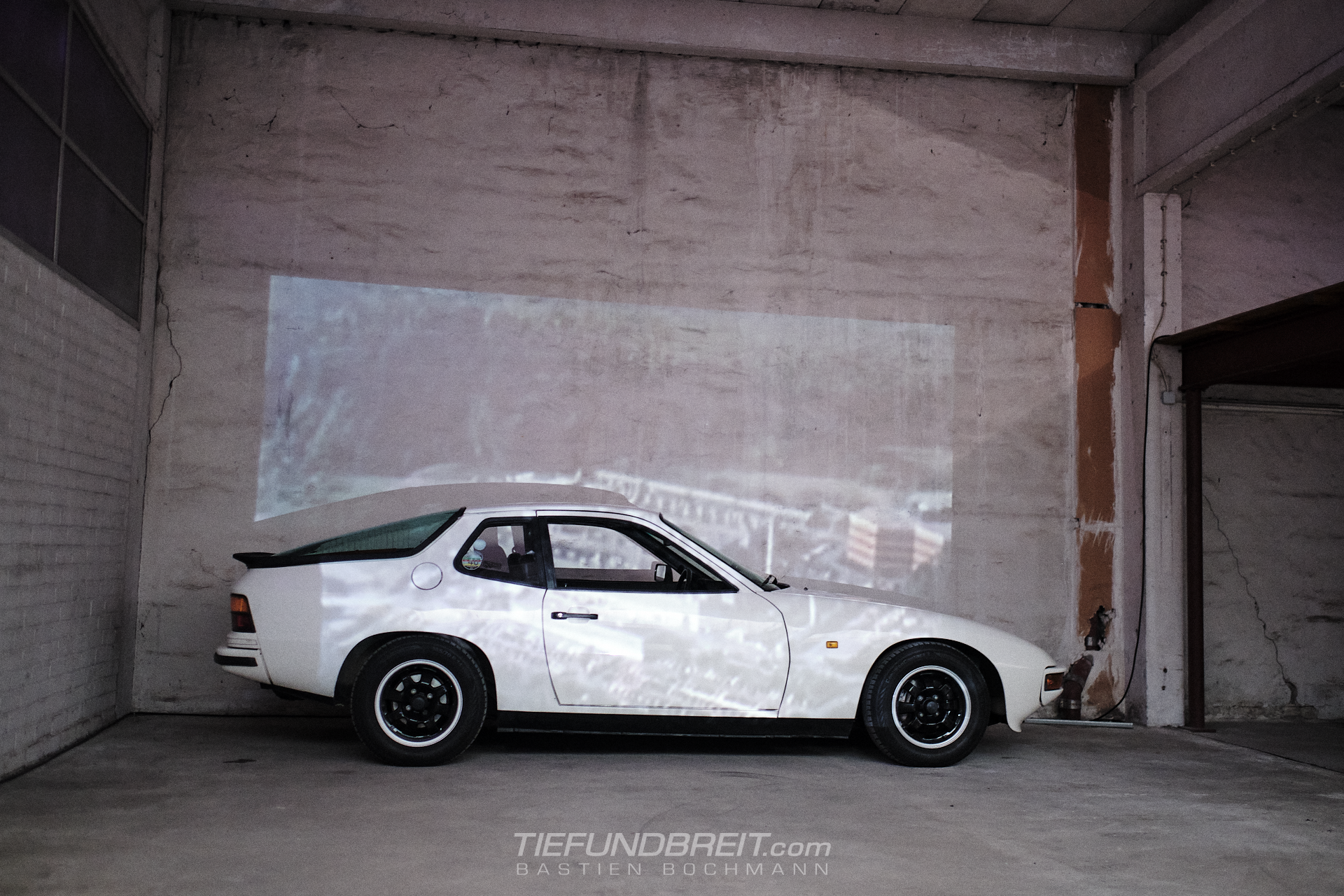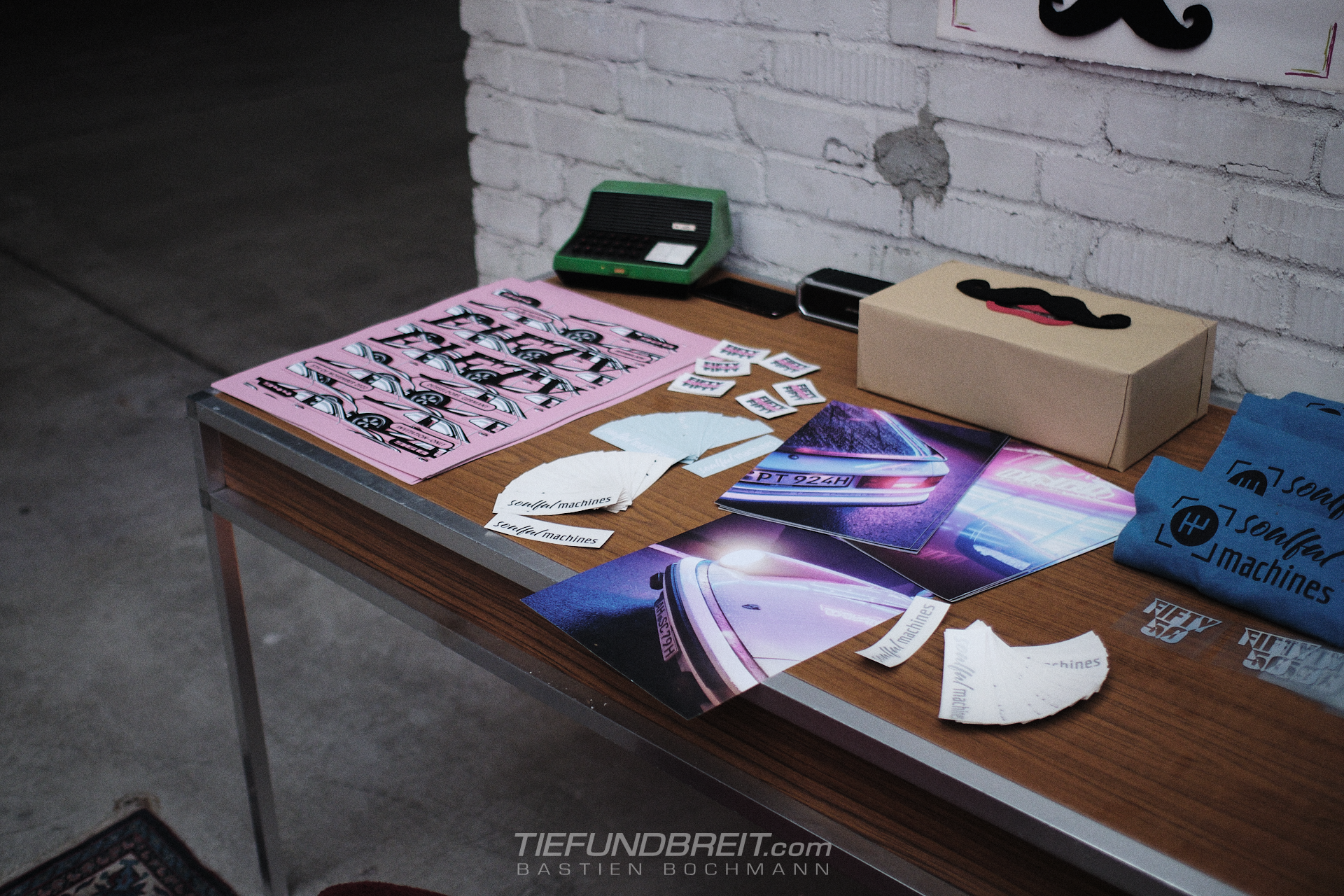 In early November a whole bunch of Transaxle Porsches congregated in Düsseldorf for a stylish send off to the car season. Smack in the middle of the city, Tristan managed to secure a disused warehouse for the meet. He had a vision in his mind of how the meet should look and this would be the perfect location. As he is a videomaker Tristan knows a thing or two about lighting a scene and so he proceeded to install bright and colorful LED lights all over the place. I met up with him and a few other friends a bit before the meet started and we all helped with some of the last set up.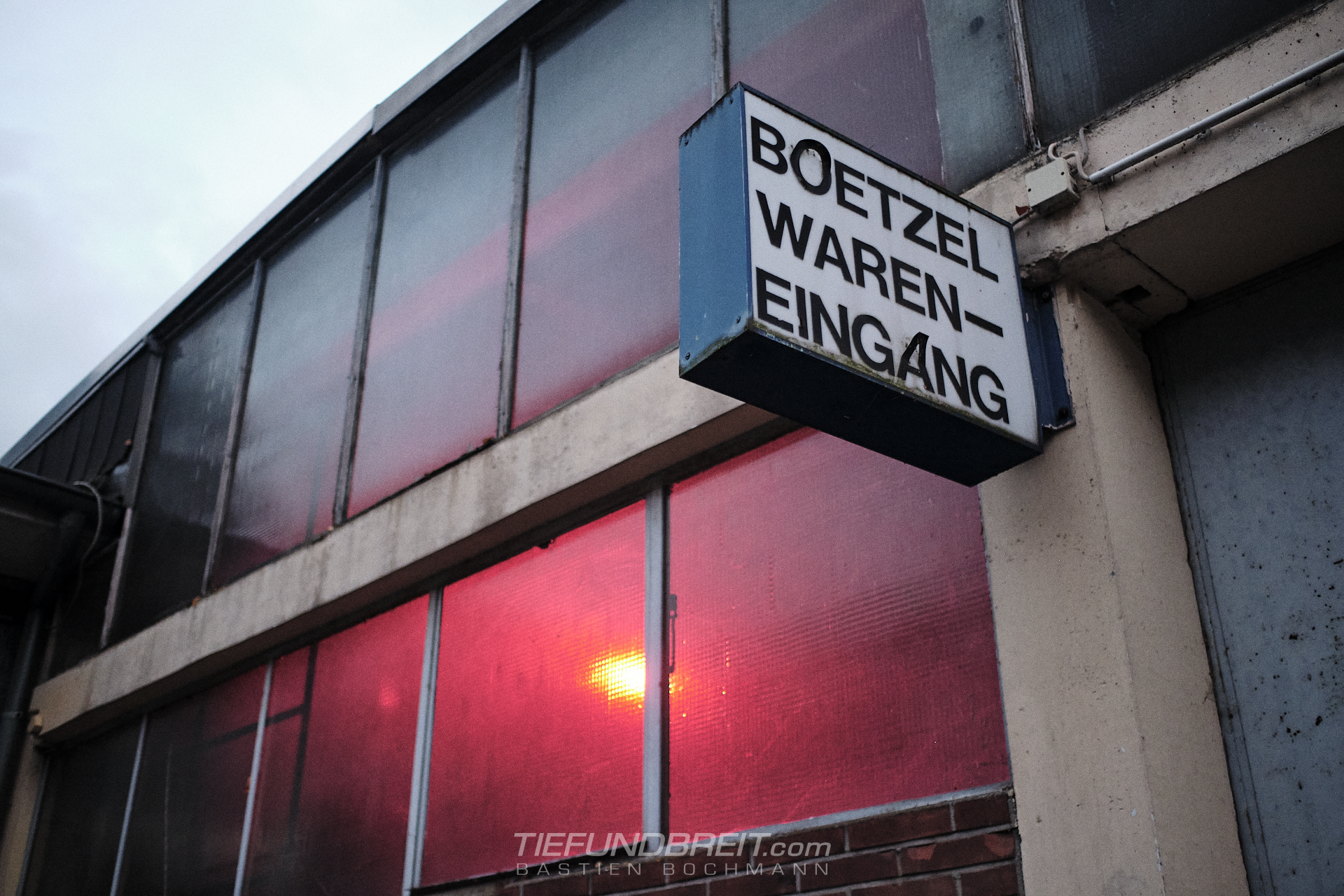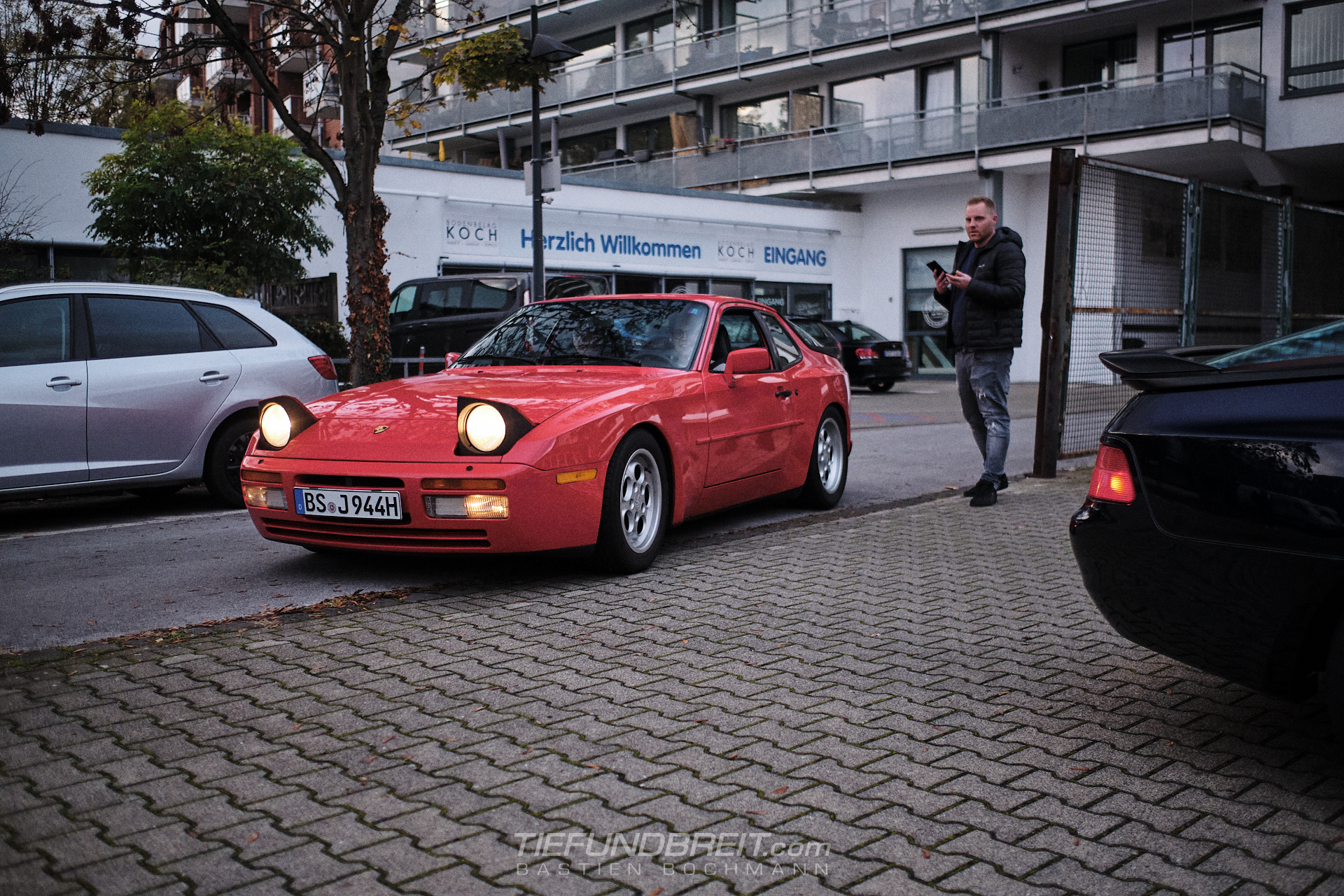 When the first cars started rolling in and it started to get dark, Tristan's vision slowly came to life. A smoke machine did it's part in setting the mood – the warehouse was quickly filled with fog. Couple that with the colored lights and it was like walking through a Kavinsky music video.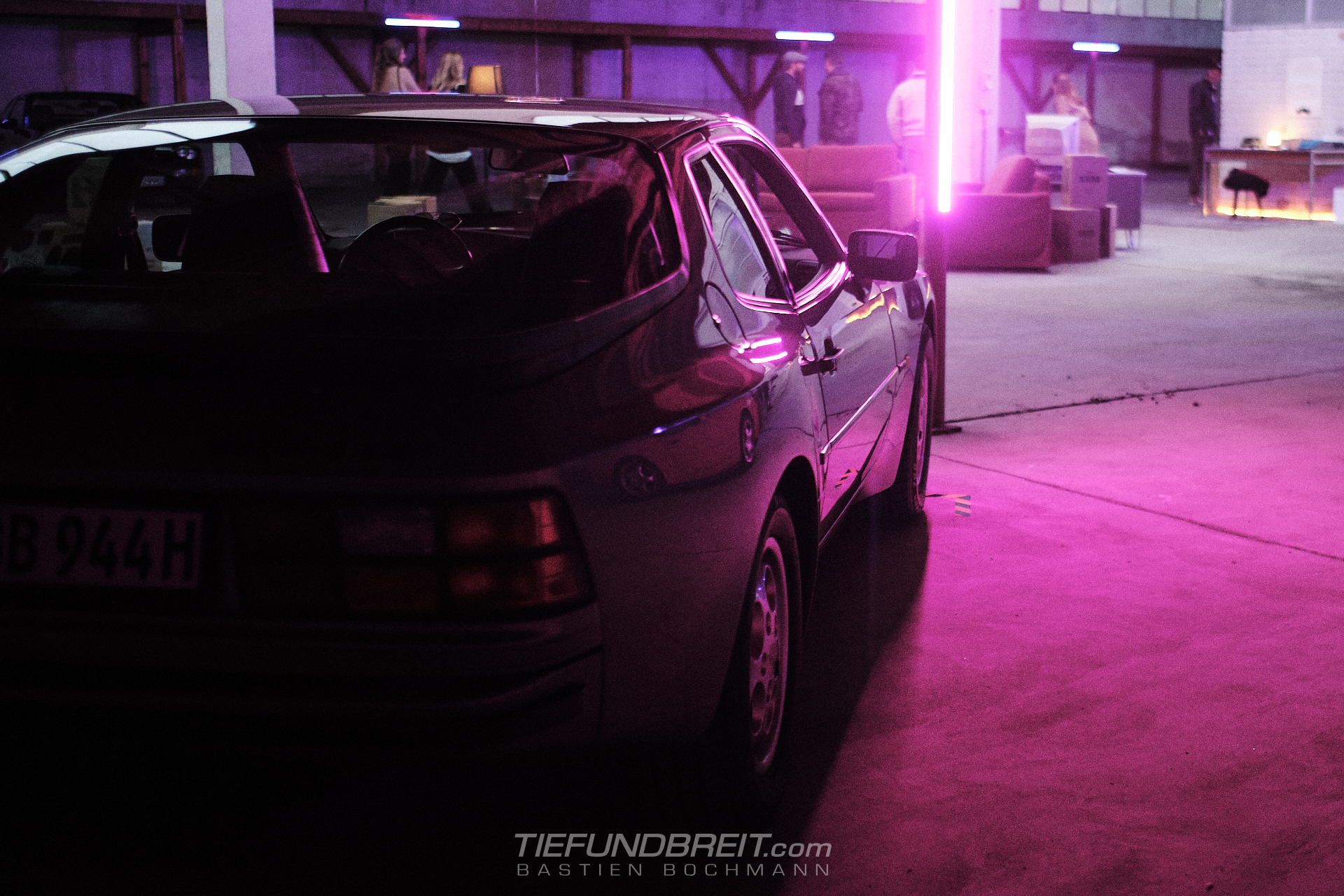 Transaxle Porsches of all kinds started rolling in – 924s, 944s, 968s and even a 928 made the trek. This row here nicely illustrated the evolution of the four-cylinder models, starting with a 924S, continuing with a 944 and a 944S2 and concluding in a 968.
If you're not that familiar with the Transaxle models, let me give you a brief history lesson. In 1975 Porsche introduced the 924. Originally developed by Porsche for Volkswagen, Volkswagen decided they did not want to produce the car due to the ongoing energy crisis of the 70s. As the design was basically complete, Porsche decided to produce the car on their own as an entry-level sportscar.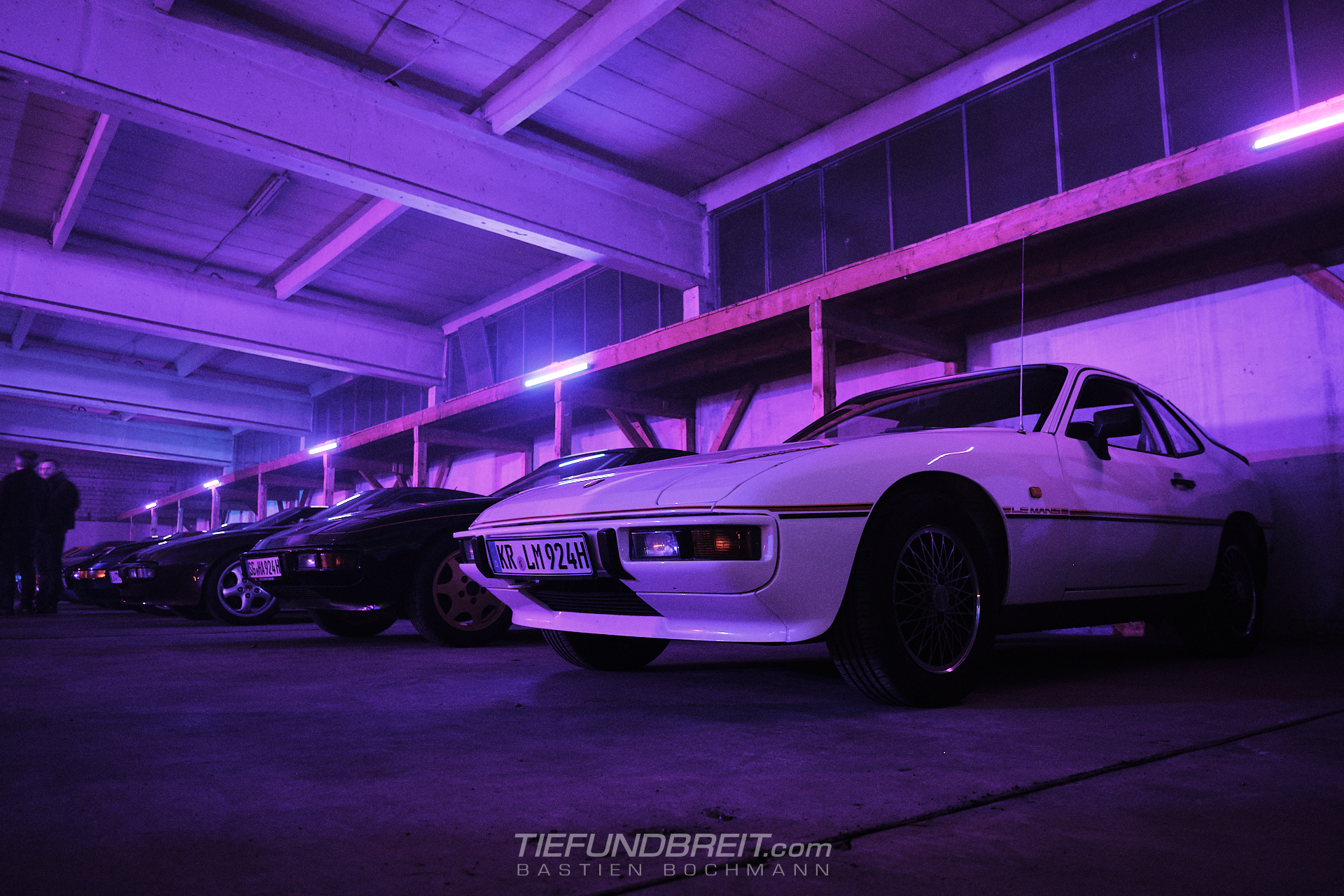 The basic idea was a light and nimble sports car – to achieve near perfect weight distribution Porsche opted to build it as a Transaxle. That means a longitudinally mounted engine in the front and a transmission in the rear, with power going straight to the rear wheels. The 924 used a Audi-sourced 2.0 inline-four making roughly 125hp at first. Reception was mixed, with people calling it a 'housewife's Porsche'. Porsche did their best to raise acceptance for the car, releasing a more powerful Turbo variant and even some motorsports oriented variants like the 924 Carrera GT. They even entered a bunch of 924s into Le Mans.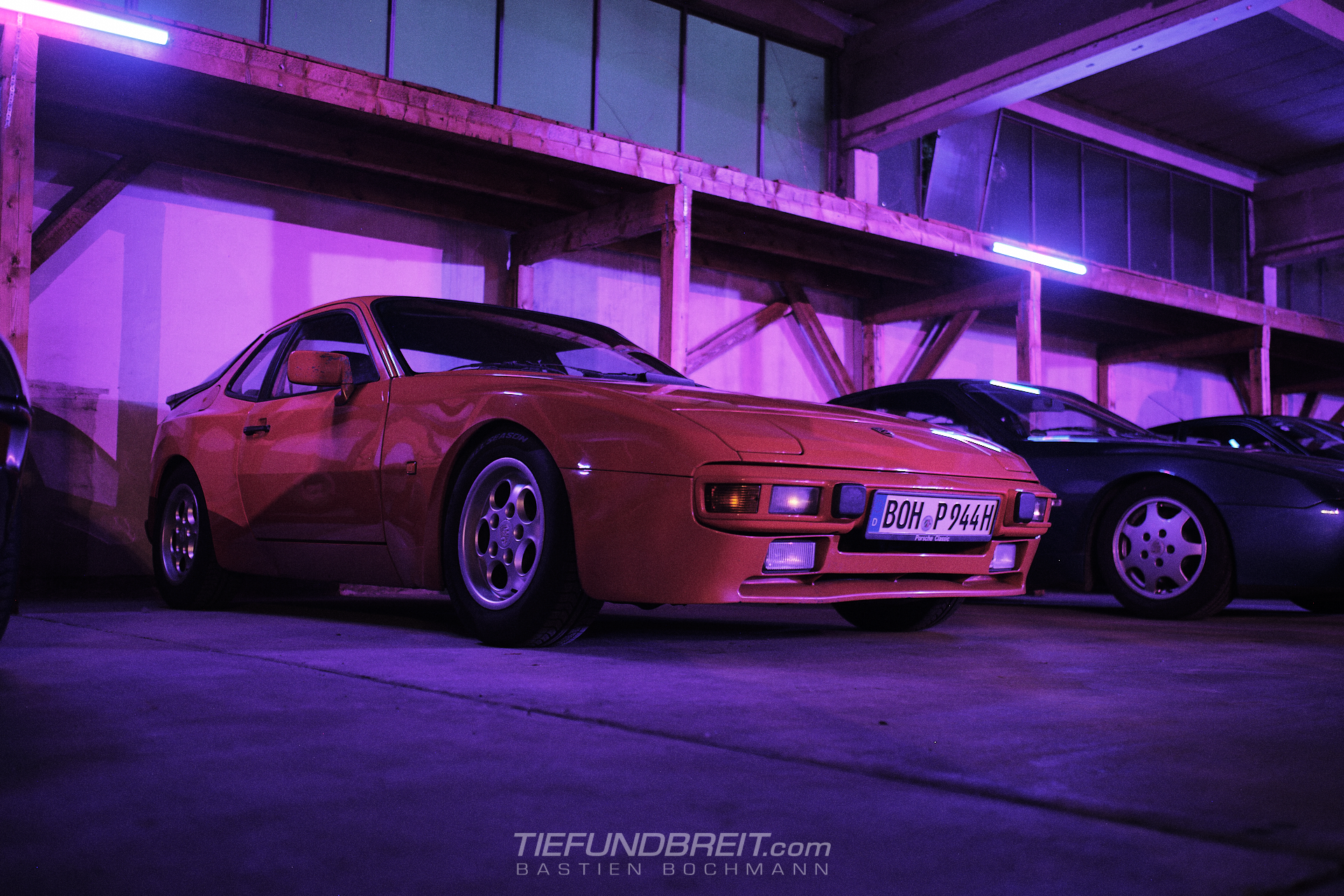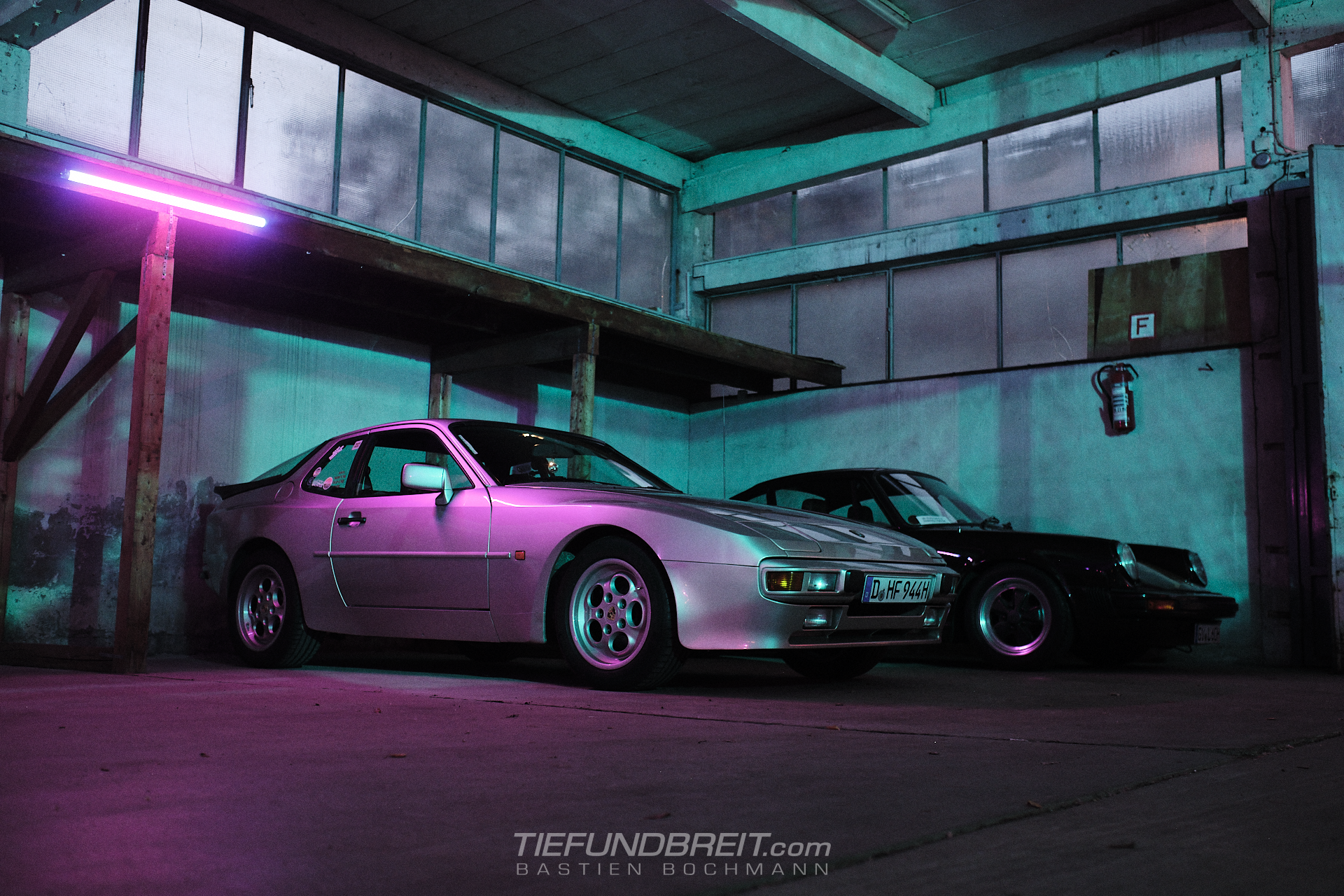 In 1977, the big brother hit the scene – the Porsche 928. Developed as a replacement for the aging 911, the 928 was basically a scaled up 924 (although one could say it's actually the opposite, as the 928 was already in development when VW asked Porsche to develop the 924), packing a Porsche-designed V8 engine. The 928 would enjoy a very long build period, being available until 1995 in various stages of evolution.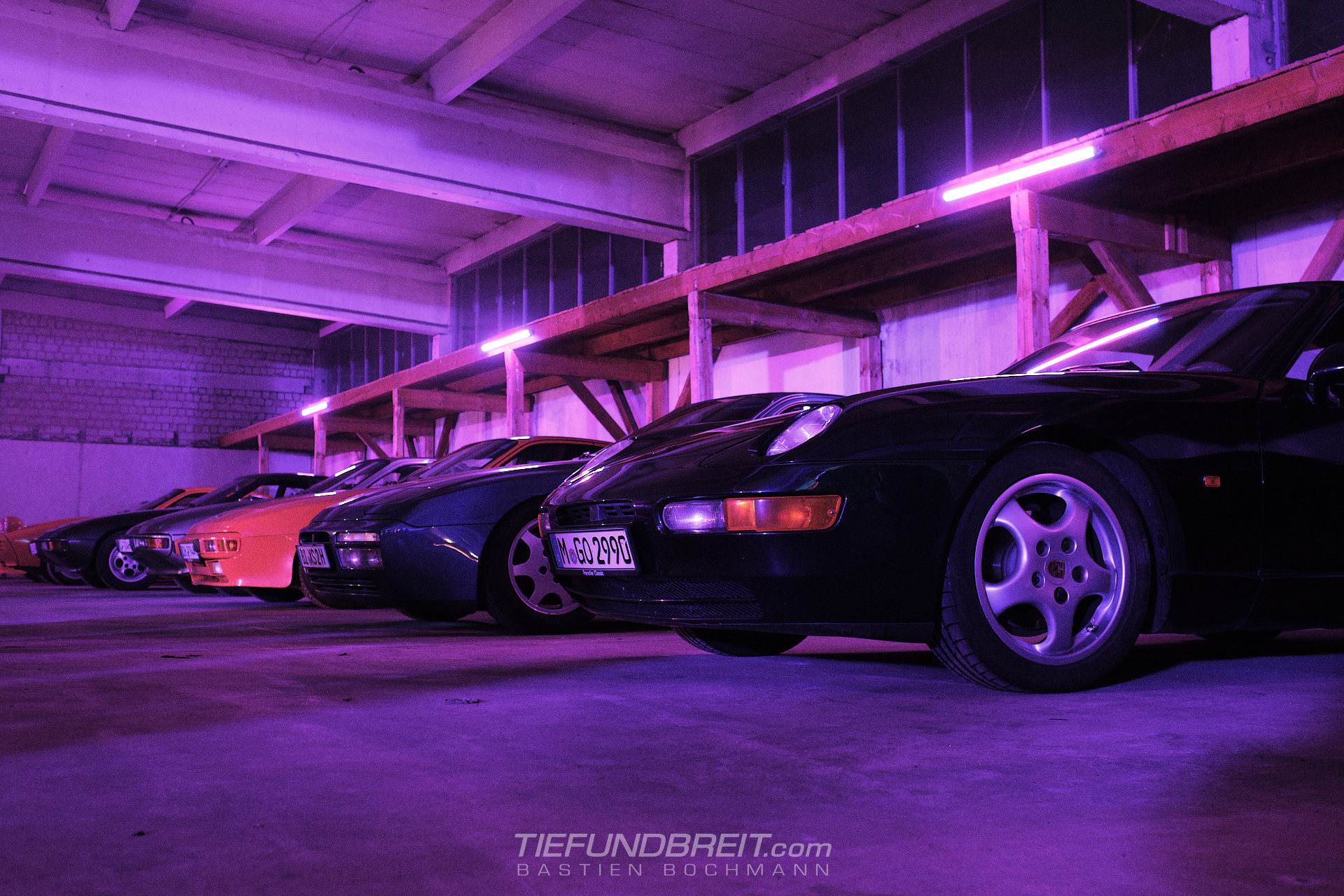 Not satisfied with the mixed reception of the small 924, Porsche developed the 944 with the 924 as a base. Wider fenders are the most obvious visual difference and the engine was derived from the 928's V8 engine, being basically the right half of that engine – a 2.5l inline-four, making 163hp. From the start the 944 was received a lot better than the 924. Porsche continued to develop the 944 into various evolutions, the first being the 944 Turbo in 1985, producing a respectable 220hp. Next was the 944S – a 2.5l 16v engine producing 190hp. This model was only available for two years from '87 on and was soon replaced by the 944S2. The engine got a bump in displacement and thus Porsche held the title of 'four-cylinder with the highest displacement' for a time, owing to the S2's 3.0 16v engine.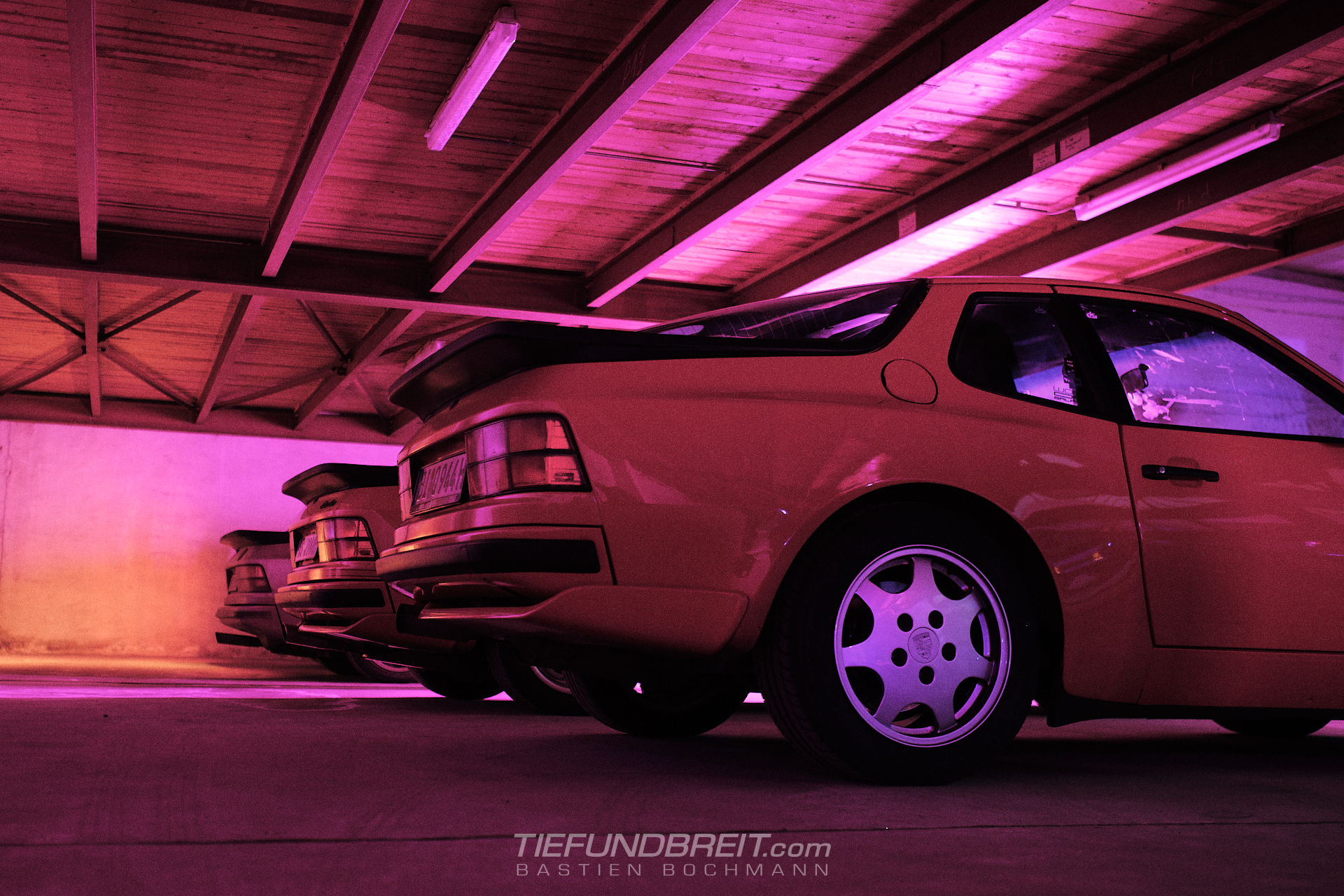 The star of the show was a genuine 924 Carrera GTS in immaculate shape. Placed in the spot of honour, it's red paint gleaming under the neon-coloured lights it was a sight to behold. My favorite feature? Probably the roll cage. It just looks so tough and purpose built.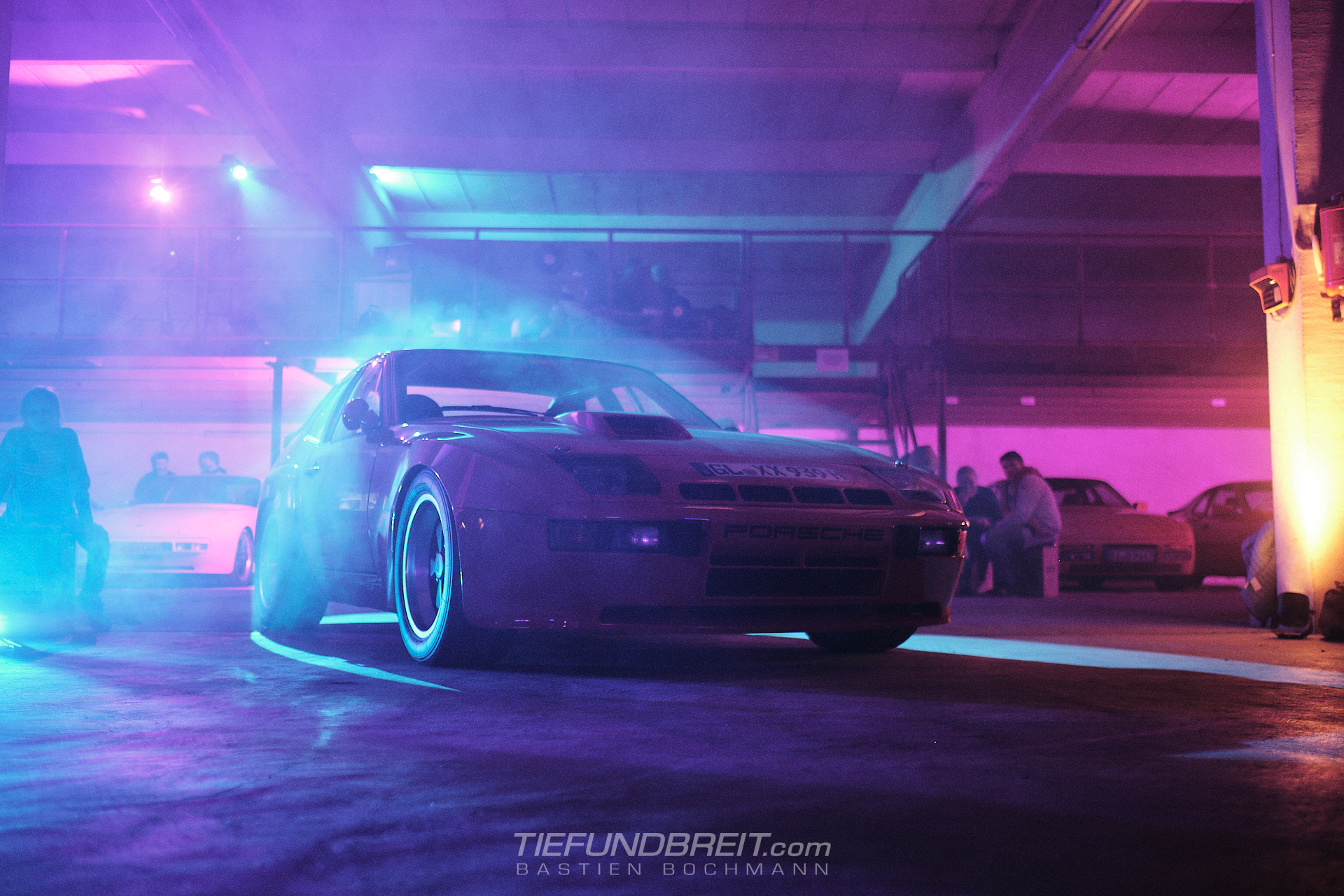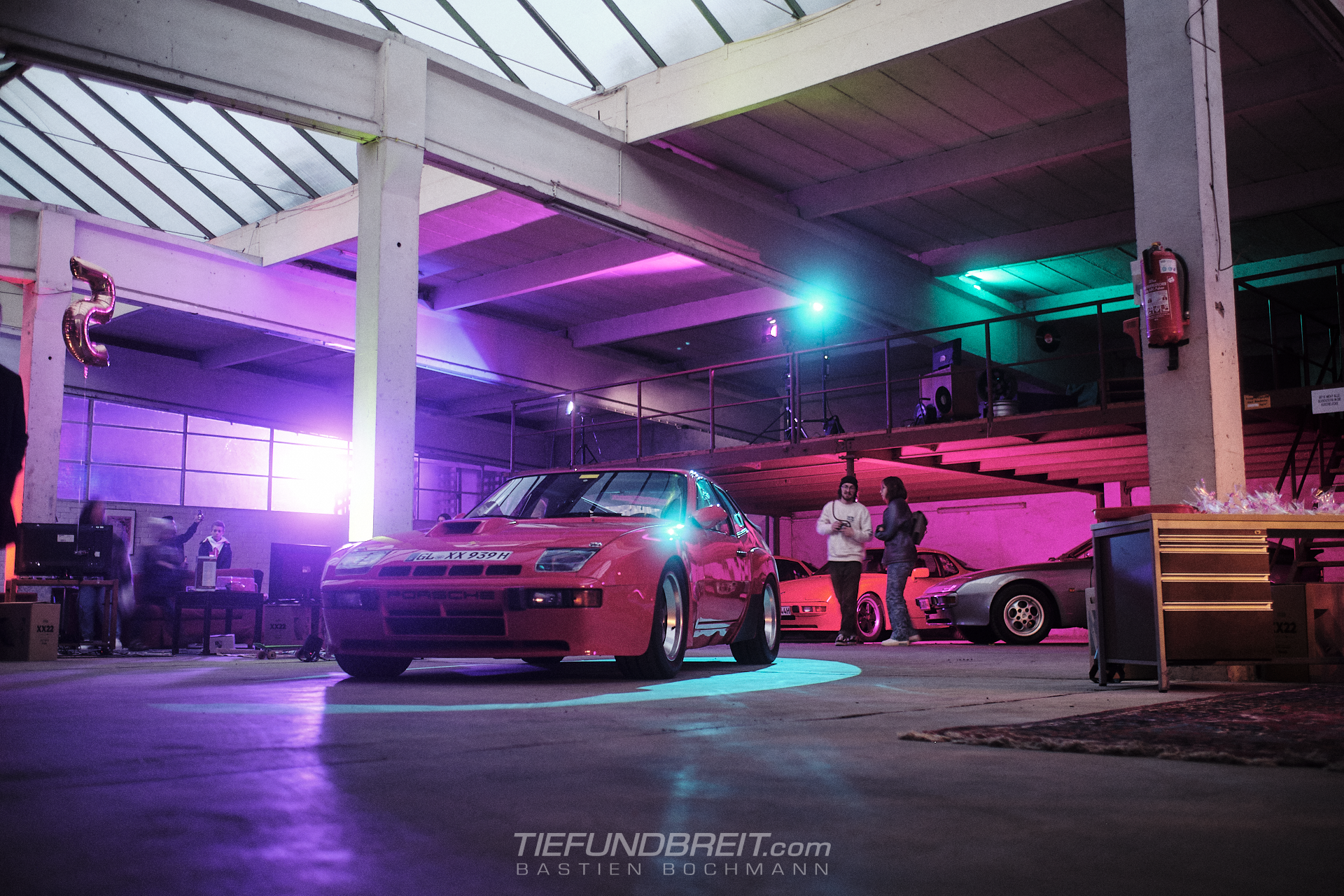 .
Nobody wants to stay hungry at a meet and so the 'Pizza-Bulli' showed up, a vintage VW Transporter with a pizza oven in the back. Let me tell you – the pizzas were phenomenal. Knowing it was made in a vintage aircooled VW was just the icing on the cake – or the oregano on the pizza, so to speak.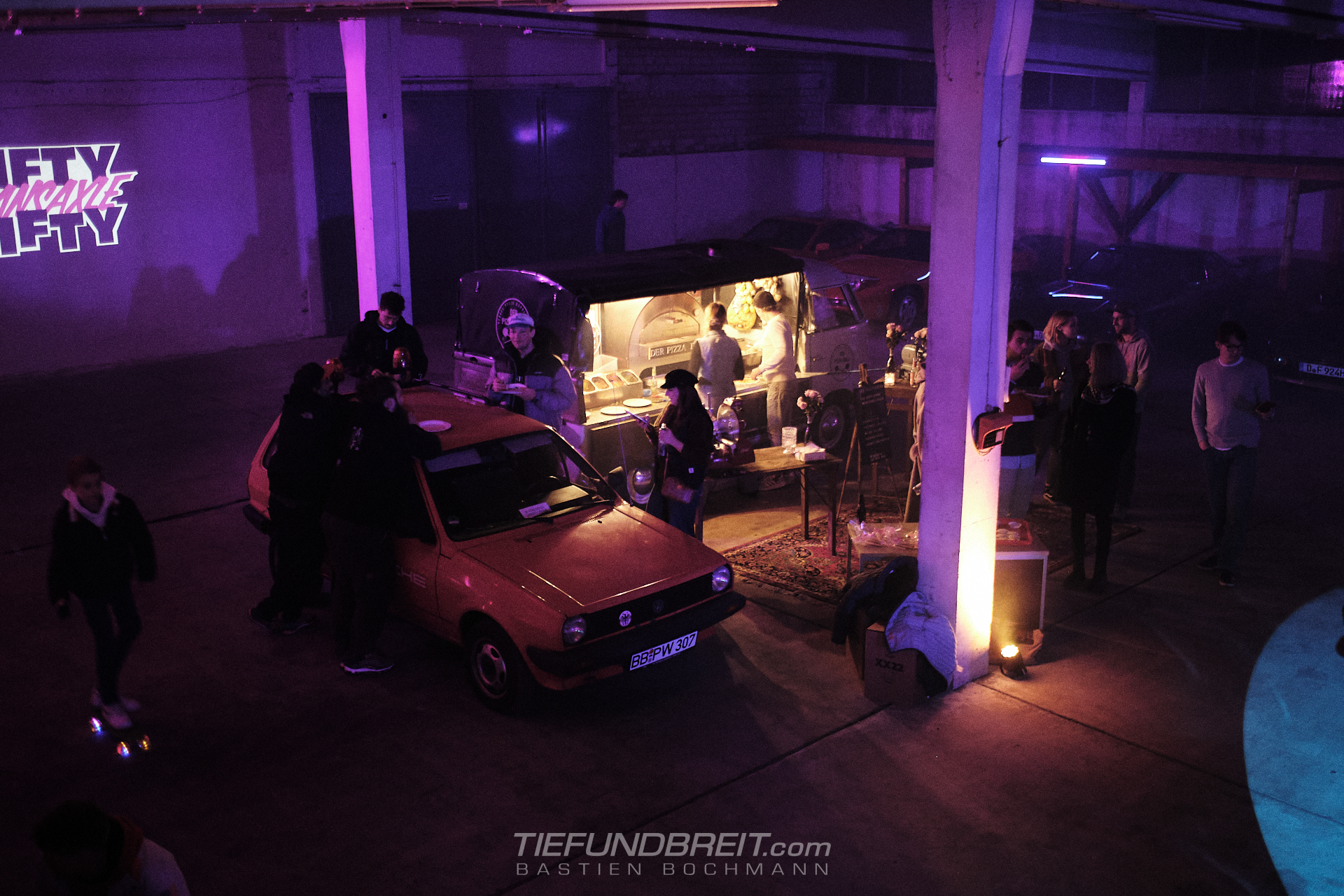 To further set the mood the warehouse was decorated with a few retro-inspired displays like an old computer, some fitting model cars and car parts. And to round things off, people could spend some time gaming on some classic game systems. A Super Nintendo with Mario Kart, a Sega Mega Drive mini with a collection of games and a Playstation running Need for Speed: Porsche. People loved this and you could always find someone playing on one system or the other.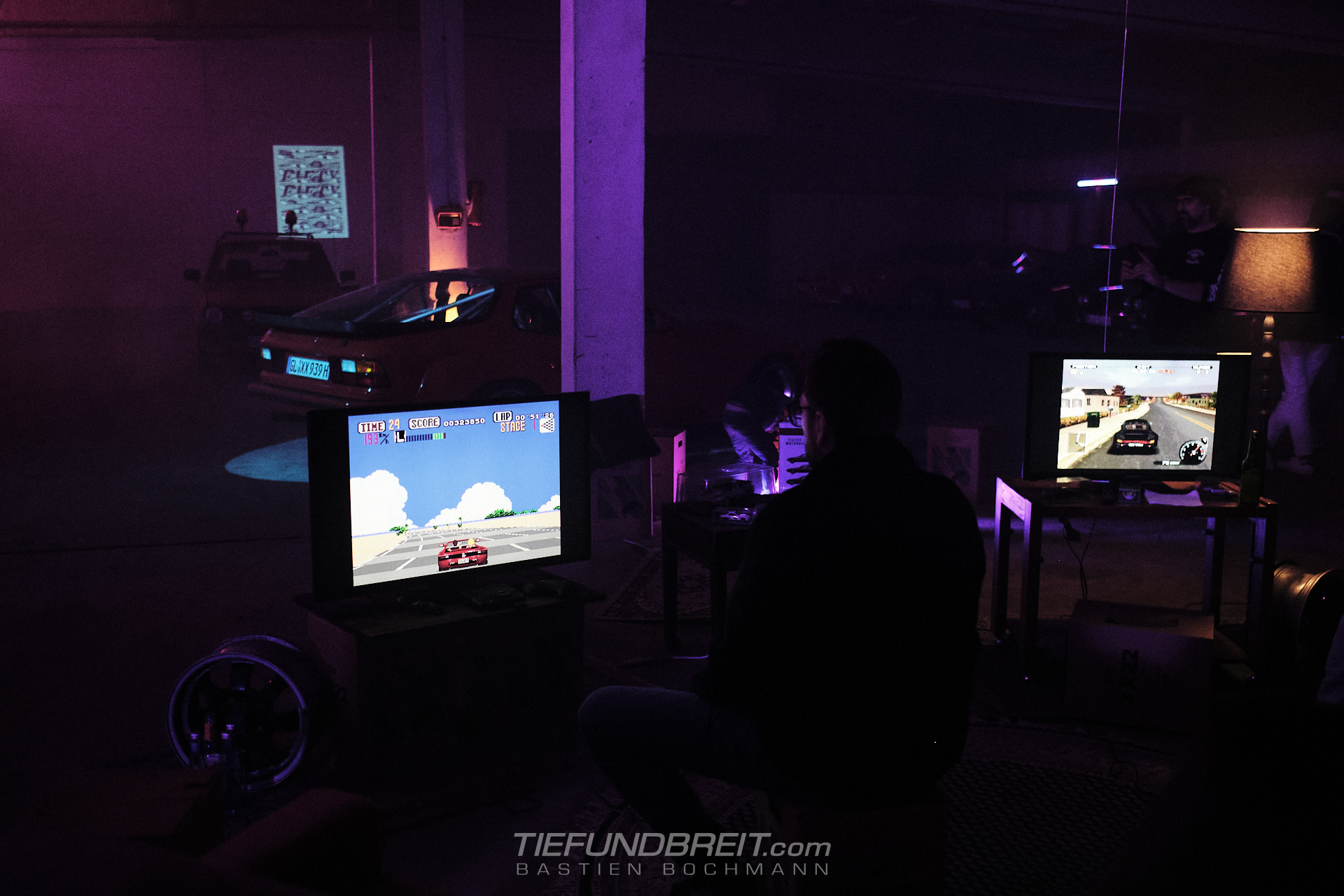 Two beamers played some Porsche-themed film clips all evening – one of them even using Tristan's very own white 924 as a canvas. What a neat idea!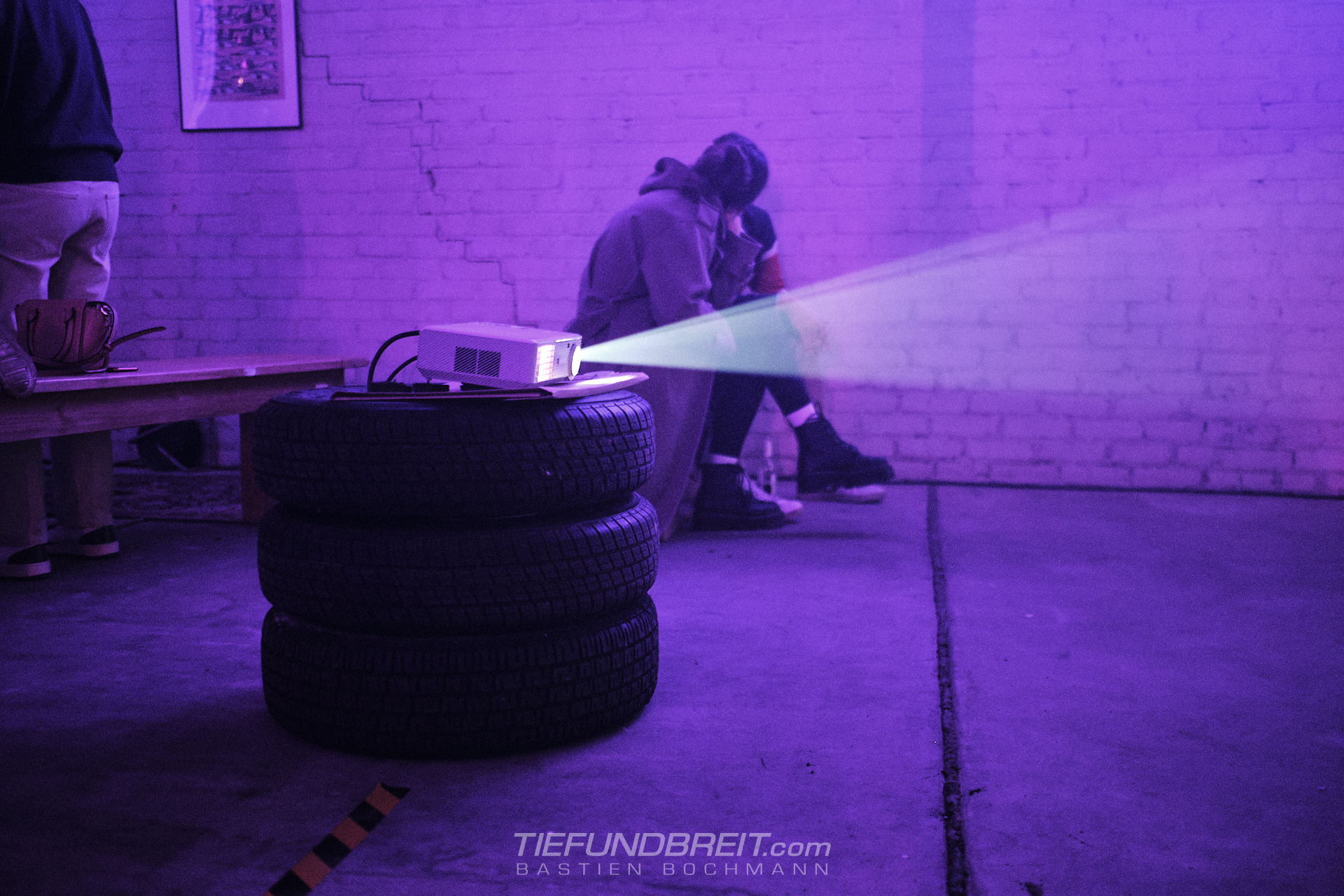 Of course some non-Transaxles made the journey to Düsseldorf as well – although they were parked outside the warehouse, at least until the first cars started leaving later in the night. I thought it was a pretty eclectic collection of cars – 911s, BMWs, a Mini, a Corsa, a Golf Mk2 and even a Fiat Panda 4×4 and some off-roaders in the shape of a Toyota Land Cruiser and a Range Rover.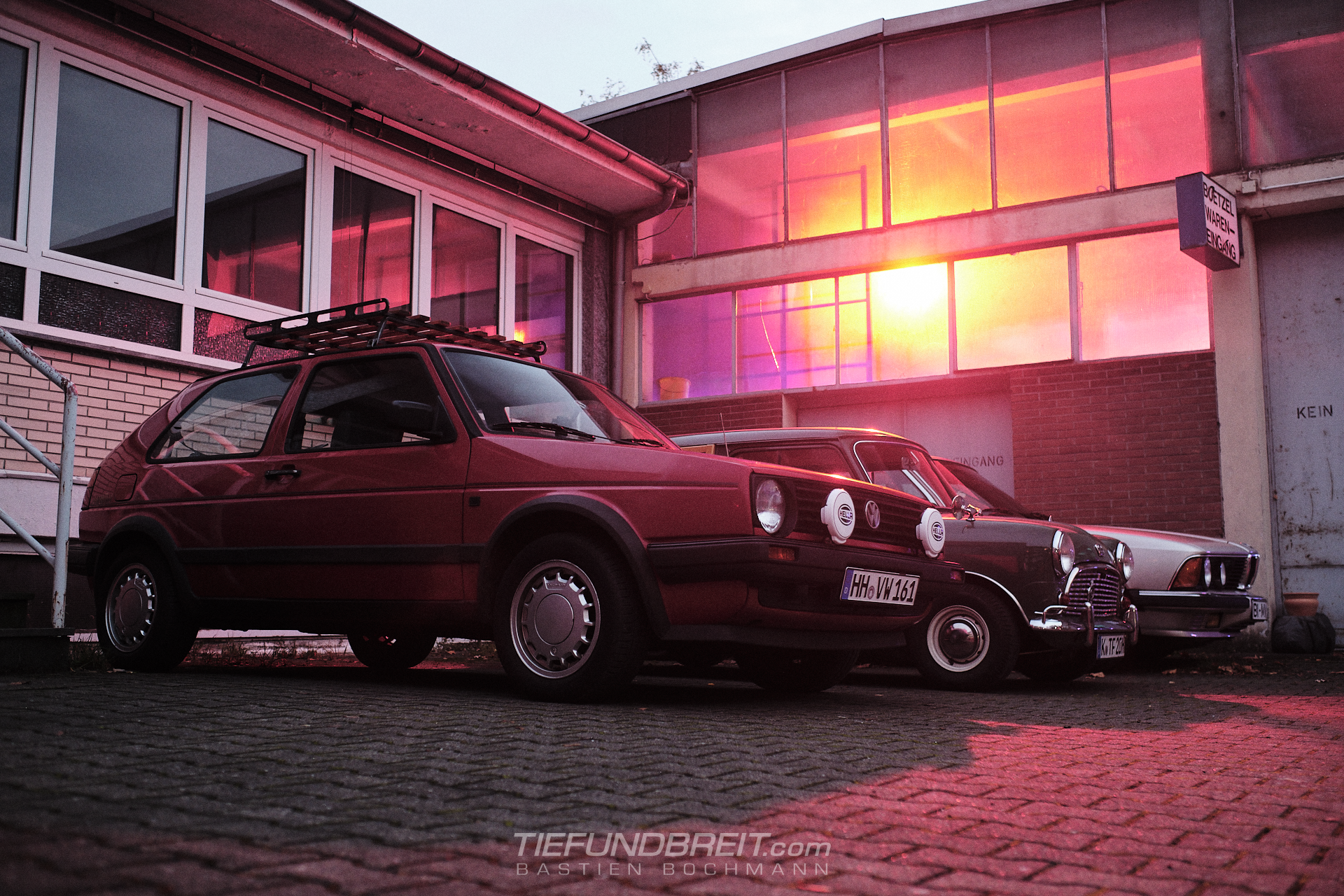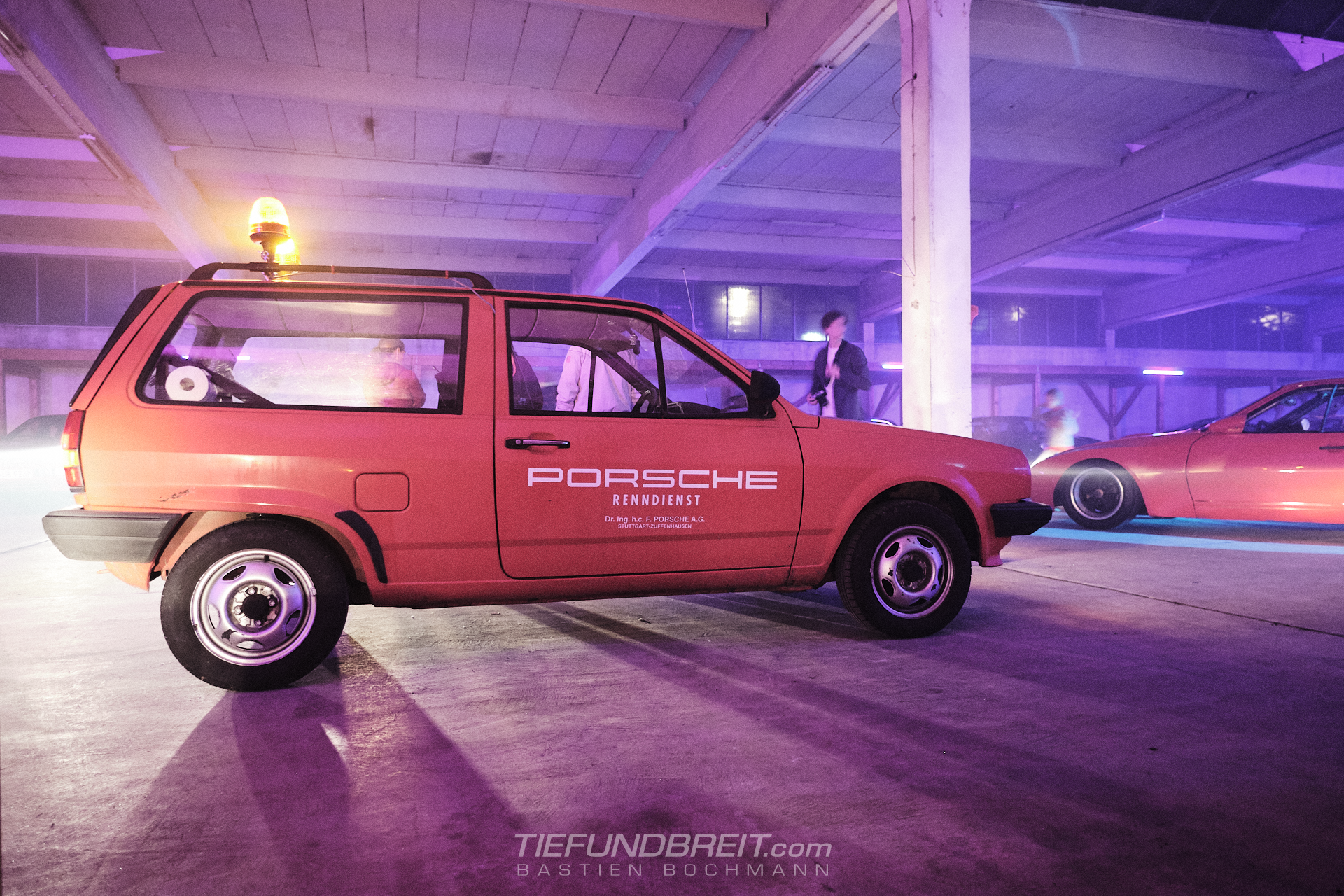 The spectacular setting made this one a meet to remember – I don't think I've ever been at a meet that felt more… 'cinematic' almost. It was like a set from Blade Runner. All in all, the meet turned out to be one my best evenings of 2022 and I hope you can get even a glimpse of how rad it was through my photos.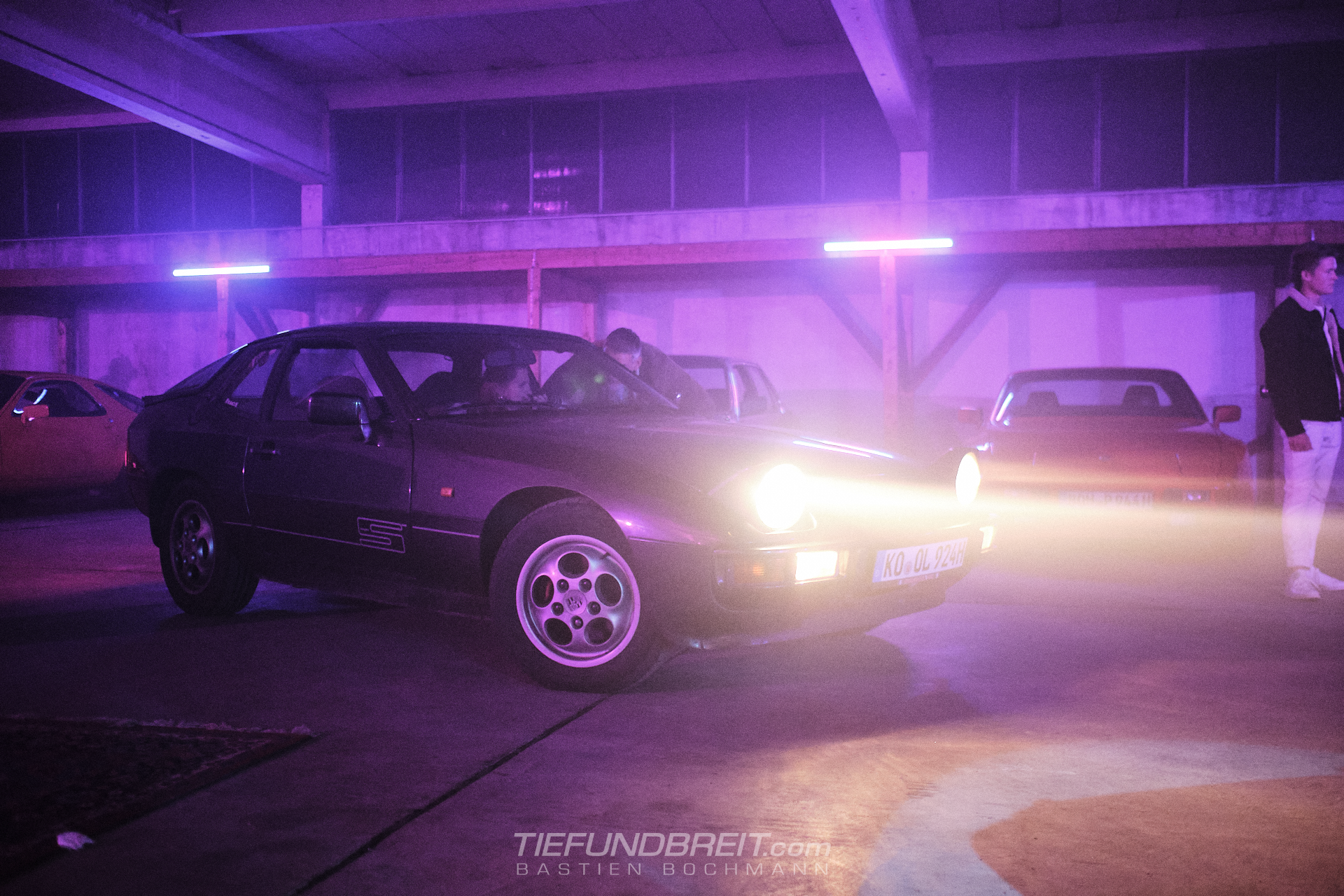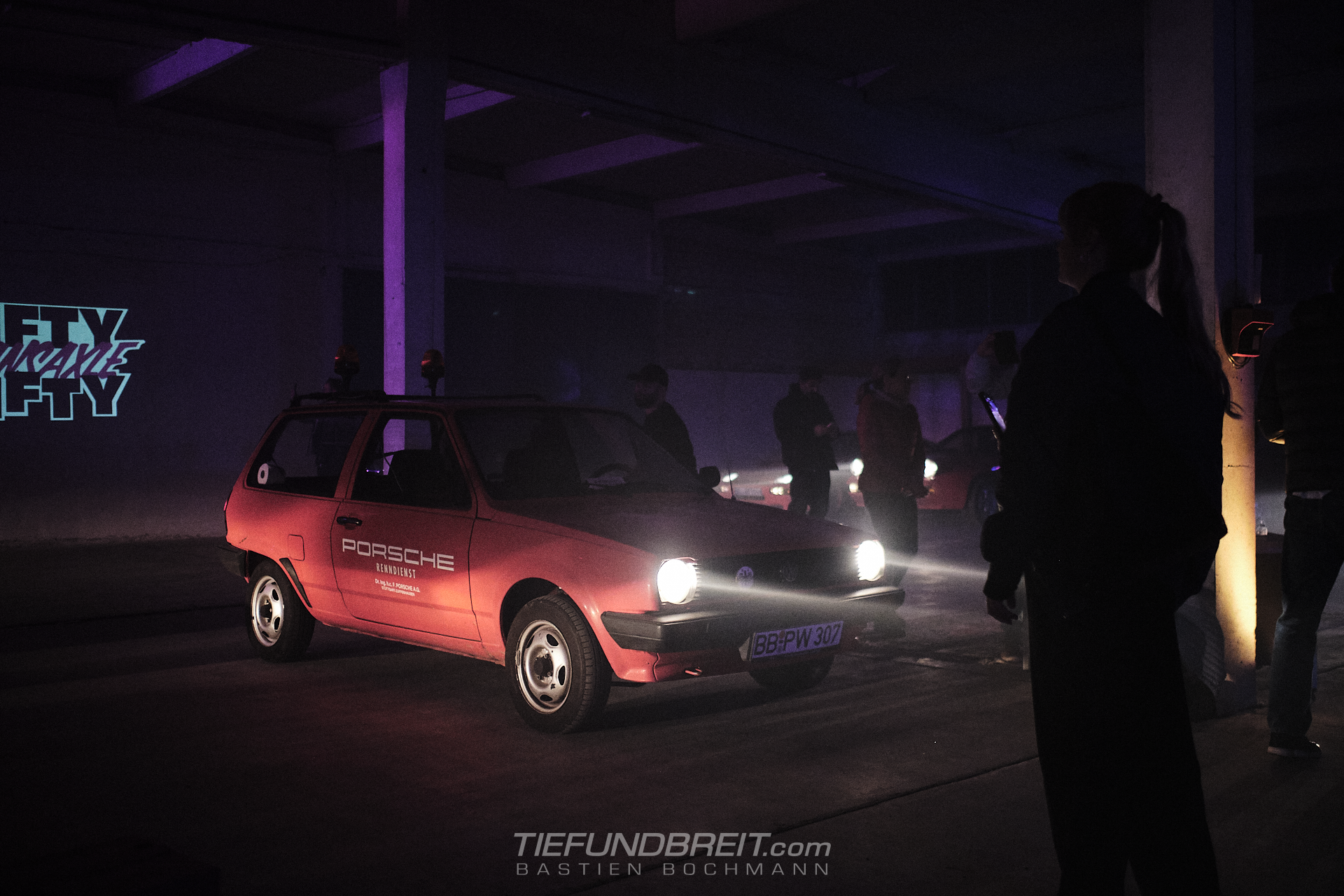 I can't wait until Tristan cooks up something like this again – I wonder what other ideas he can pull out of his hat for his next trick… Whatever it will be – count me in.