Oh boy, where to start? It's been quite a while since our last post, after all. Back in early 2019 I handed over the site to Mathias and stepped down due to personal reasons. Mathias kept it going in 2019 but then 2020 rolled around and… well, you all know what happened. A certain virus. The big C.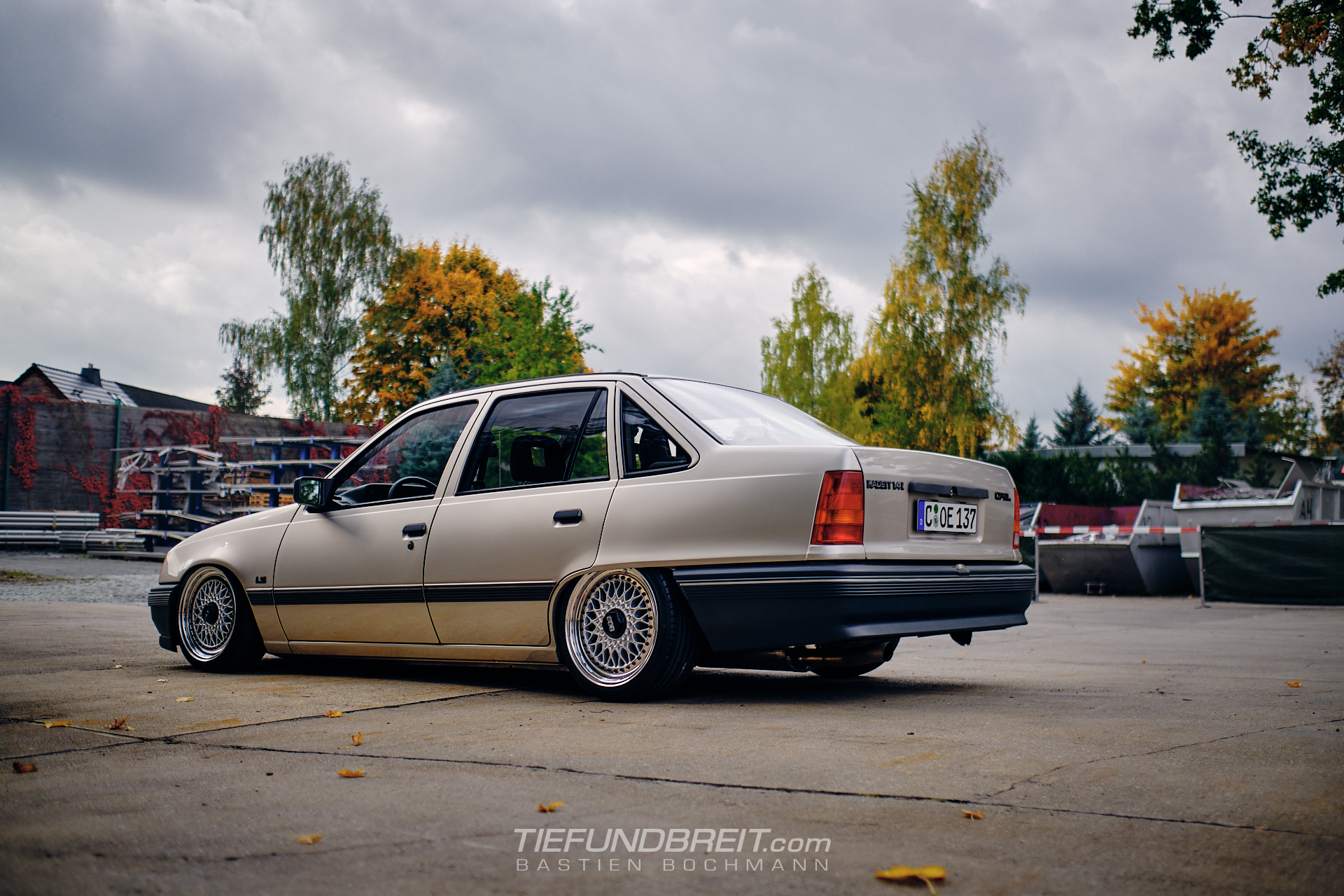 Seemingly overnight our whole world ground to a halt. People were confined to their homes and any social life just… stopped. Of course this affected car culture as well, with shows and events being canceled left and right. With no shows to cover and social life taking a hit, I don't blame Mathias for the lack of updates. When there's nothing happening, there's nothing to post after all. 
This year things started to get back to normal, car shows started happening again and life slowly returned to the car scene. I attended a few shows and meets, but still didn't really think about returning to Tief & Breit, as I was trying to 'go legit', so to speak and try to get my work published with some bigger sites. Long story short, it was ultimately a supremely frustrating experience. When Mathias received an invite to Letzte Ausfahrt 5.0 he asked me to come along – and this weekend alone pretty much reignited my passion for Tief & Breit. The whole weekend I thought a lot about it and ultimately decided to return to my roots. Here, I would be able to realize my visions – bringing you quality content, all the while staying firmly rooted in 'relatable' cars. By that I mean authentic cars from the scene, no open chequebook builds (no disrespect intended) and no attention-grabbing Instagram fame-seekers but rather cars that were built with a lot of heart. 
.
And Letzte Ausfahrt 5.0 proved to be exactly that – a bunch of really, really cool down-to-earth people with some really cool and interesting cars. Also, it seems oddly fitting that the first post after our hiatus is about basically the same event as the last post back in 2020. This year's meet would be held in two parts: first a meet at Schloss Augustusburg in Chemnitz and after a few hours the party moved over to the company that André, one of the organizers of the event, worked at. At his company's site there would be a chill BBQ to end the day with full bellies and lots of laughs.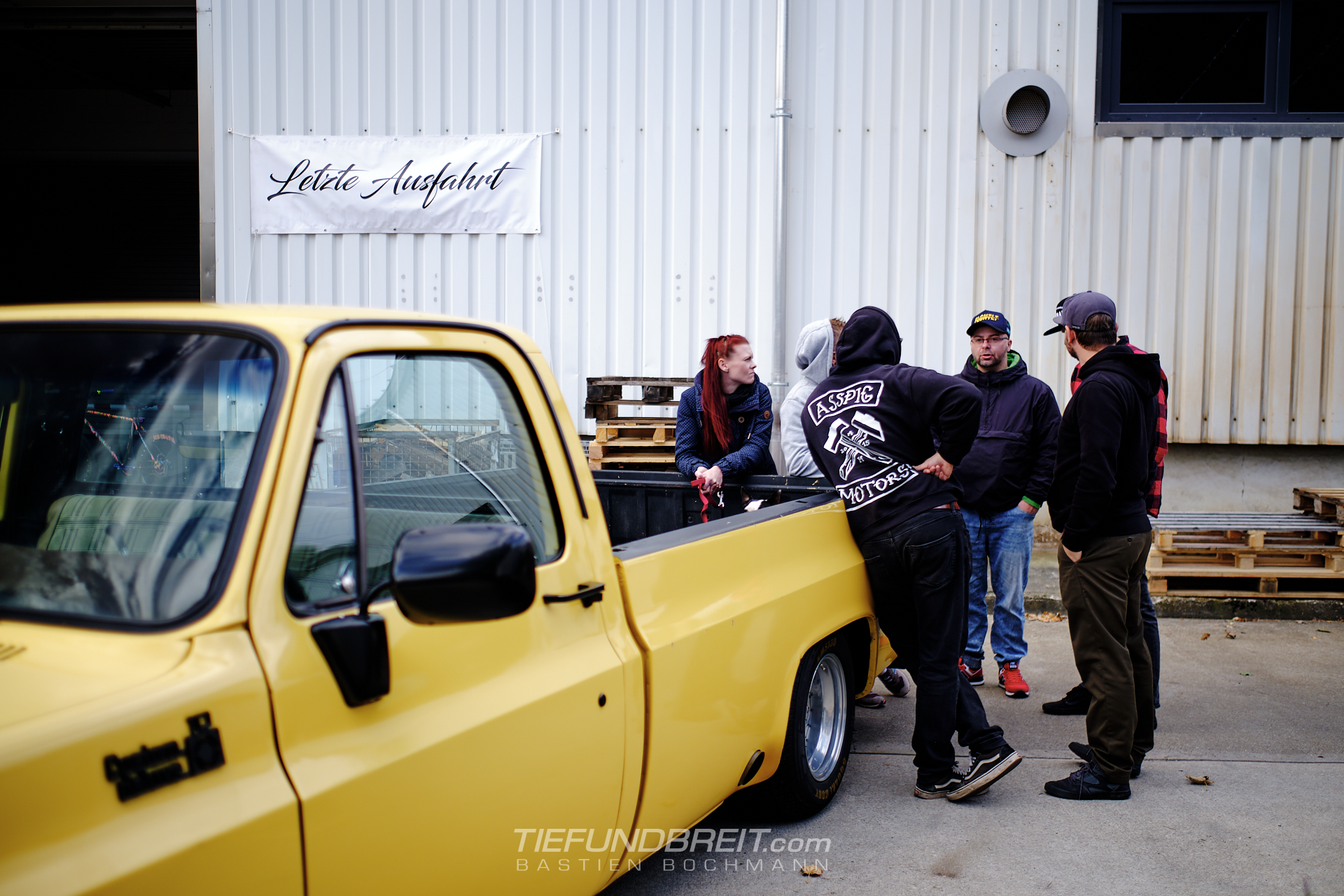 The meet was held on a saturday and the day before I set out from my home near Cologne after I was done with my day job and met up with Mathias at his home near Pirmasens. Some quick hellos, loading my gear into his car and we set out with his bagged Audi Allroad. A few hours later we arrived at the other end of the country – we had reached Chemnitz. Early on saturday morning we met up with the guys and girls from KMS130 (https://www.instagram.com/130.kms/) who organized the meet, as they have done in the past.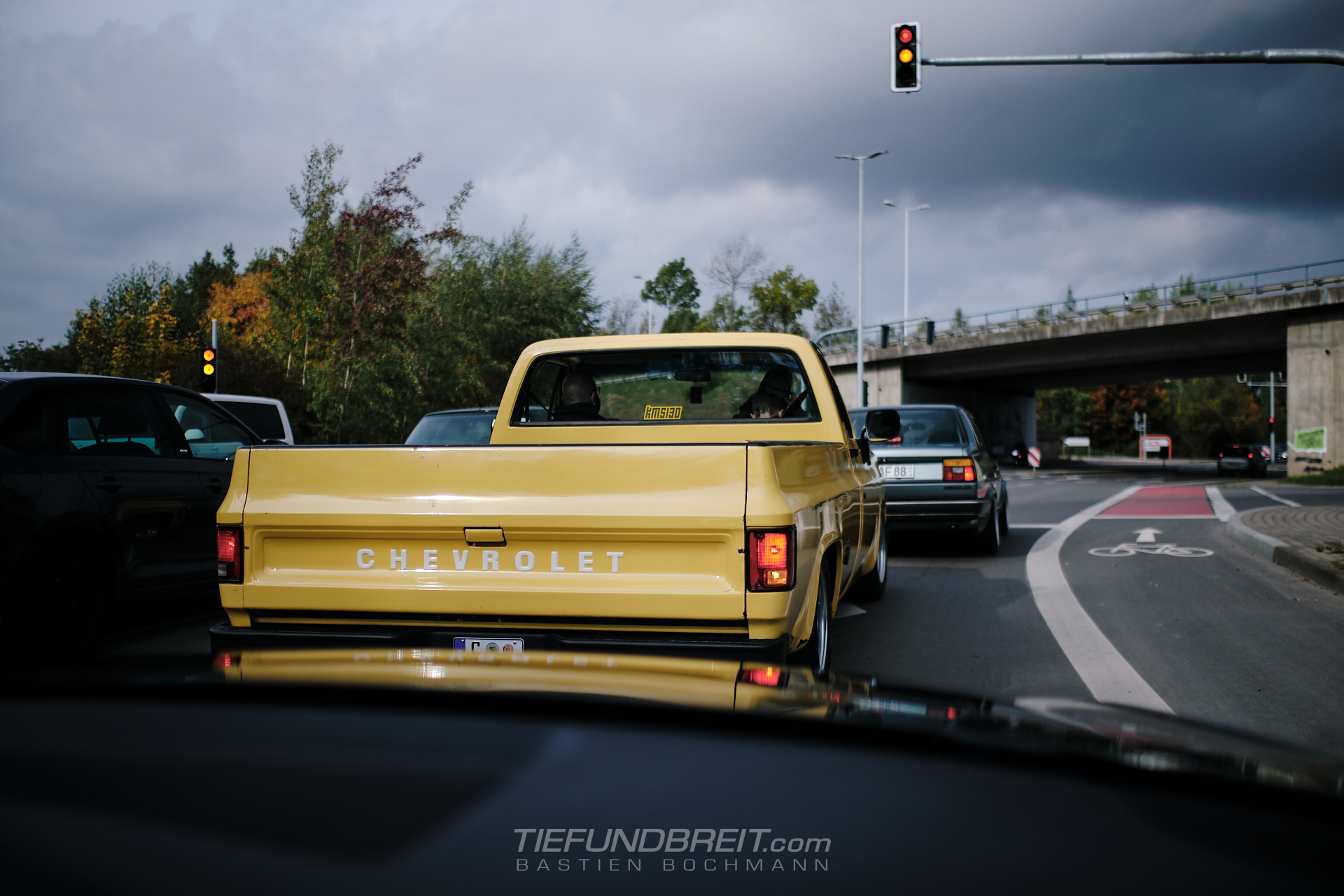 After a filling breakfast together, we headed out to Schloss Augustusburg. I've nearly forgotten how cool it feels traveling in a pack of modified vehicles – I instantly felt a comforting sense of belonging. 
Just 10 minutes away from Chemnitz, Schloss Augustusburg is a hunting lodge built in the 1500s. Today it's a popular tourist attraction of the region and is open for visitors. As it was on this saturday. While the meet was there with official approval from Schloss Augustusburg, it was obvious that a lot of the castle's visitors didn't quite know what was going on – why was this serene old castle suddenly being taken over by a bunch of modified cars? And while a lot of them, especially the older generation, didn't quite know what to make of a bunch of gearheads, most of them were very keen to find out more! A lot of interested conversations ensued because people wanted to know more about the cars and about the people driving and building them.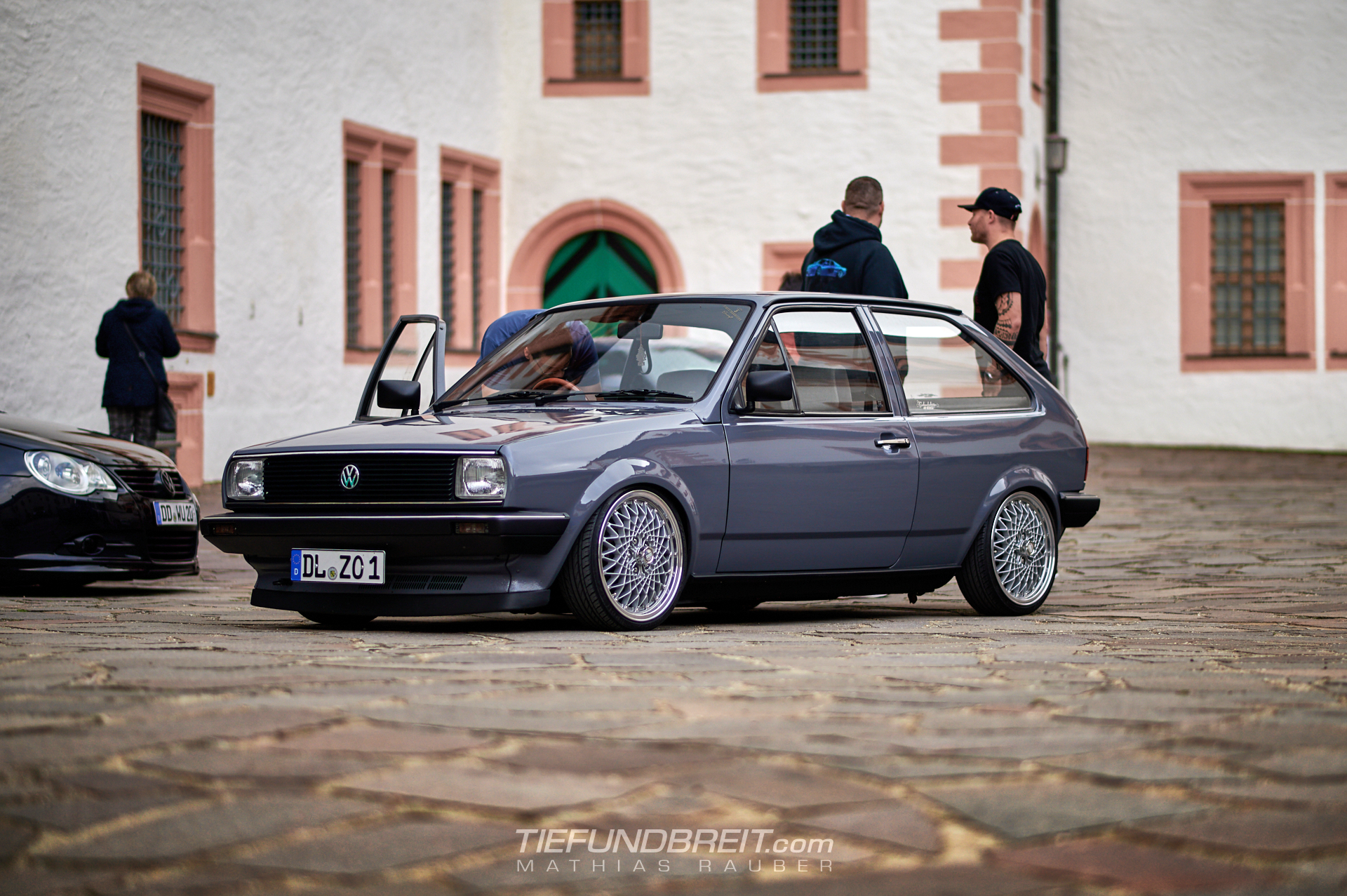 .
This was heartwarming to see, as car guys or tuners in particular often have a bit of a negative image, often being displayed as rowdy and reckless in the media. We're all just people after all.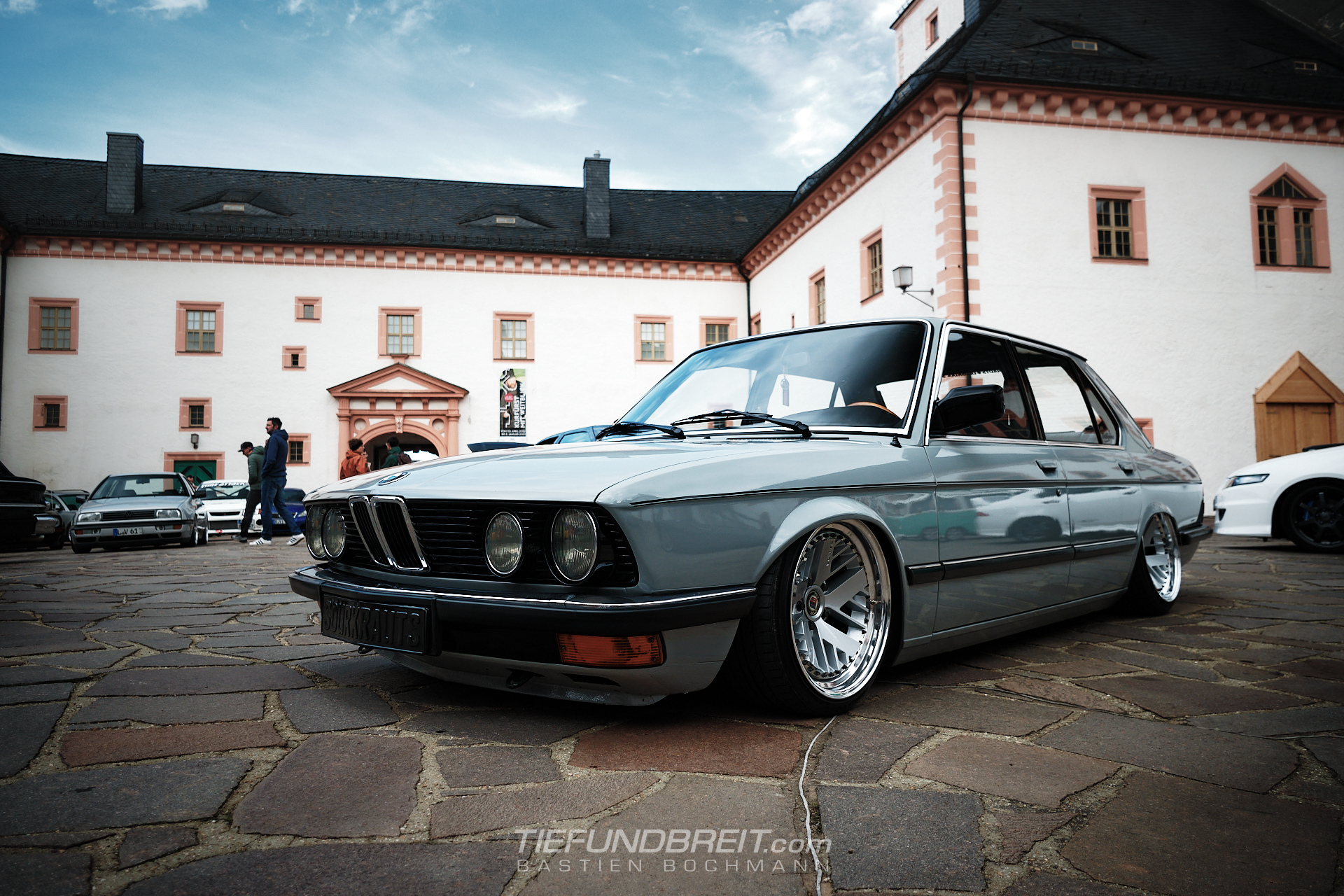 .
The magnificent courtyard of the castle made for an interesting backdrop to the cars. It was quite the contrast – the uber luxurious castle from days gone by now populated by cool looking modern metal. 
.
It wasn't long until a constant stream of cars started pouring into the courtyard. Robert, or 'Icke' as he's more often called, had parked his newest project – a very slick looking Opel Kadett – outside and was handing out some goodies to all the participants of the meet as they rolled in. 
.
The meet was open only for invited guests and while it might be easy to think that this would lead to a bunch of cars that were all the same, nothing could be further from the truth. Even if it sounds cliched, a  truly impressive diversity of cars was gathering here. I think the oldest car was some kind of Chevy from the 1950s – compare that to some of the other cars like a Citroen Xsara from the late 90s or even a Lada or some modern-ish JDM icons like a right hand drive Toyota Altezza. 
.
The meet was kept pretty small but this is a good way to ensure that the attendees are on the same wavelength and there would be no-one stepping out of line with unwanted behavior like doing burnouts or playing way too loud music. In fact, the people meshed so well together, that I don't think I've ever felt a more pleasant vibe at a car show.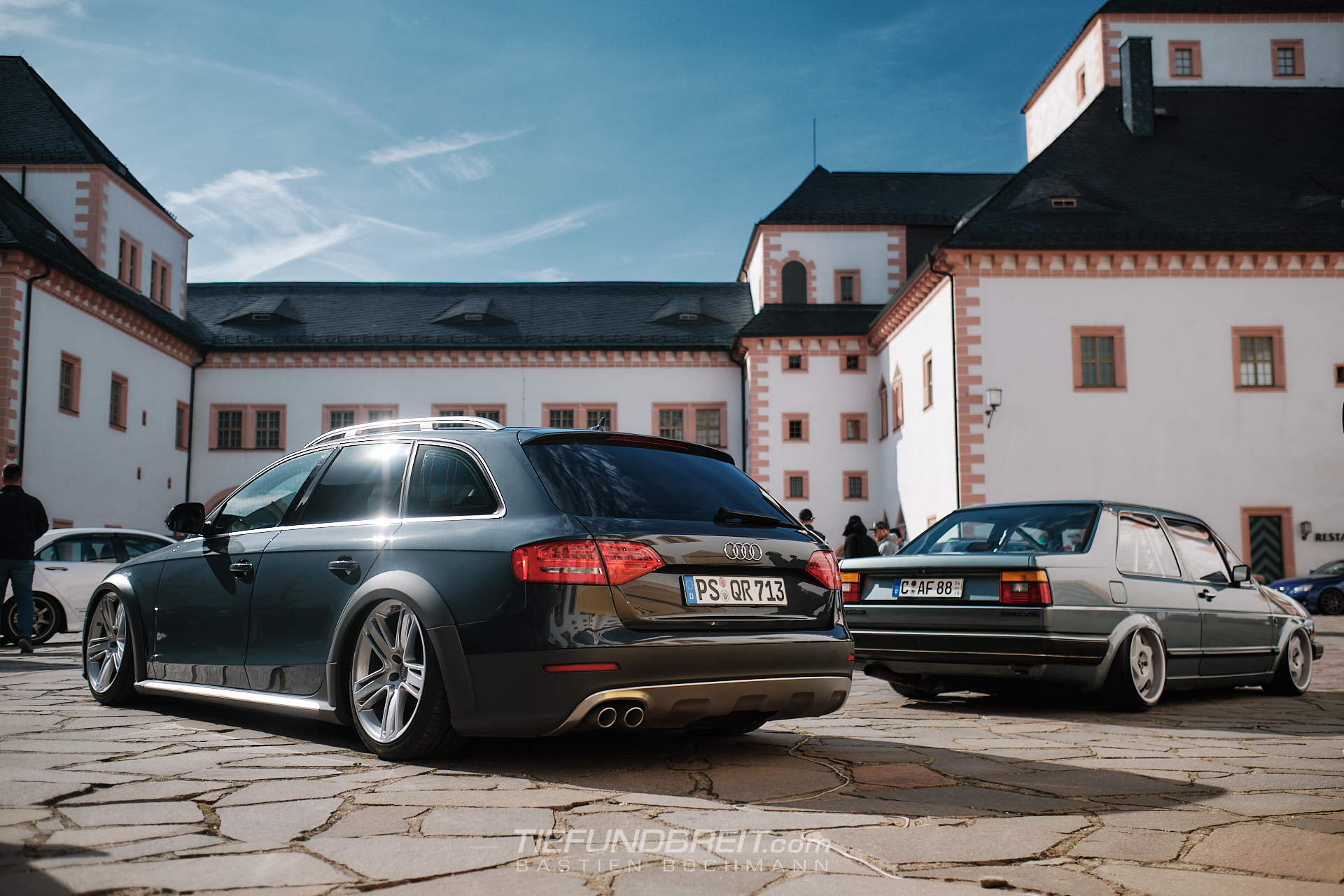 .
A few hours of occupying the castle's courtyard later it was finally time to head on over to the second part of the meet. All of a sudden a hive of activity broke out as people were heading back to their cars and slowly starting to roll out of the castle. A short drive later and we all rolled onto the site of a metal working company that graciously opened their doors for the cars. This made things a lot more private and intimate if you will. 
.
It wasn't long until the cars were parked up in a semi-orderly fashion and the people started mingling and talking. It wasn't only the cars that were the point of interest, though. The guys and girls of KMS130 had also ensured that there would be some other stuff to look at – like a bunch of modified old school bikes, bicycles and scooters.
.
Or how about the huge display of modified 1/18th scale model cars?! This was absolutely nuts! The models were executed very, very well and I found myself a bit envious of the builder's fine craftsmanship.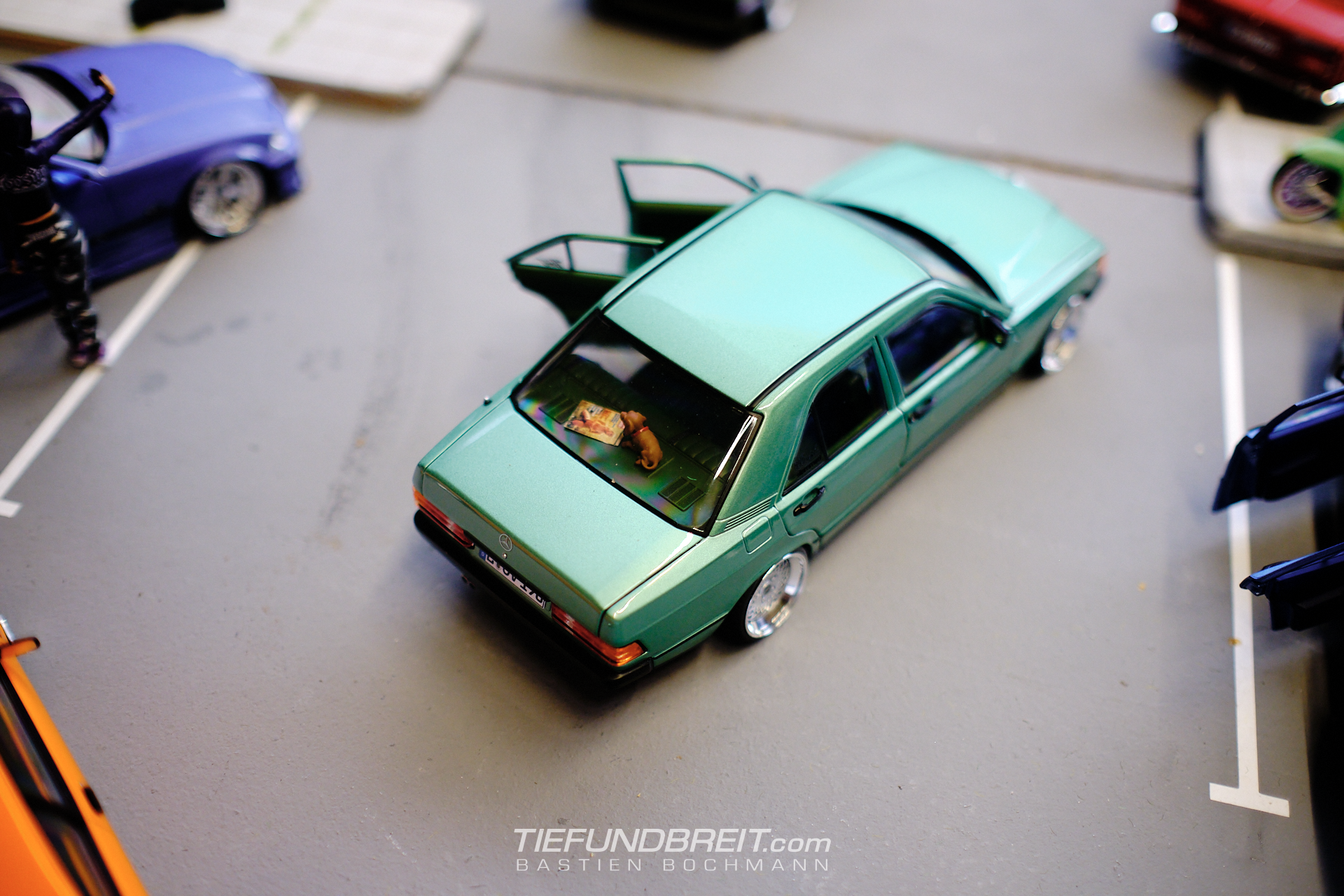 .
As the sun was setting and people were getting hungry a BBQ was fired up to feed all the hungry mouths. The lights hanging above really made for a cozy atmosphere. 
.
All the while a graffiti-artist was spraying a mural of the meet's name. Pretty cool!
.
Regarding the cars, I think the car that I liked best was actually Icke's Kadett. Such a simple recipe – a very well preserved specimen of a Kadett Stufenheck – or sedan in english. If you see modified Kadett's they tend to be the hatchback variant, as the Stufenheck tends to be looked at as an old man's car – similar to VW Golfs and Jettas here in Germany. The car essentially looks stock except the huge drop (realized via airride) over some insanely shiny BBS RS wheels – a simple recipe that never fails. The base spec engine was ripped out in exchange for a 2.0 unit, so the car is a bit more peppy compared to when it left the factory.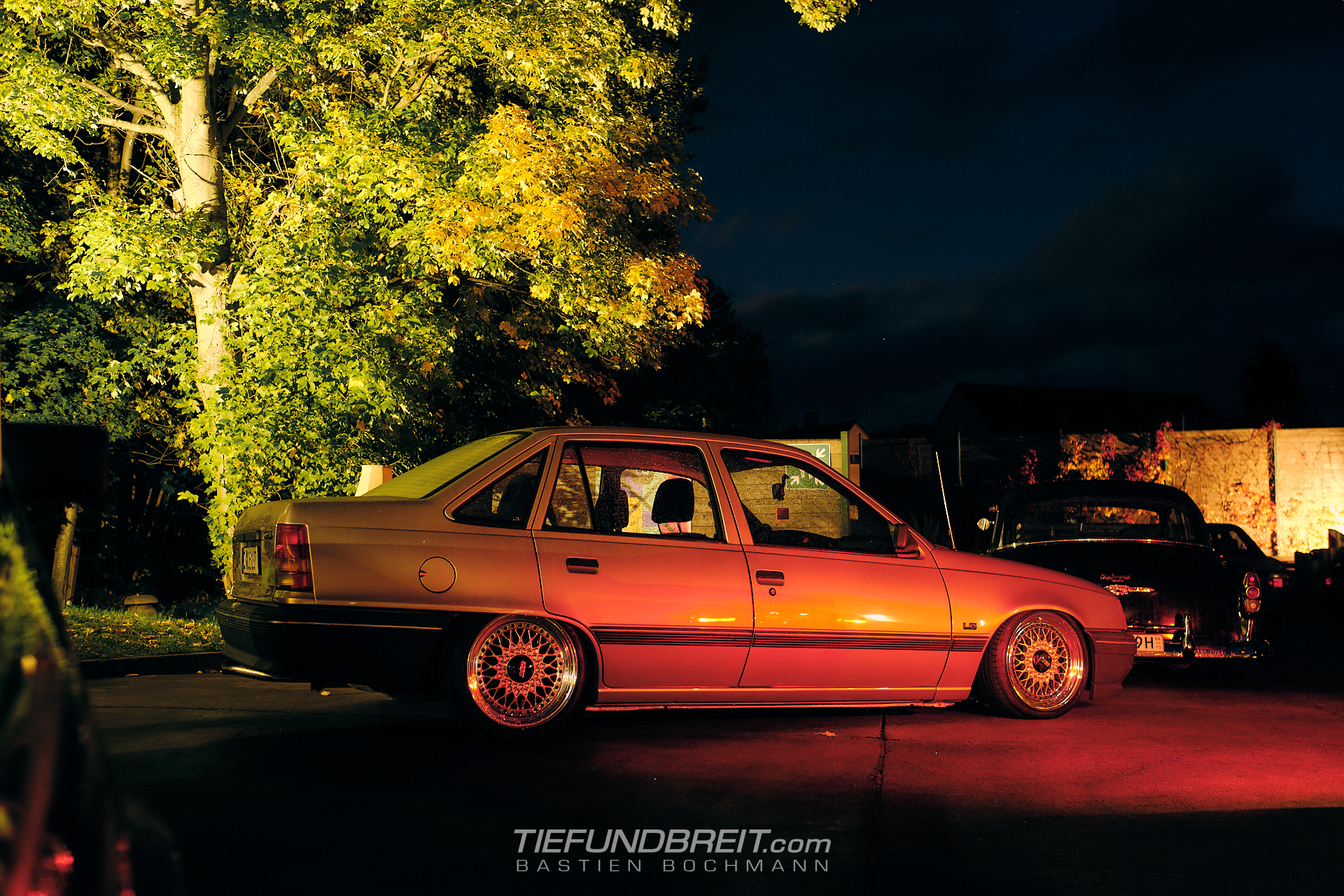 .
Another favorite of mine was this Chevy truck. I mean… just look at it. The right amount of patina, the right amount of lowering, some insanely cool wheels and a LS1 swap to boot. What's not to like? 
.
A Citroen Xsara is certainly not something you see every day in modified shape so I don't think it comes as a surprise that I was very much drawn to this car. Bags, some cool wheels, an insanely cool ITB setup… and all in a car that stands out on it's own already because very few people modify these.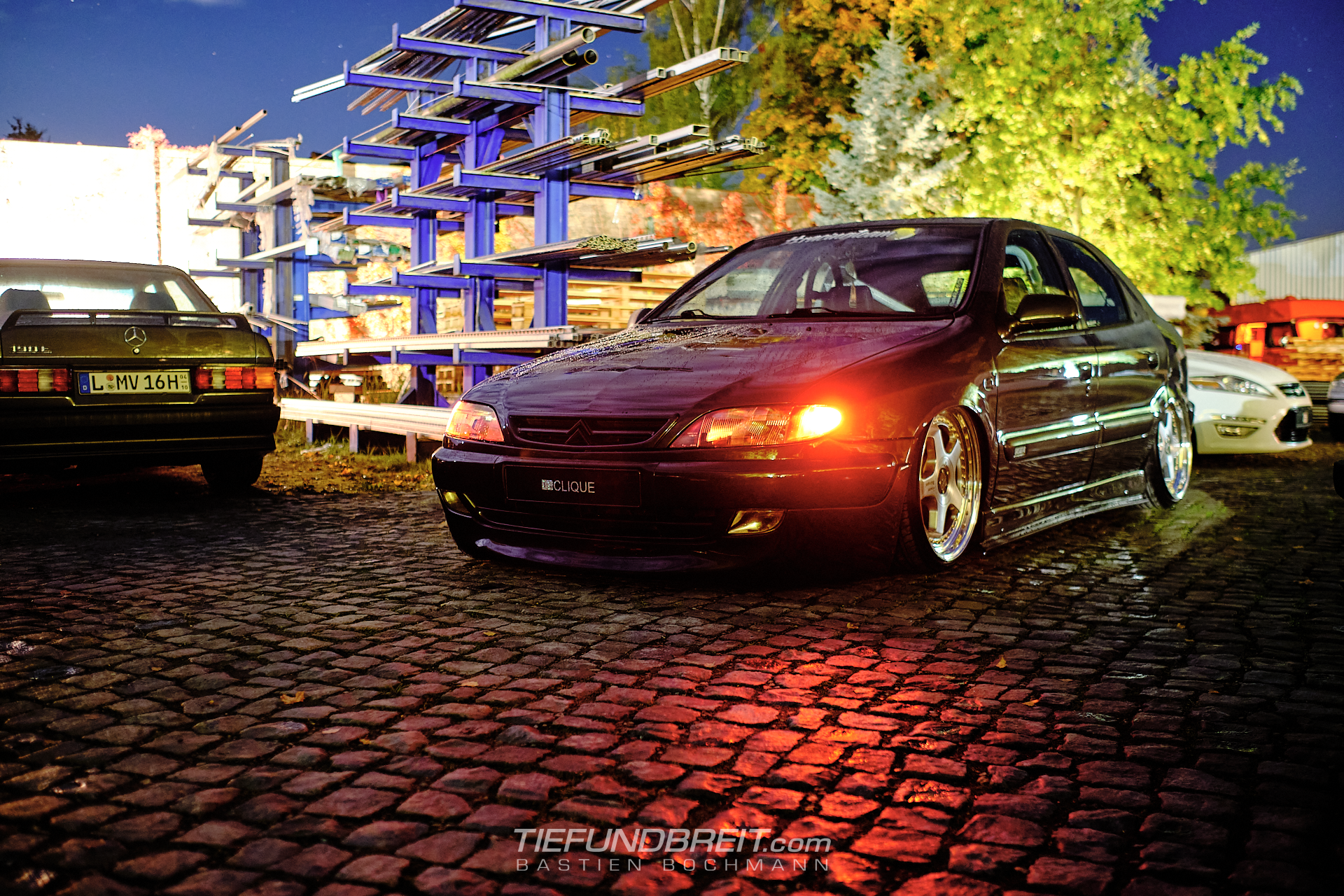 .
Another one that piqued my interest – likely because I own a similar car as my daily nowadays – was this Ford Mondeo on bags and some Audi wheels. Also something quite unexpected, but I loved it. It makes me think stupid thoughts about my own Mondeo… 
.
As the evening drew to a close the atmosphere got cozier and cozier as some fires were started to keep people warm. It was as if people didn't even want to leave! But all things must come to an end and so the event slowly drew to a close. All in all, it was a great way to end the car season. Now it's time for people to start tinkering in their garages again – I for one am excited to see what kind of cool builds 2023 will bring!