When was the last time you saw a Toyota Celica of this vintage on the road? I bet it was a long time ago, if ever. They have largely died out, at least in common traffic. And it's a shame. The classic styling is pure Japanese 70-ies car styling at it's best – even though you definitely can't deny that this period of japanese cars was obviously inspired by American muscle from the 60ies. The classic coke bottle shape speaks for itself.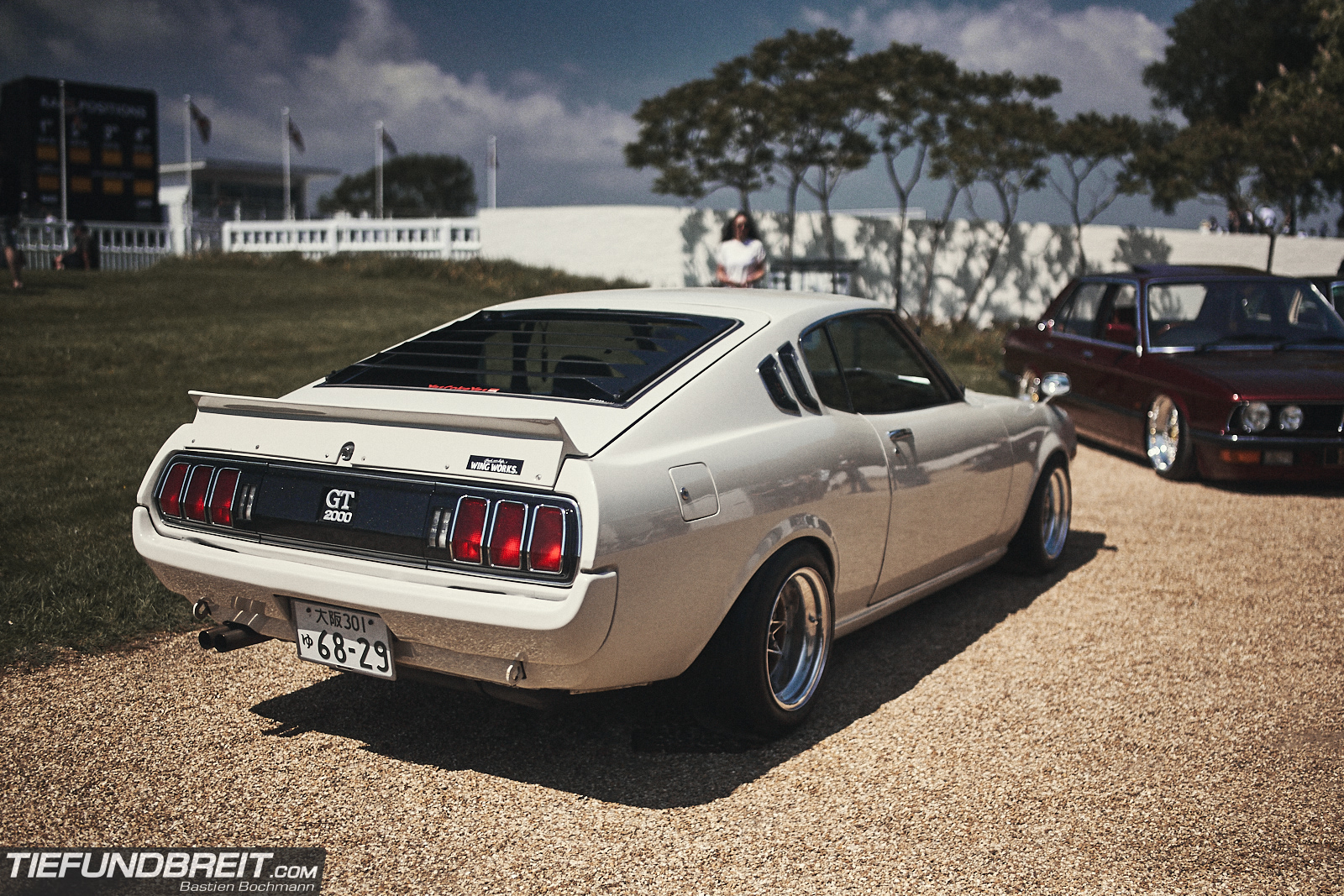 With it's period correct styling and authentic JDM split wheels, it was no wonder I was drawn to this Celica TA22 at Retro Rides. This first generation of the Celica was introduced in 1970 and ceased production in 1977, after a slight refresh in 1975. This one looks like it is a later model, after the refresh. Toyota called this bodyshape the Liftback, a name that would continue to be used for decades. And from the rear especially you can't deny visual similarites to a Mustang Fastback.
Now, I'm not sure if the badging is correct and this is really a 2000 GT – but if it is, this car left the factory with a 2.0 DOHC inline 4 engine, sporting two double carburetors and making 120hp. Notice the pretty sparkle paint on the rear panel!
Don't be fooled by the wheel's centercaps. The rears are not Work Equips, but rather even rarer SSR Riverside R109.
They suit the car amazingly well and I love the fact that the car's wheels are wrapped in Yokohama Advan semi slicks.
The fronts however, are indeed Work Equips. I personally hadn't seen this model before, but I'm absolutely in love with the design. The exact model is called Work Equip Spirit 11 – it seems this Celica's owner has a knack for hunting down amazingly rare JDM split wheels.
All the modifications looked so authenthic – it almost felt like I was in Japan instead of the UK for a minute. Very well done! I hope I run into this car again some day so I can shoot a more in depth feature of it!