It's quite easy to build a good looking E36, right? First things first, you need to buy a E36 Coupe. Obviously, you need M-bumpers to replace those boring old non-M bumpers. Next up, a massive drop and some nice wheels. Round it off with a M3 GT / LTW wing and you're done, right? Right. Success.
Sure, it will look good. It might even look fantastic. However, it will also look boring and unimaginative because there's literally a million E36s following the same recipe I described above. And while that's not a bad thing, per se, it definitely creates an effect of 'Yup, already seen that, next!' when you see yet another identical, cookie-cutter E36. It's always good to think outside the box when you're building a car and not get caught up too much in the current trends.
Now, there's a few steps you could take to stand out from the massive crowd of stanced E36s. You could go the route of choosing a different body style – everybody builds Coupes, not all that many build sedans, even fewer build Compacts or Tourings (obviously, Tourings are the best but I might be biased!). Or you could simply do what Max Waligora did and swear off M-bumpers all together.
When Max decided to build a E36, his vision had always been to keep things clean and not to follow the current trend of M-everything and a LTW wing. He chose to keep the stock bumpers and embraced the simpler look. His choice fell on a '95 323i which he bought with only 78.000kms back in September 2016. Today, 2 years later, the car has roughly 89.000kms so it's still a very clean low-mileage example. The 2.5 liter M52 engine is a bullet proof choice as well – these engines last a while! They also provide enough power to be fun to drive and they also sound amazing with the right exhaust system (something Max' car currently lacks, but his further plans include a custom built exhaust setup).
The Coupe is painted in BMW's Madeiraviolet which makes it appear almost black in the shade and a very dark blue-violet when the sun comes out. To complement the elegant colour, Max decided to keep the wheels looking understated in a darker silver with the lips polished to a bright mirror shine. And what a set of elegant wheels they are – AC Schnitzer Typ 1 splits measuring 9×17 ET20 in the front and 10,5×17 ET19 in the rear. The rollers are wrapped in 205/40 and 215/40 tires respectively. To better tuck the wide rears under the fenders, Max also installed a pair of camber arms and dialed in a bit of negative camber.
Personally, I think the E36 is one of the best looking cars BMW has ever produced. And while I'm not a huge fan of the coupes myself, I can see why people like them. They look sleek, they look elegant and they look relatively wide. Claus Luthe, BMW's chief designer at the time, really created a timeless masterpiece with the E36 in all it's forms. Complement all this with an aggressive stance and some shiny wheels and it's no wonder why there's so many E36s modified in the stance-style out there.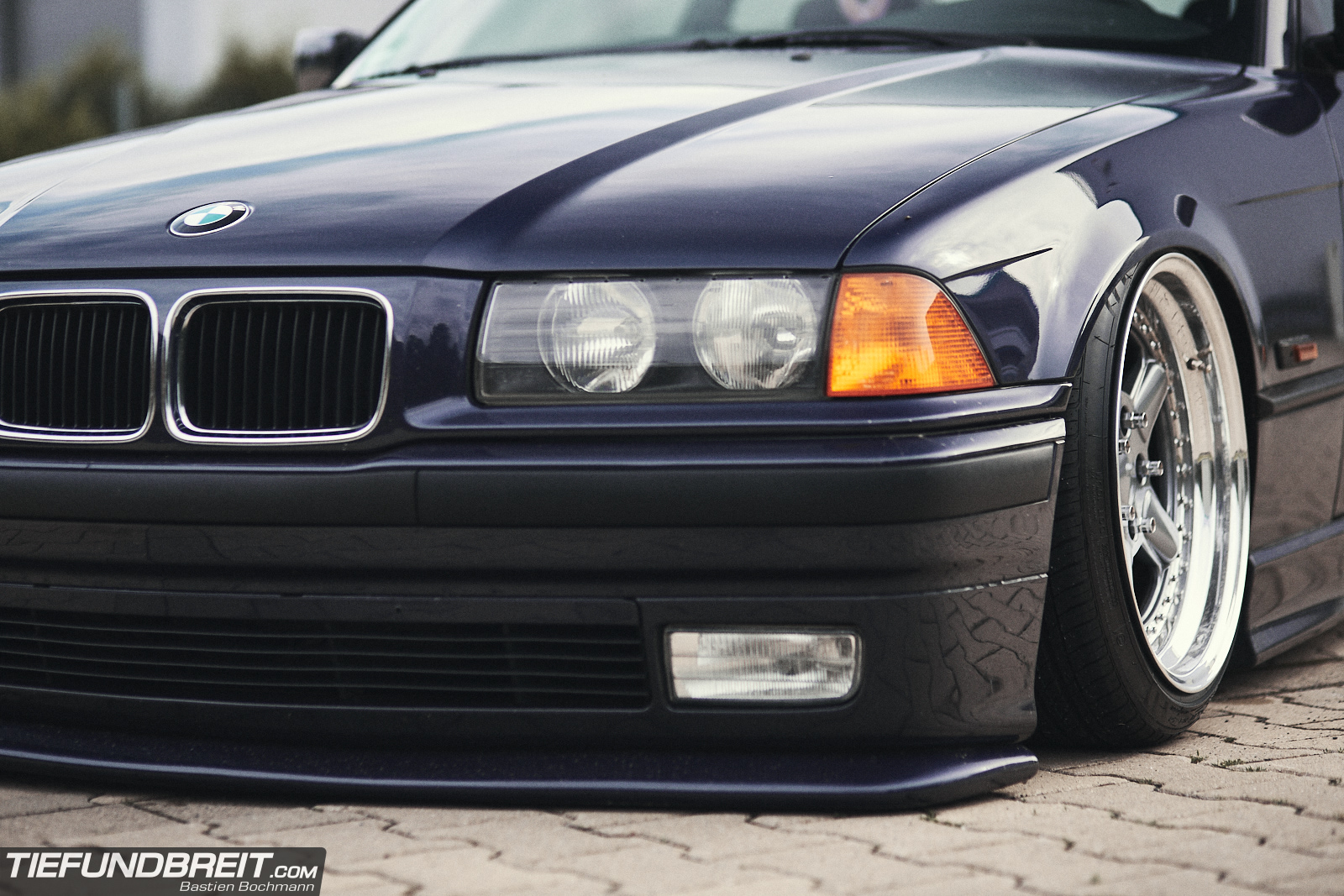 The front of Max' car is rounded off by a AC Schnitzer front lip as the one weakness of the non-M bumpers is that they appear to be a mile higher than the side skirts. The Schnitzer lip however nicely counters that effect. Though, it will soon get replaced as Max has shared with me that he has a Zender front lip and rear valence to go on… I'm excited to see how it will look, especially as I'm a sucker for vintage tuner parts!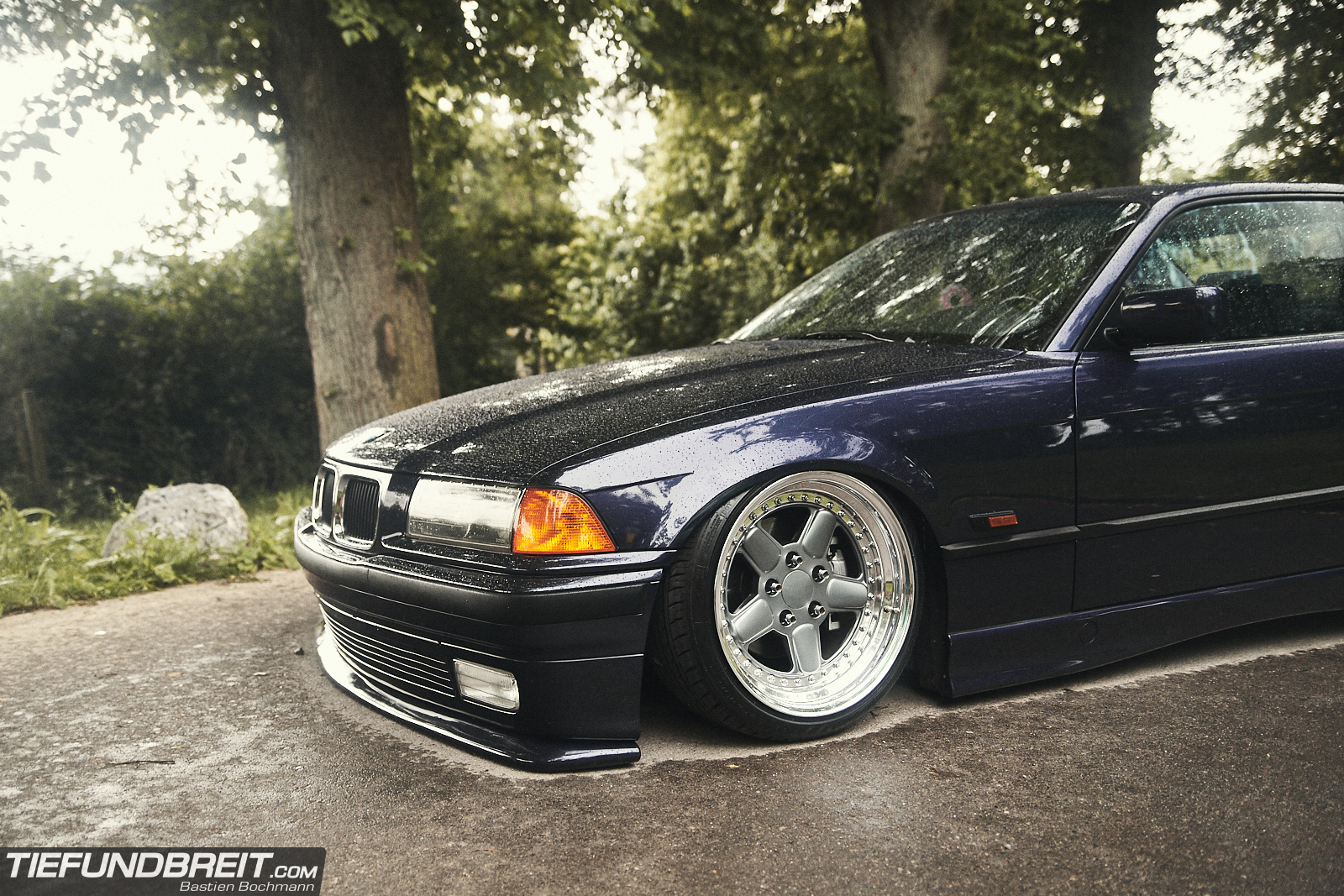 Max went and left the stock amber turn signals in the car instead of going with the popular option of swapping them out for clear lenses. Don't quote me on this, because I usually dislike amber turns (in fact, they are usually the first thing I swap out on a car), but they work really well on the Madeiraviolet paint! The front end has been further cleaned up by replacing the euro number plate surround with one from a US model wich essentially shaves off the front plate recess.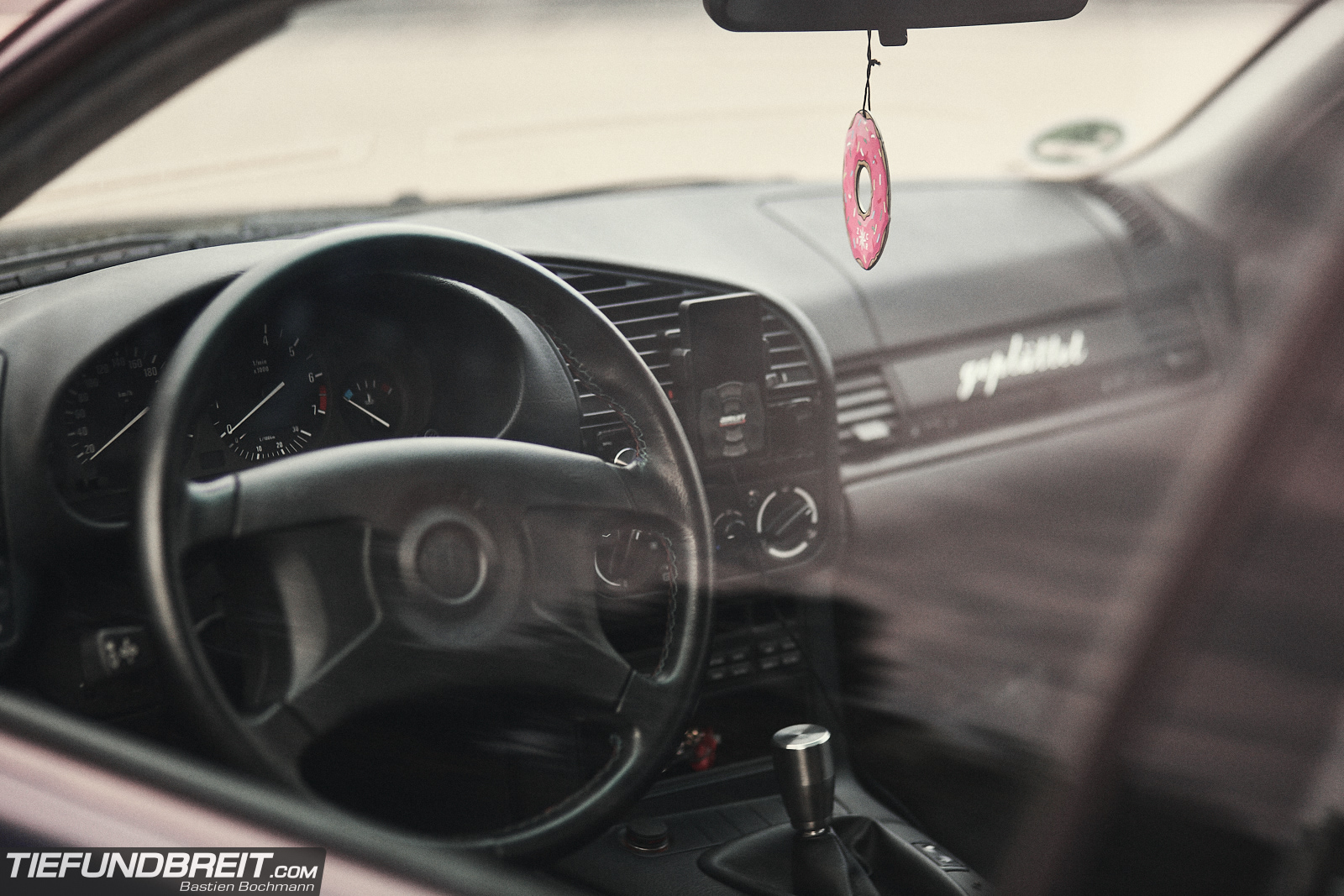 The interior has been mostly left stock for now, except for a aluminum shift knob, but Max is planning some further mods like a different steering wheel, some alcantara applications and a roll bar. Looking at this picture reminds me that the E36 has one of the nicest cockpits in my opinion. Everything is right where it should be and everything is very driver oriented. If you've ever sat in one I'm sure you'll agree with me – BMW did a lot of things right with this one.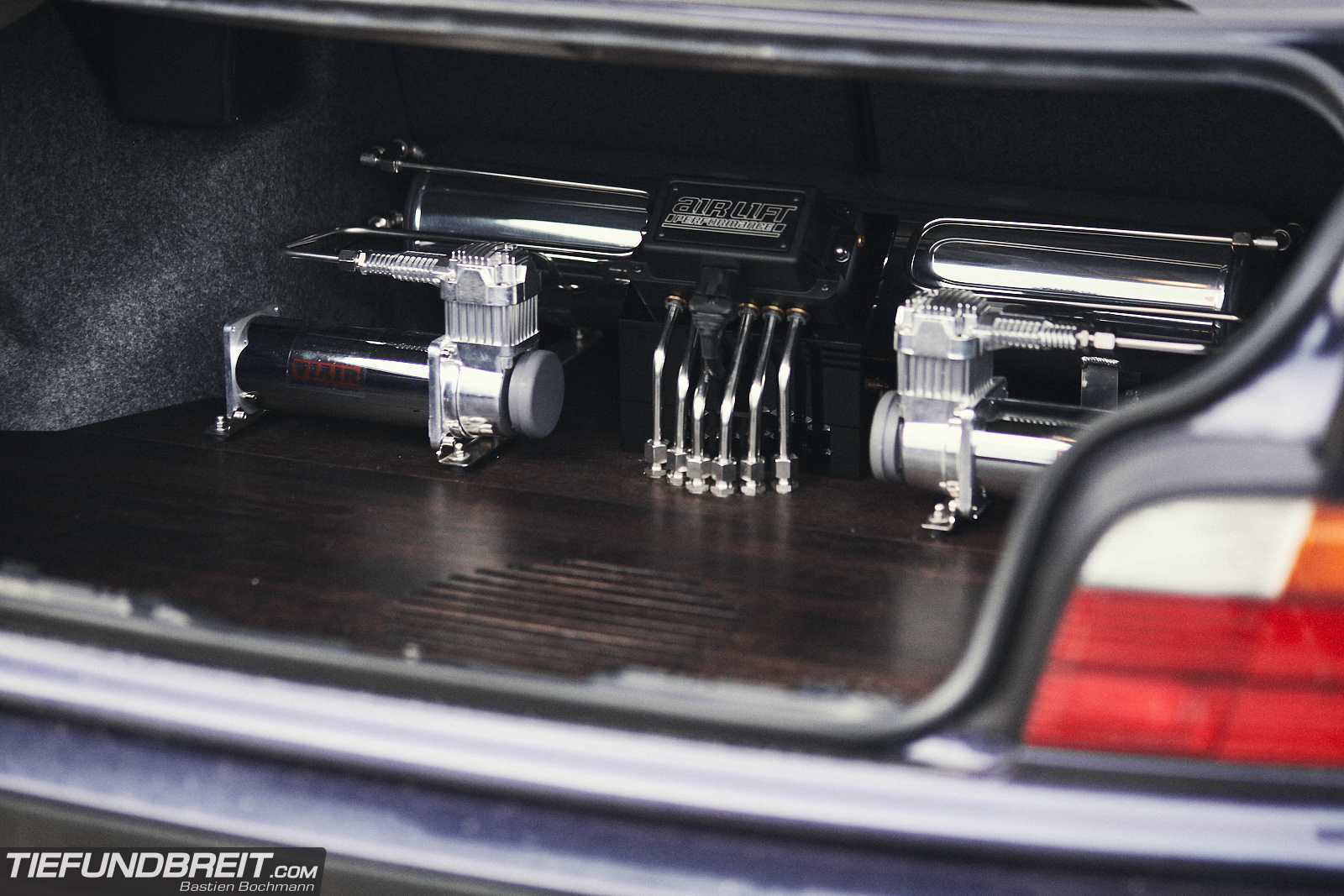 The trunk already received a bit more attention – obviously, as it houses the car's airride setup! Max decided to go with a H&R Deep coilover setup that was converted to air bags. The necessary air is provided by two Viair compressors which push the air through some nice polished stainless steel hardlines. The whole setup sits on a oak base that has received a dark stain. Under the wood is where you'll find a custom subwoofer setup which plays through some slats that have been thoughtfully added to the wooden base plate. The airride system is controlled by a Airlift 3P system – the controller of which you can see in the previous picture of the interior.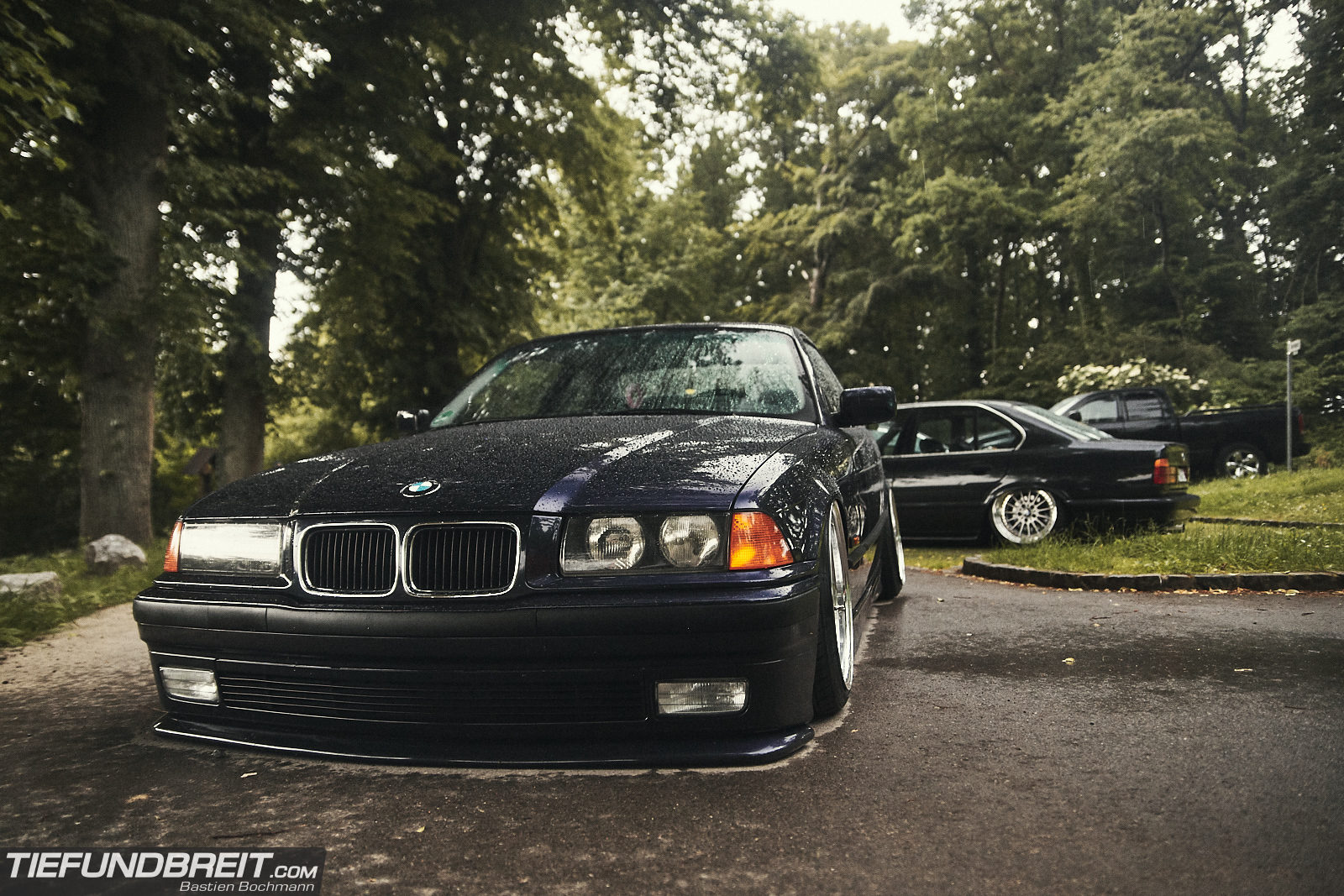 I for one quite like the result of the owner's hard work. It makes for one fresh and understated example of an E36. It doesn't always have to follow the same recipe, kids! Sometimes mixing it up is where the real fun begins. Also, you may notice a seriously slammed E34 in the background of this picture – stay tuned as we'll be bringing you some more on that one shortly!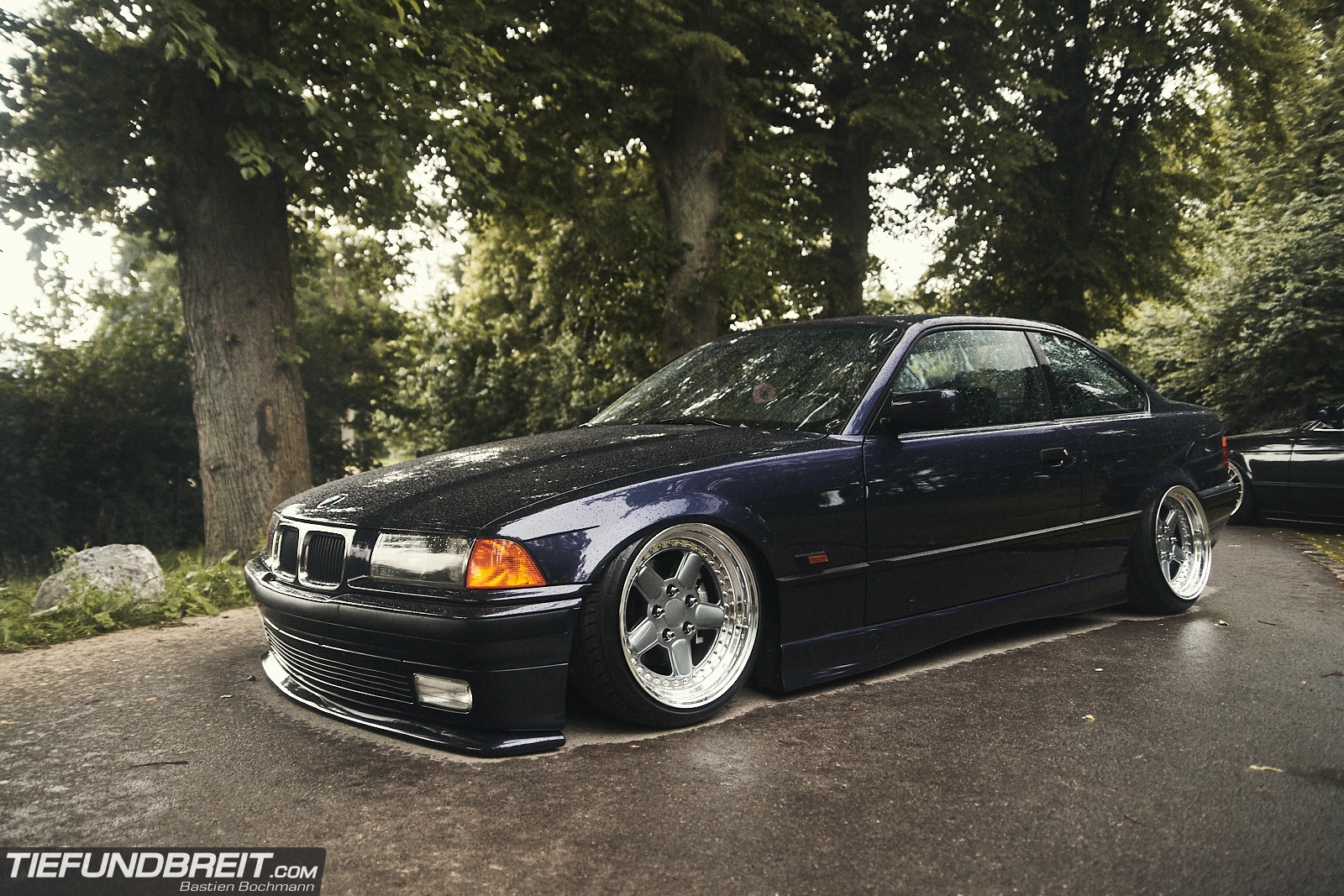 For now, I'll leave you with the rest of the pics in the gallery to enjoy. I'm sure Max' E36 provides plenty of eye candy for you lot!