When I had heard of Retro Rides' newest event, my initial reaction was 'neat! I'd love to go there!'. Their past events at Shelsley Walsh have created somewhat of a cult following. Those past events were all single-day parties, though. For 2018 Retro Rides had planned their first weekend event. And it was at Goodwood, to boot!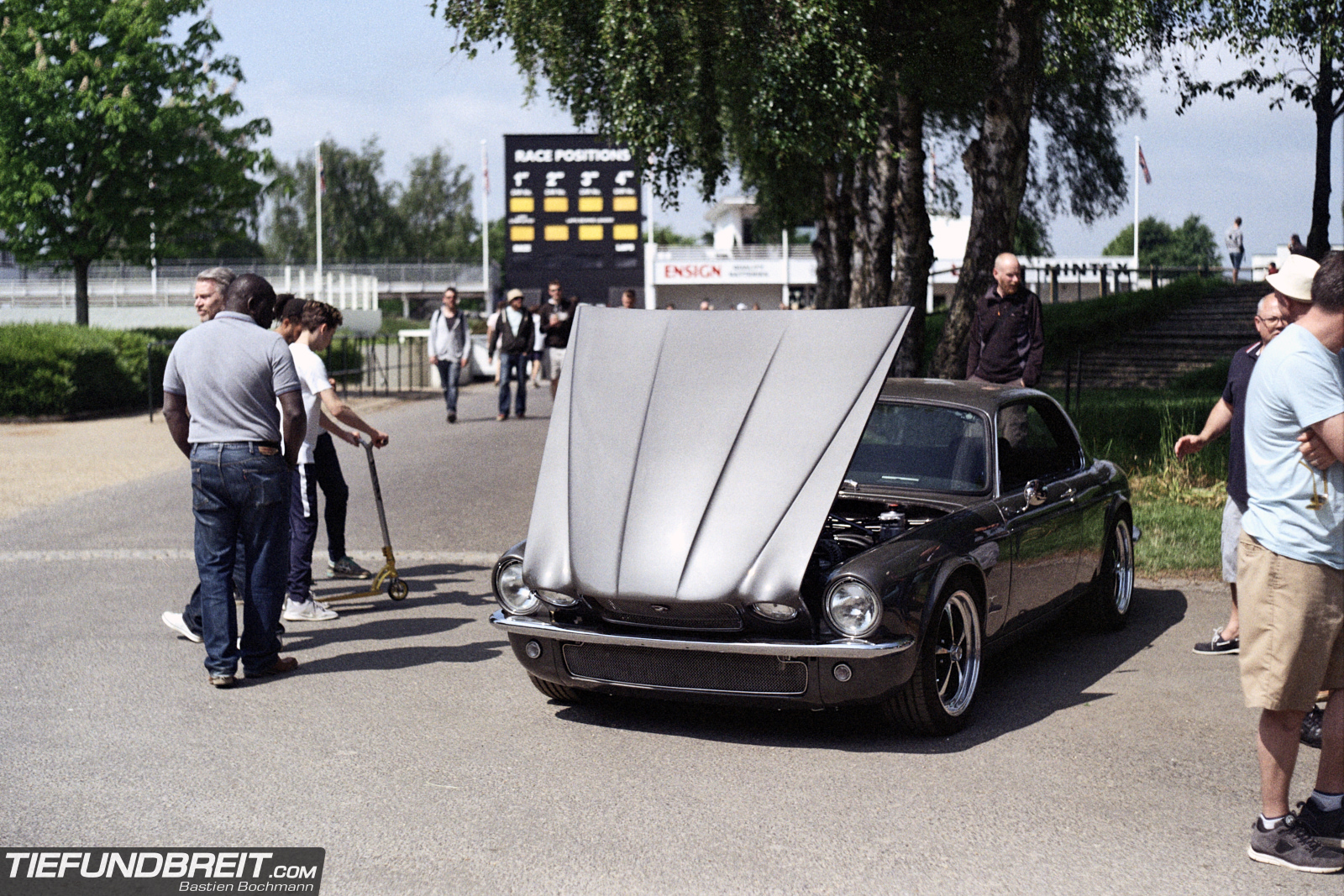 Now, Goodwood should need no introduction to any car guy on the planet – it's a pretty famous race track after all. The first race was held shortly after World War II in 1948. It proved to be a popular track and official races would be held on it until 1966 due to the cars getting faster and faster – too fast for the track and it's minimal, oldschool safetey equipment. It continued to be used as a test track and for track days – a purpose which it still serves today.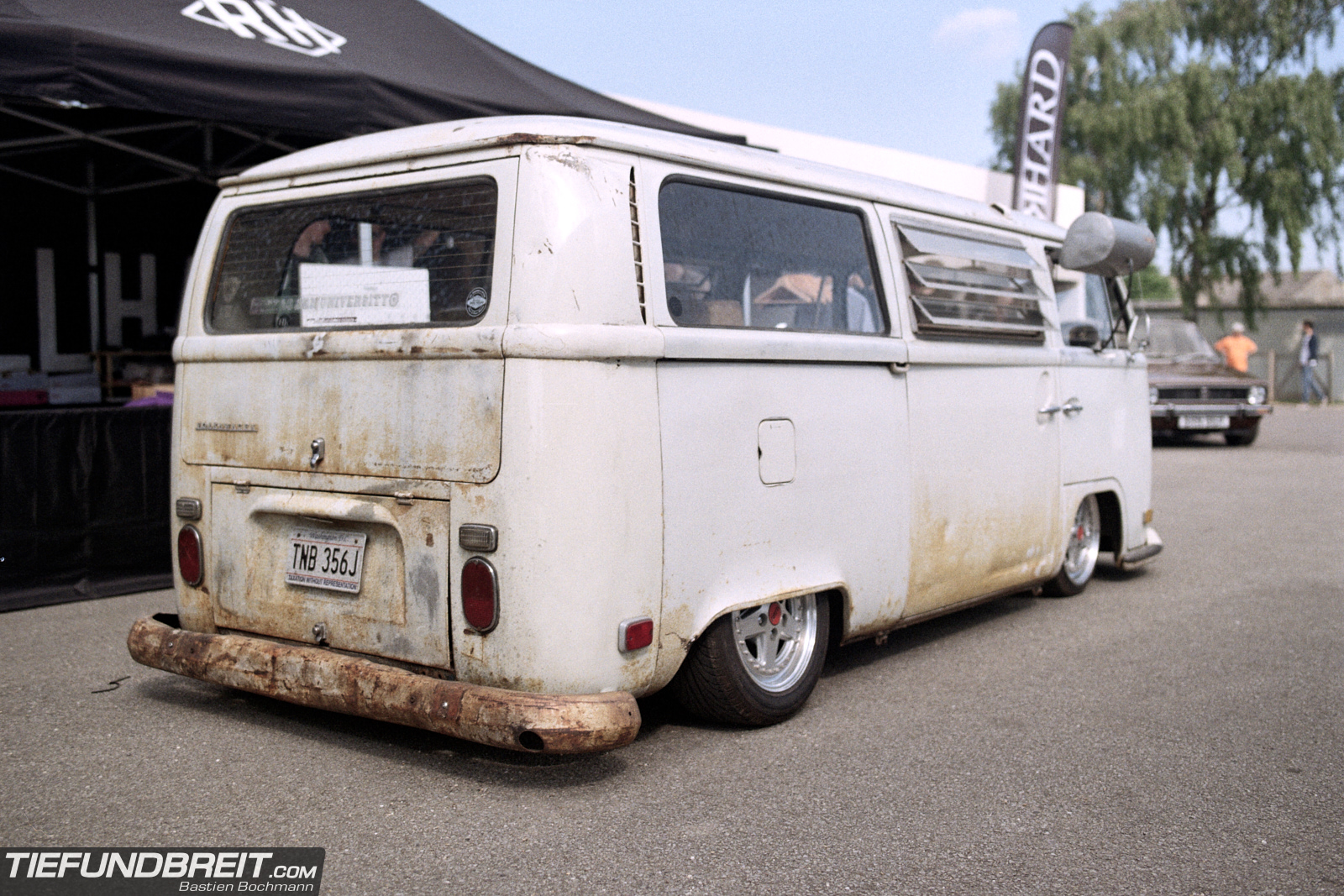 A day before the event we loaded up my truck and Mathias, Andy and I set out to catch a ferry early in the morning from Dunkirk to Dover. We drove straight through to Goodwood and had a full day of snooping around the event and met up with a lot of amazing people. Shoutout to the RollHard crew who invited us out on the town with them on Saturday evening, we had a blast!
When we checked into our AirBnB on Saturday afternoon, it seemed we had chosen exactly the right place. It turned out that our host owns a supercharged Vauxhall VXR8 with a 6.2 liter LS3 and is a member of the Goodwood Road Racing Club. You bet we had a lot of things to talk about!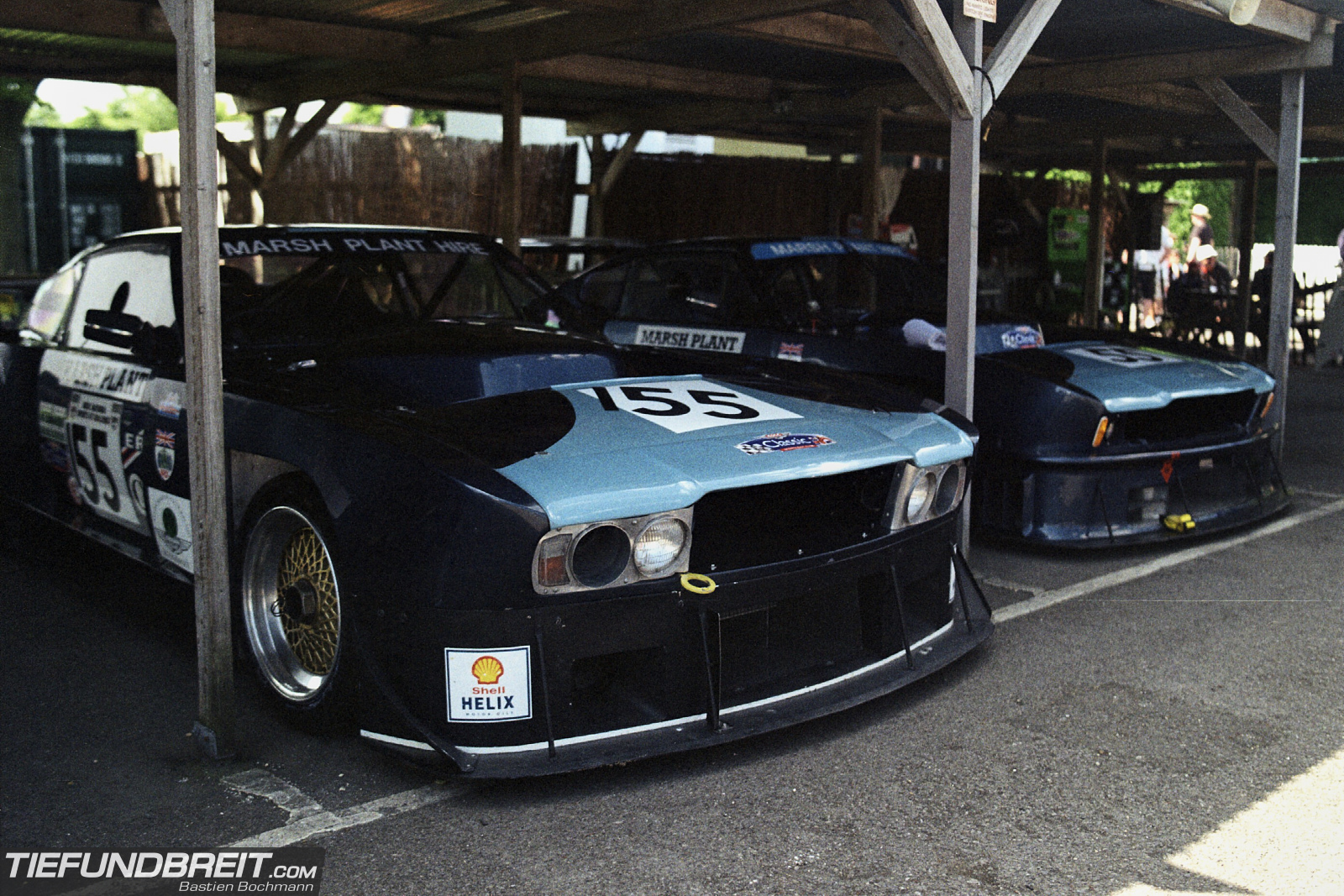 But back to the event itself – it's why you're reading this post in the first place, isn't it? For the Saturday, David Murphy (who is the benevolent dictator of Retro Rides) and his team set up a track day around the Goodwood Motor Circuit. Anyone interested in joining the track fun could do so if they had applied online before hand as track spots were limited. They even went out of their way to invite a few retro race cars with some very special ones in the mix like the Marsh Plant Aston Martins! Mathias will show you some nice track action pics in his post that should be coming this weekend, as I mostly just shot film and wasn't all that equipped for the track session.
I spent both days of the show shooting a lot of the show on film (Kodak Gold 200, if you're curious) and while I snapped of a few digital shots as well, I felt the vintage character of film perfectly matched the theme of the show. On the saturday I mostly checked out the infield areas which included the RollHard stand behind the starting grid and the display / paddock areas for the race cars. They invited some other special cars as well – there was a whole display of former Street Machine Magazine feature cars and an area dedicated to UK Lowriding!
Speaking of the lowriders – one of my favourites of the show must've been this Impala. Can you get any more classic than this when it comes to lowriders?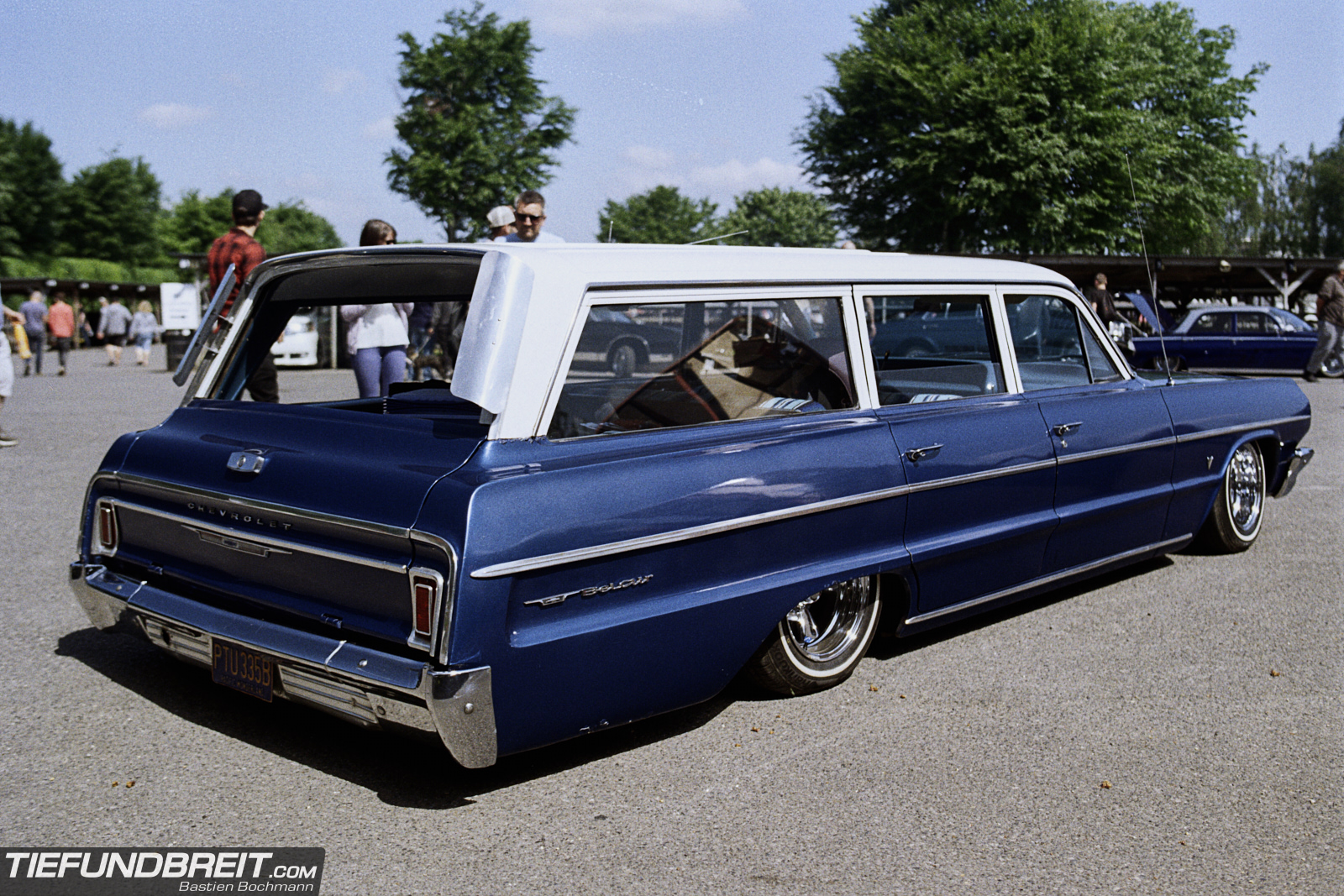 Although, I wouldn't mind it's wagon counter part either… There's just something about those lines.
Another personal highlight for me was this Ford Sierra wagon as a V8-swapped drag monster. Absolutely mental!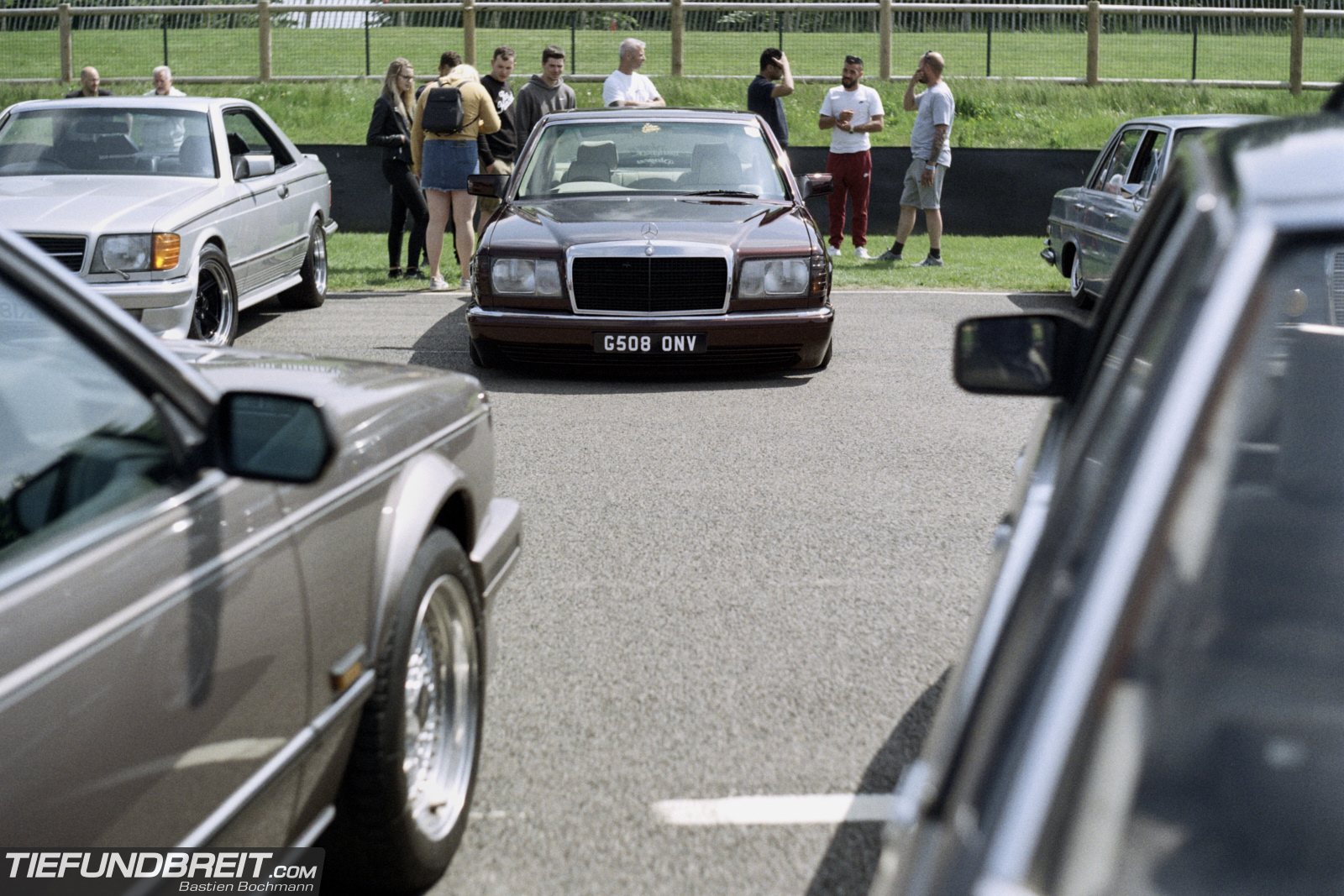 The next day, the track was used as a big show and shine display area, which worked pretty well, actually! As the show was mostly kept confined to the layout of the track the chance to miss a particular car was really low, something which is a real danger at other, less structured venues.
This aggressive looking Toyota MR2 was another favourite of mine. With a slight widebody, a big wing and some splitters, it looked ready to lay down some fast laps on the track.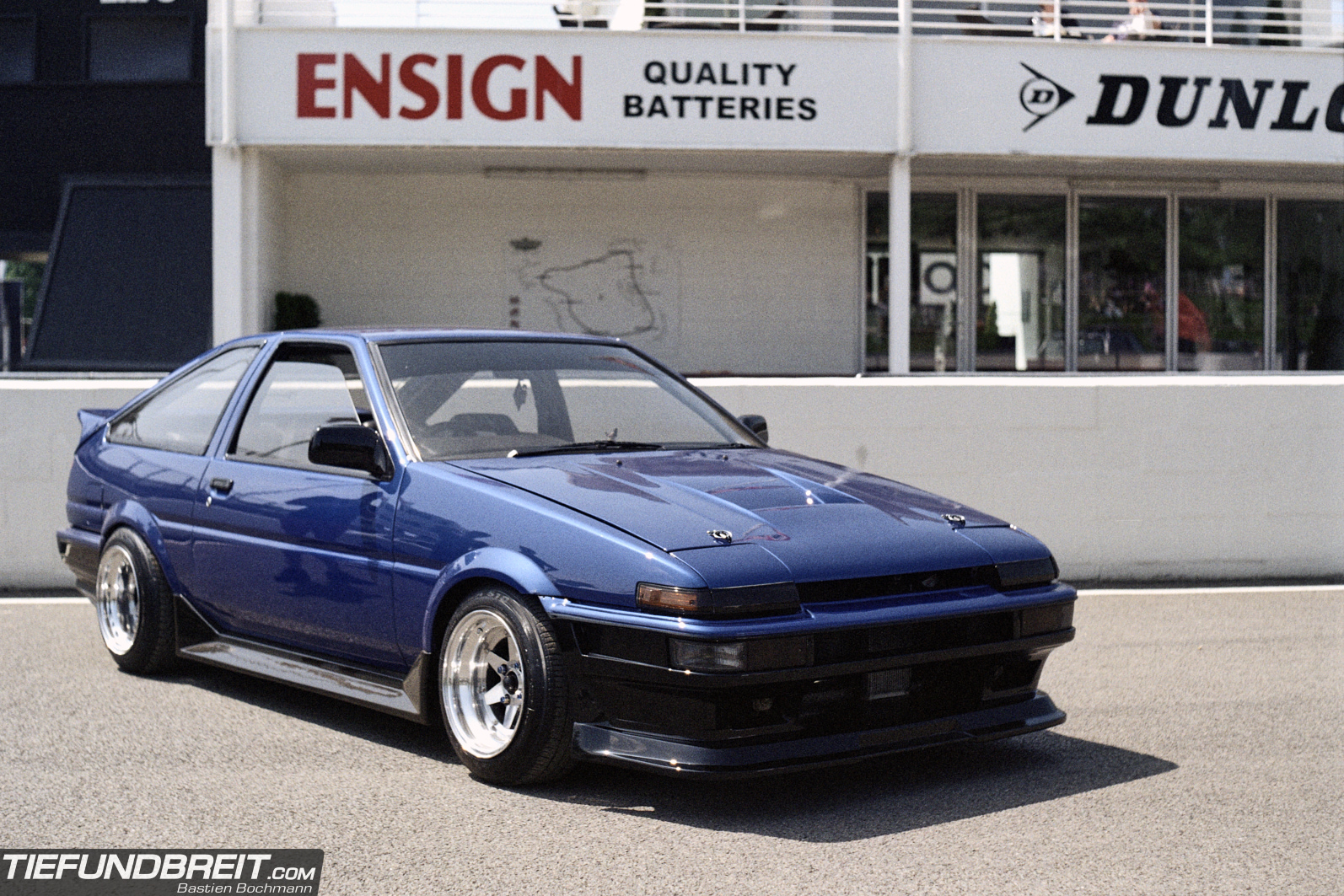 Speaking of favourites and Toyotas… back when I was 16 years old, I desperately wanted my first car to be a blue AE86 Trueno with black bumpers and shiny, small wheels. That didn't happen, but it looks like someone else had the same idea and got to live their dream!
This RX7 was another example of the countless amazing cars from japan at the show – with it's retro livery and authentic wheels, it looked like it could've come straight from a Touge back in the 80ies.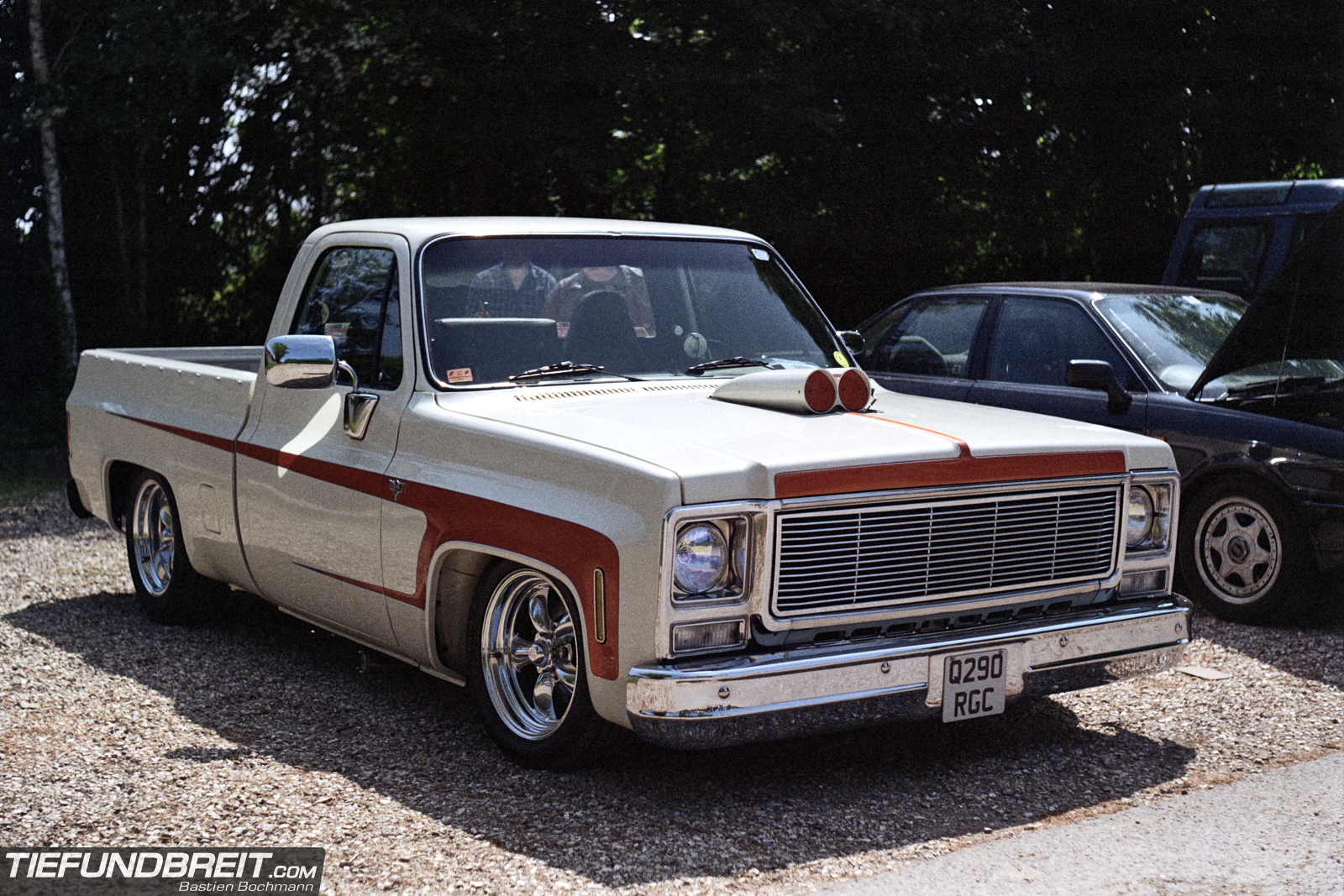 It wasn't all japanese tin that caught my eye, though. This Chevy had me drooling. It sounded amazing as well when it drove off!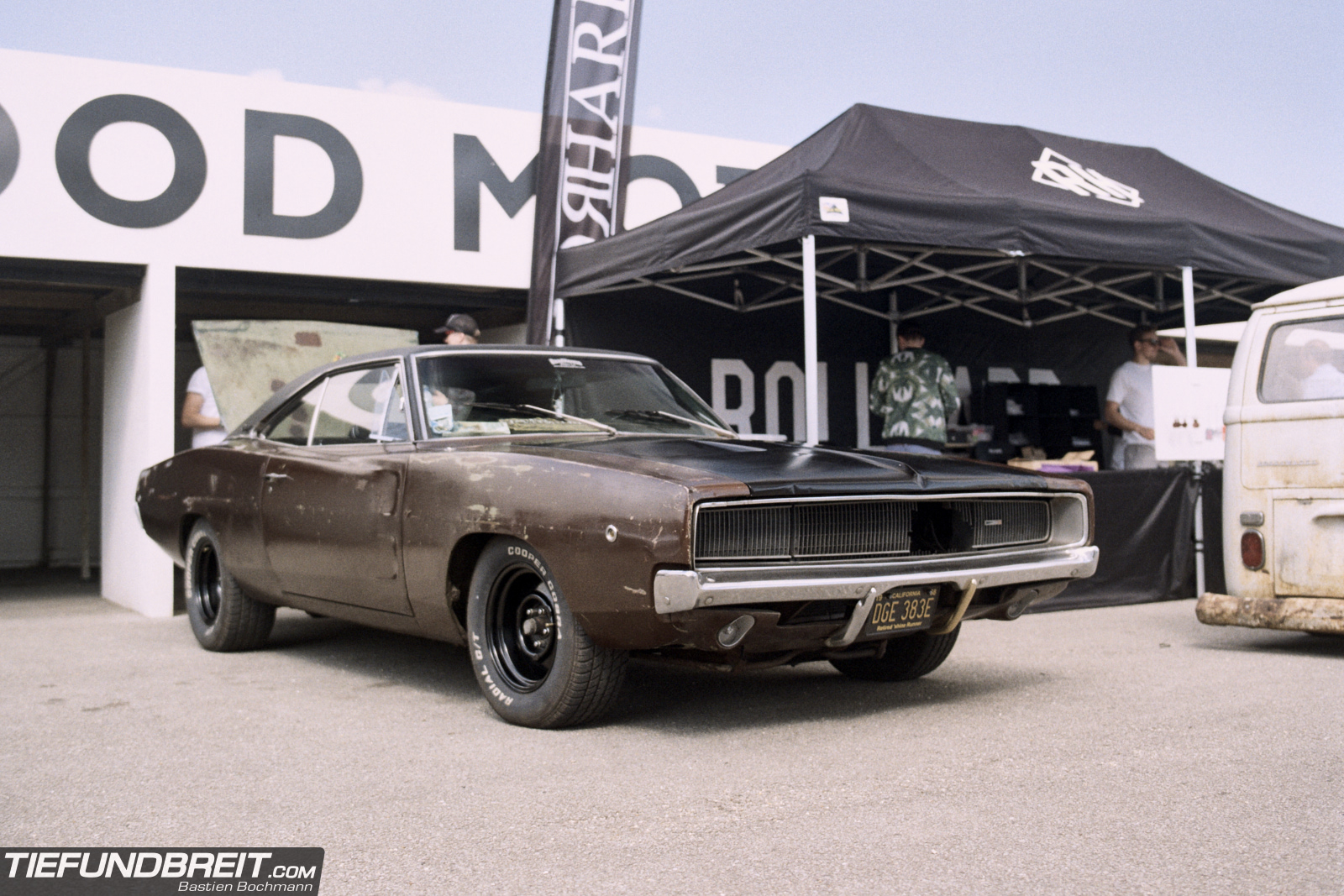 This Charger was amazing as well. True survivor with some actual bullet holes in the trunk.
Old Ford Escorts make me happy. This one even more so because of it's Group 2 inspired looks.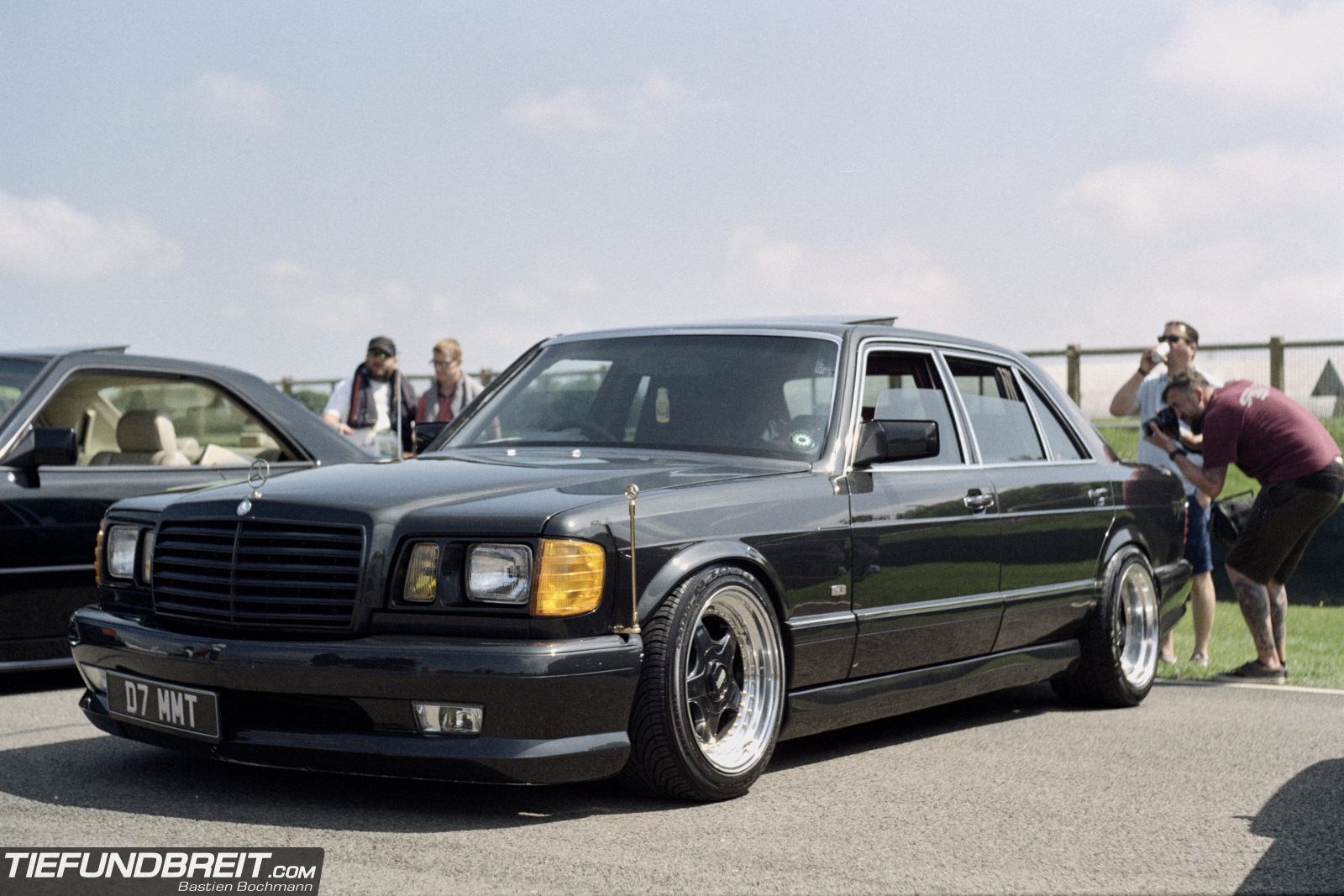 I was excited to finally see this car in person after seeing it on Instagram all the time – such a good looking 80s mafia boss car!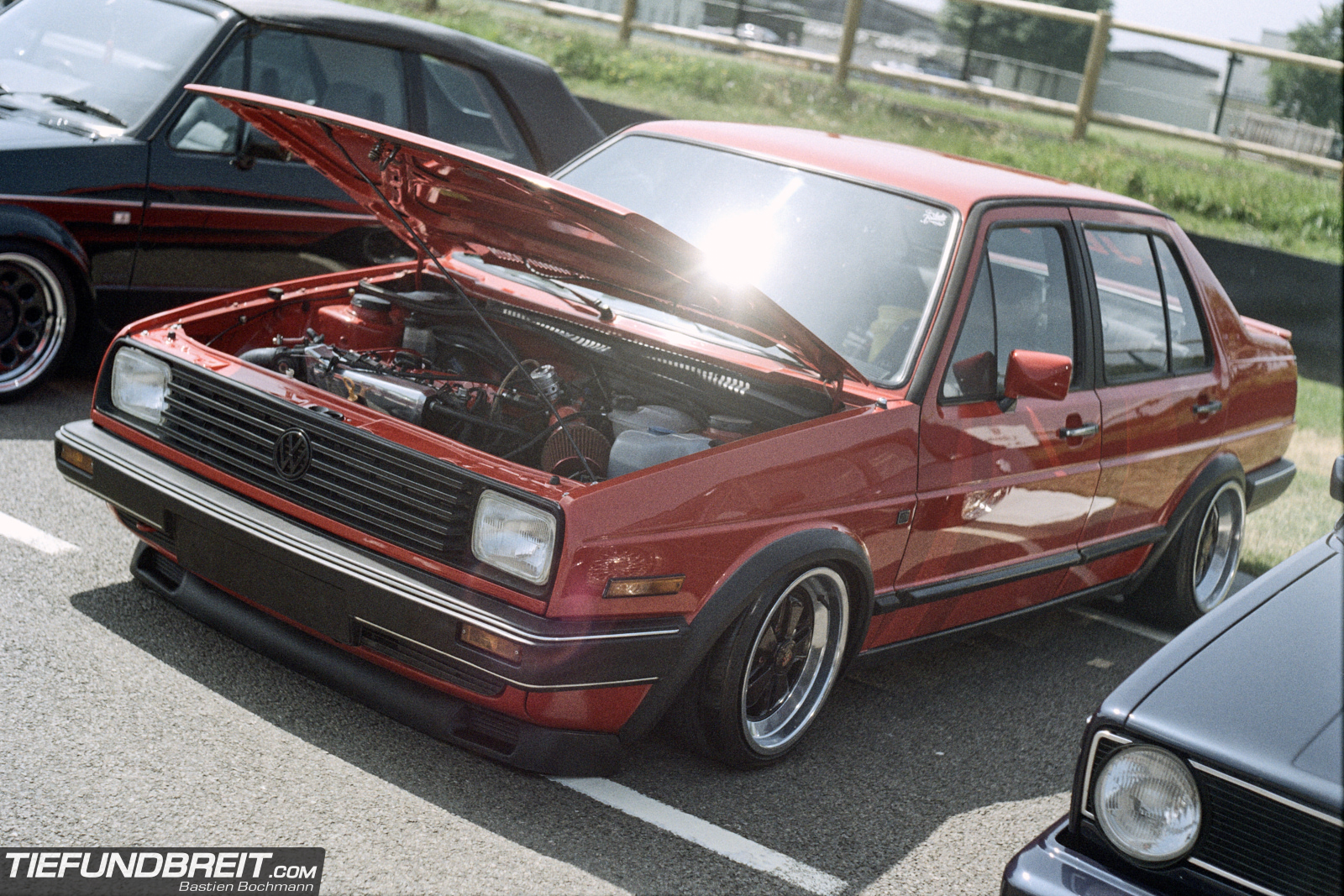 This Jetta had me drooling a bit because of the Fuchs wheels – there's just something about Mk2s on Fuchs alloys that gets me going.
One of the main things I really liked was the laid back atmosphere. Sure, you read that all the time when it comes to shows – but I haven't experienced a show to be as relaxed as the RR Weekender in quite a while. Everyone was there to have a good time and there was absolutely no drama in the air, that I could see at least. Along with Retro Rides not being all that big on social media, it seems they attract a somewhat more mature audience than your run of the mill car show with a lot of modified cars where there's often an undercurrent of "But I did this thing better than the next guy and my car is lower than everyone elses". I loved it.
The show felt exceptionally well organized. Speaking with David Murphy, the show had a decent enough turnout with about 900 cars and over 3000 visitors – not bad for the first time! The event was received so well that they're already planning a repeat for next year. Keep an eye out for when the date gets posted, because this is a show you won't want to miss if you like old cars! Although, having licked some blood now, I really want to see what their other event, the Retro Rides Gathering in August, has to offer. It's sadly not in the cards this year, but perhaps the next? We'll see!
The show brought together an incredible variety of cars – wether it's a '60ies Dodge Charger fitted with a Mercedes turbodiesel (which we'll be featuring on the site soon!) or a tiny Honda Acty micro-van on air, anything was welcome as long as it was retro and cool. It's what I love about the Retro Rides school of thought – it does not matter wether your car is a BMW, a Toyota or a Chevrolet. It also does not matter if your car is slammed to the ground, a garage built race car or a high dollar concourse specimen. Basically, as long as you're having fun with it anything goes!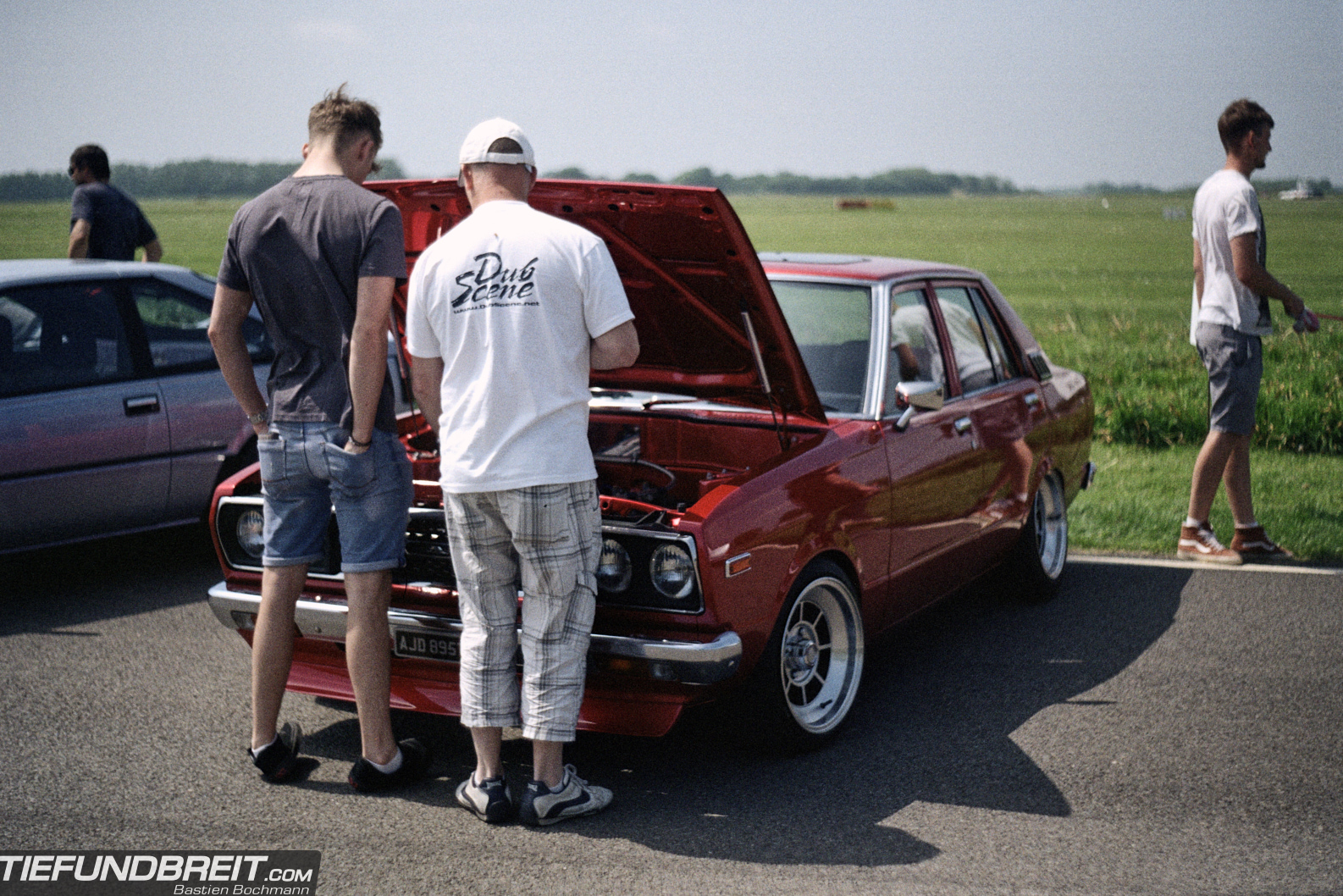 And that's what it means to be a car guy – to have love for anything on four (or more) wheels. It was absolutely refreshing. To be honest, the Retro Rides weekend reignited my passion for the whole car thing. And although a big part of that was due to me finally seeing and shooting Scott Paterson's E36 Touring, the event did play a big role in it too. It showed me that even in todays fast paced world of instant gratification there's still a lot of genuine car enthusiasts out there who build their dreams and don't follow any silly trends. It showed me that there's still a lot of people out there with a big passion for cars, not just for getting the most social media followers. And I loved it. It felt like a breath of fresh air.
And on this note, I'll leave off here before I continue to ramble on. The show left me super motivated and Tief & Breit will be shifting up a gear for all you people out there! We've got a lot of material we want to show you, so stay tuned folks!
– Bastien