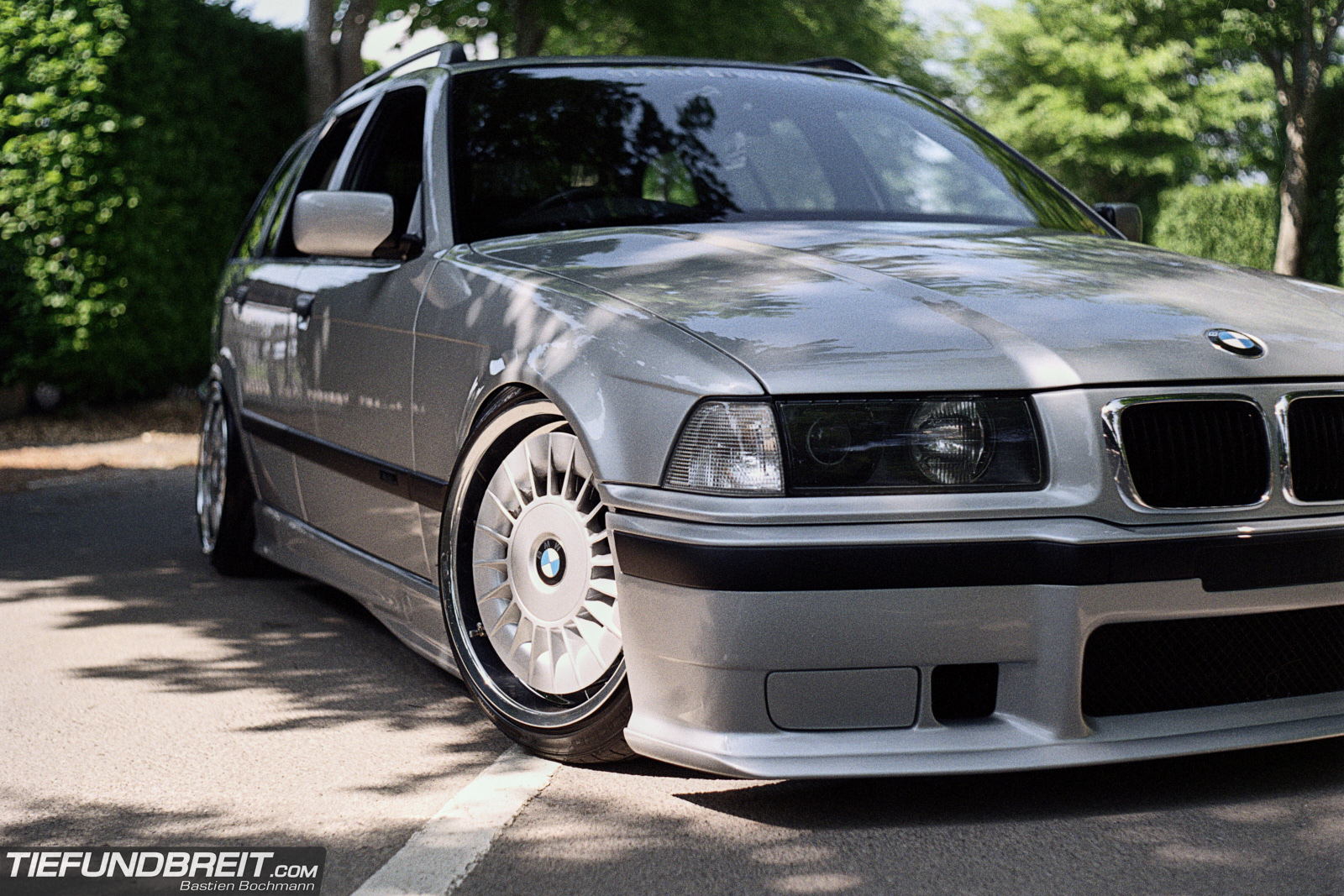 I think it was around six or maybe seven years ago when I first met Scott online through the Stanceworks message board. Back then, he was tinkering on some old Minis together with his dad. I still had my own Touring back then and it must've been around the time when I had just got it rolling on the BBS RFs. Another key player to this story is Alex. Alex was also on the Stanceworks forums back then and he also owned a Touring.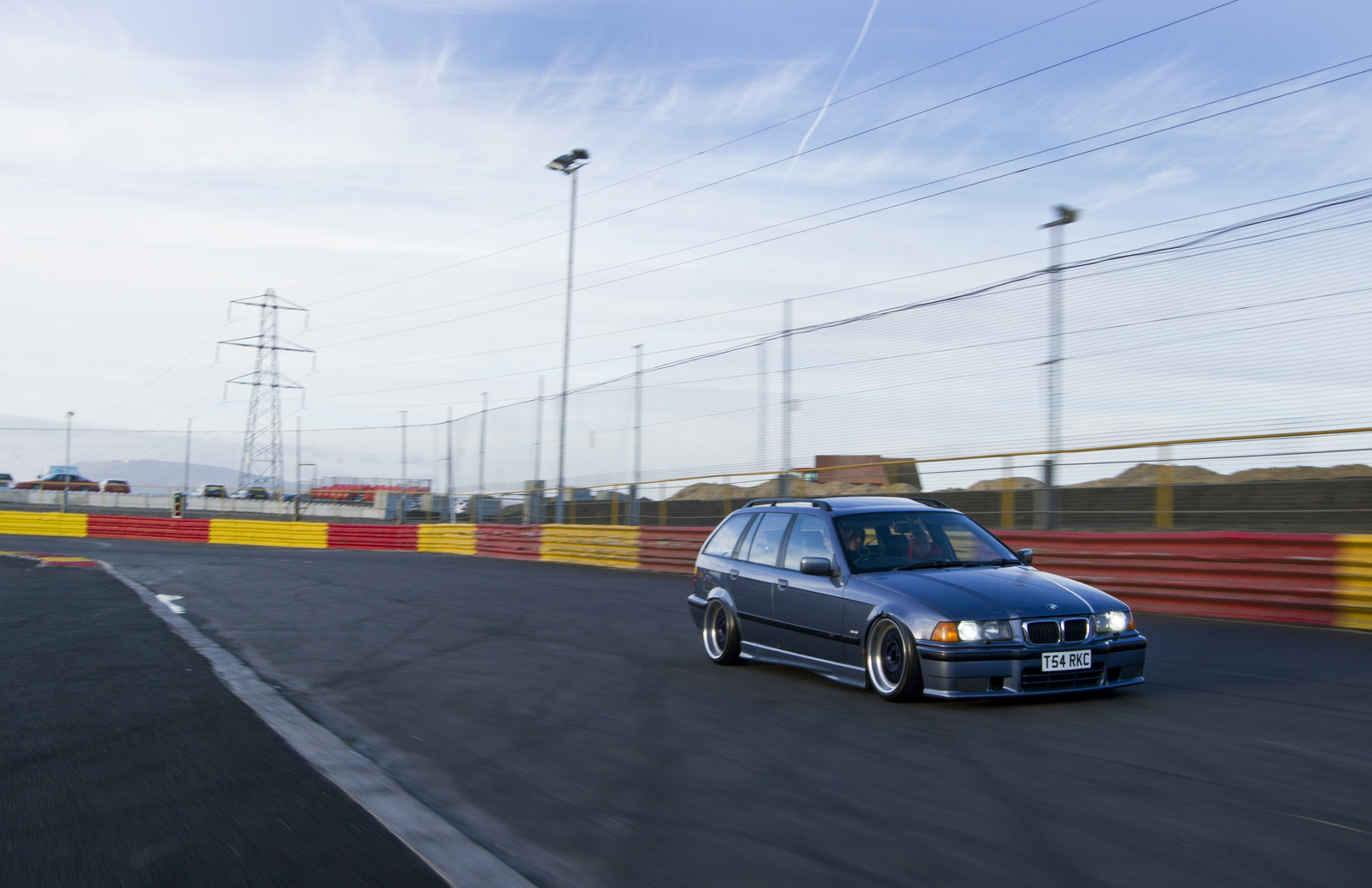 Alex McArthur's Touring back in 2013 / Photo: Scott Paterson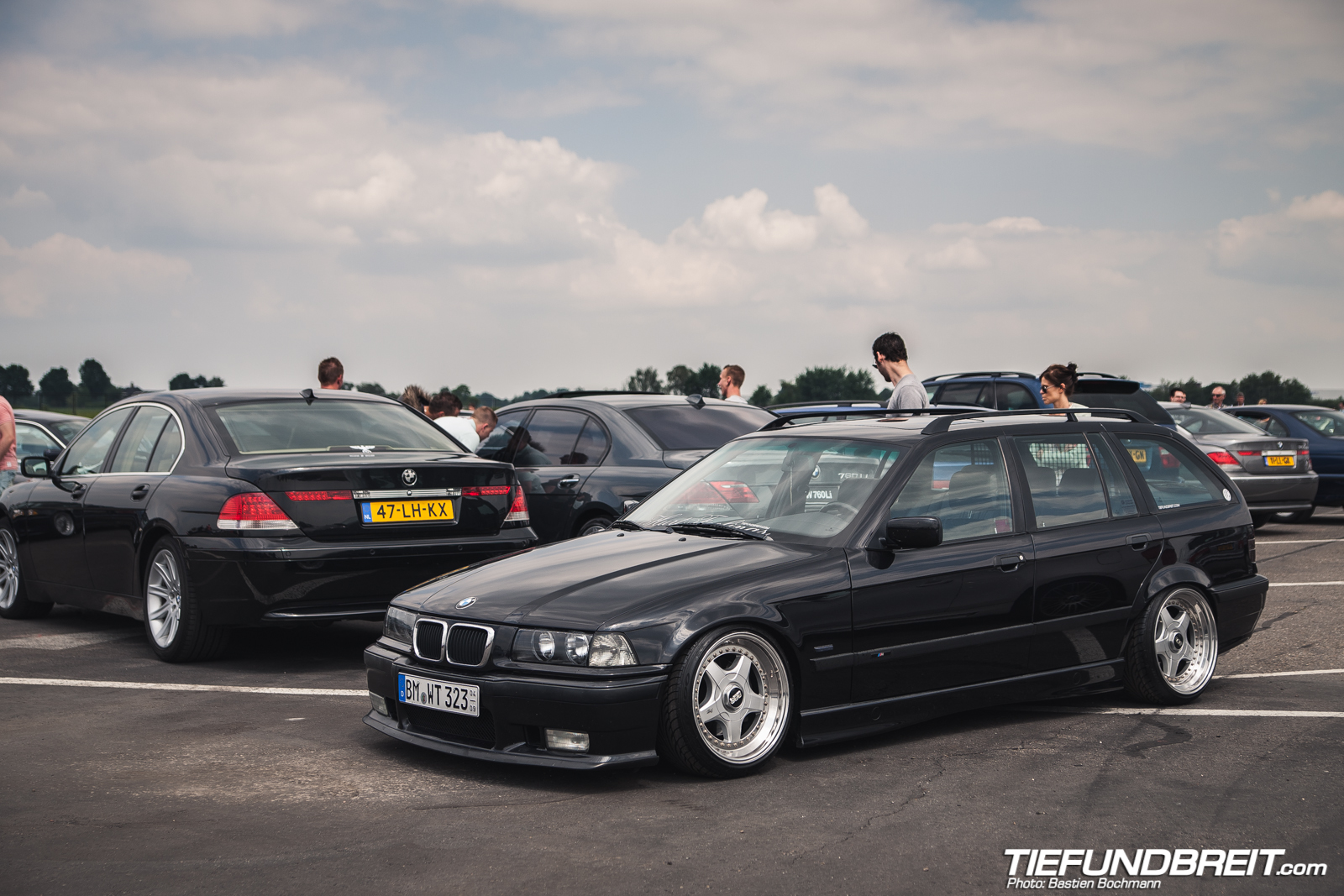 My own Touring back in 2014
Scott had already developed an interest in photography himself and since Alex was located near him in Scotland, he decided to shoot his Touring. That's when it happened – Scott fell in love with the E36 Touring. When he realized he could actually afford to insure one, the hunt was on!
Scott quickly sold off his Minis and started the hunt for a Touring. In January 2013 he finally got lucky and found a decent enough example. It was a bone stock 323i that needed some work here and there. Scott wasn't too bothered about it needing some work as he was working part-time at a bodyshop just down the road back then and he did want to change things up, after all.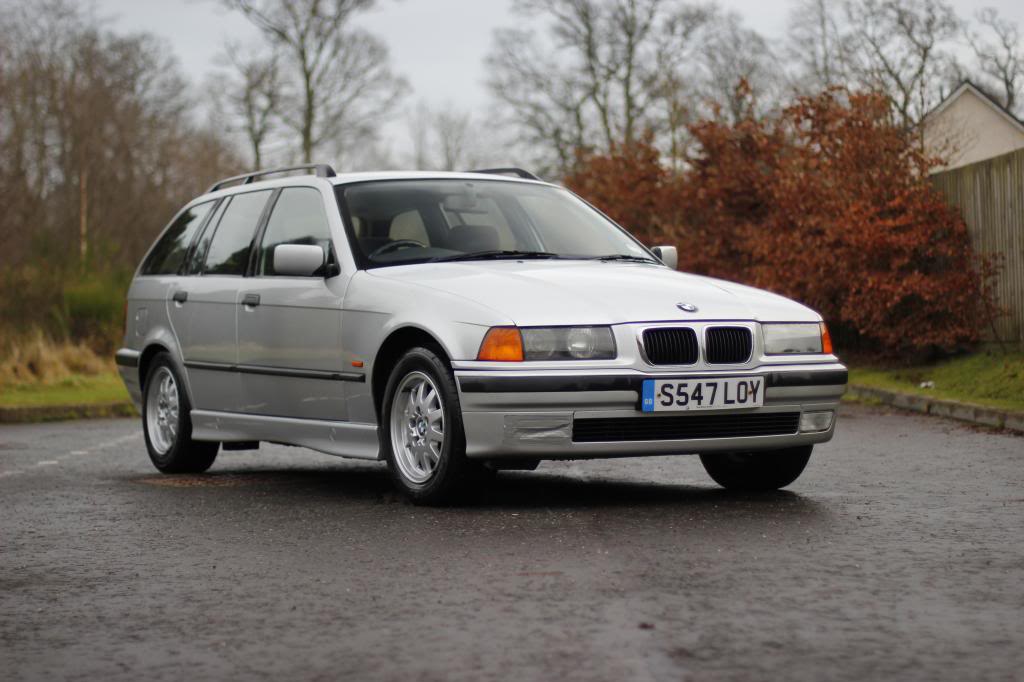 Scott's Touring when he first got it / Photo: Scott Paterson
The car quickly received a once over with some rust removal, M-bumpers and a partial respray. Scott soon found his first set of wheels for the car – staggered Style 32s in 8 and 9 x 17 along with a set of FK coilovers. In this state, the car has actually been featured once before on Tief & Breit, back when Scott provided us with some features from the UK.
We kept on messaging through the Forums and Facebook and quickly became friends. Back in 2014, Scott and I met for the first time. We went to Gatebil in Norway together and Scott flew over to Germany and stayed with me for a few days. My Touring was broken down when he was here, but he wanted to see it nonetheless because, in his own words 'it's been one of the main inspirations behind my own Touring, along with some others from Germany, Belgium and the Netherlands because they were all so OEM yet looked absolutely great over a set of nice wheels'. I still remember his reaction – eyes bright, a massive smile on his face. I felt very humbled that my car had such an impact on someone a few hundred miles away. I couldn't even relate to how Scott must've felt back then. Today I can relate more than ever, though.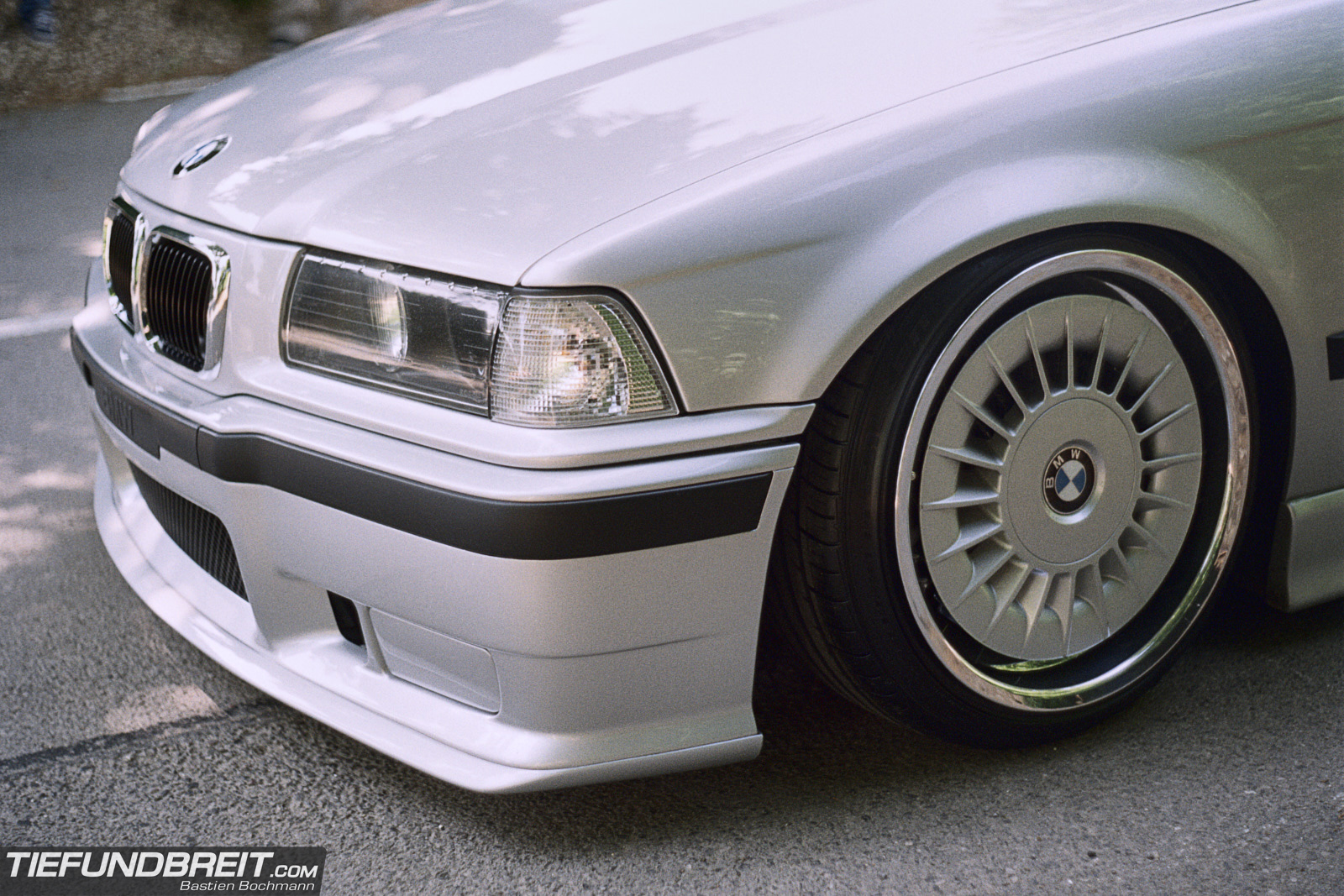 Scott had bought some parts (that will soon be fitted to the Touring!) here in Germany that I had picked up earlier this year for him. We worked out that I'd be bringing the parts over and meet up at Retro Rides Weekender (coverage of which will be coming soon!). I didn't have any idea that Scott would be bringing the silver Touring, though! Up until we were on the ferry, I was under the impression that he'd be bringing his daily 318i. When he received his message that he and the RollHard guys had arrived at Goodwood and he just sent along a picture of the silver Touring, i may or may not have screamed like a fangirl. You may ask if that's true, but I won't confirm either way.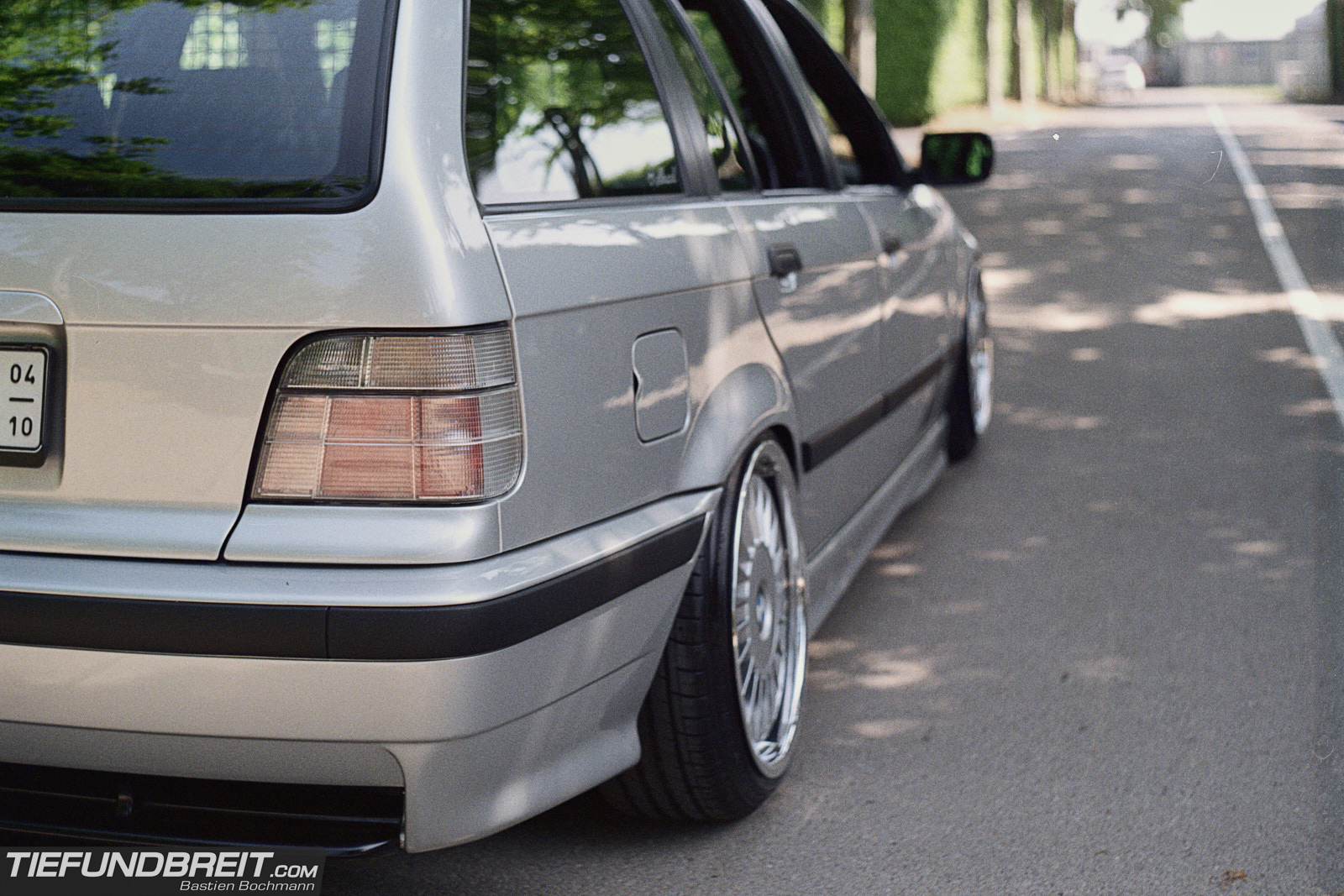 When we arrived at Goodwood and I finally laid eyes upon Scott's car, I was speechless. I had followed his build over the years and knew the car looked amazing, but I honestly wasn't prepared for it to be literally the cleanest and sexiest Touring I've ever seen. Over the years, Scott's car has evolved into something truly special. He swapped out the old FK coilovers a while ago for a set of custom BC Racing ones and all the while kept improving things in the interior. The car now has a genuine black Sports Leather setup with a lot of the BMW Individual extended leather pieces like the center console, glove box and even the bolstered door cards. On the outside, Scott fitted white MHW tail lights which made me think of a mirror image of my own – which was black with black MHW tails.
The most obvious change however have to be the wheels – Scott has spent the last few years perfecting the wheelsetup and the fitment now is incredible. A few years back he already sourced a set of staggered BMW M-System wheels – the modular wheels from the E34 M5. These came with two different wheel covers, the so called throwing stars which are a direction five-spoke twist wheel and the ones you see here, commonly referred to as turbines. A bit of searching and Scott managed to create a squared 9×17 set that sits absolutely perfect under the arches today.
When I parted out my Touring, Scott was always telling me what an Idiot I am for doing it. Seeing, experiencing and even driving his Touring in the flesh made me realize he was absolutely right. It was with a tear in one eye and a smile in the other that I spotted my old plates that I sent over to Scott when he requested them to 'hang in his garage' – yeah, right! I bet he just wanted to make me sentimental.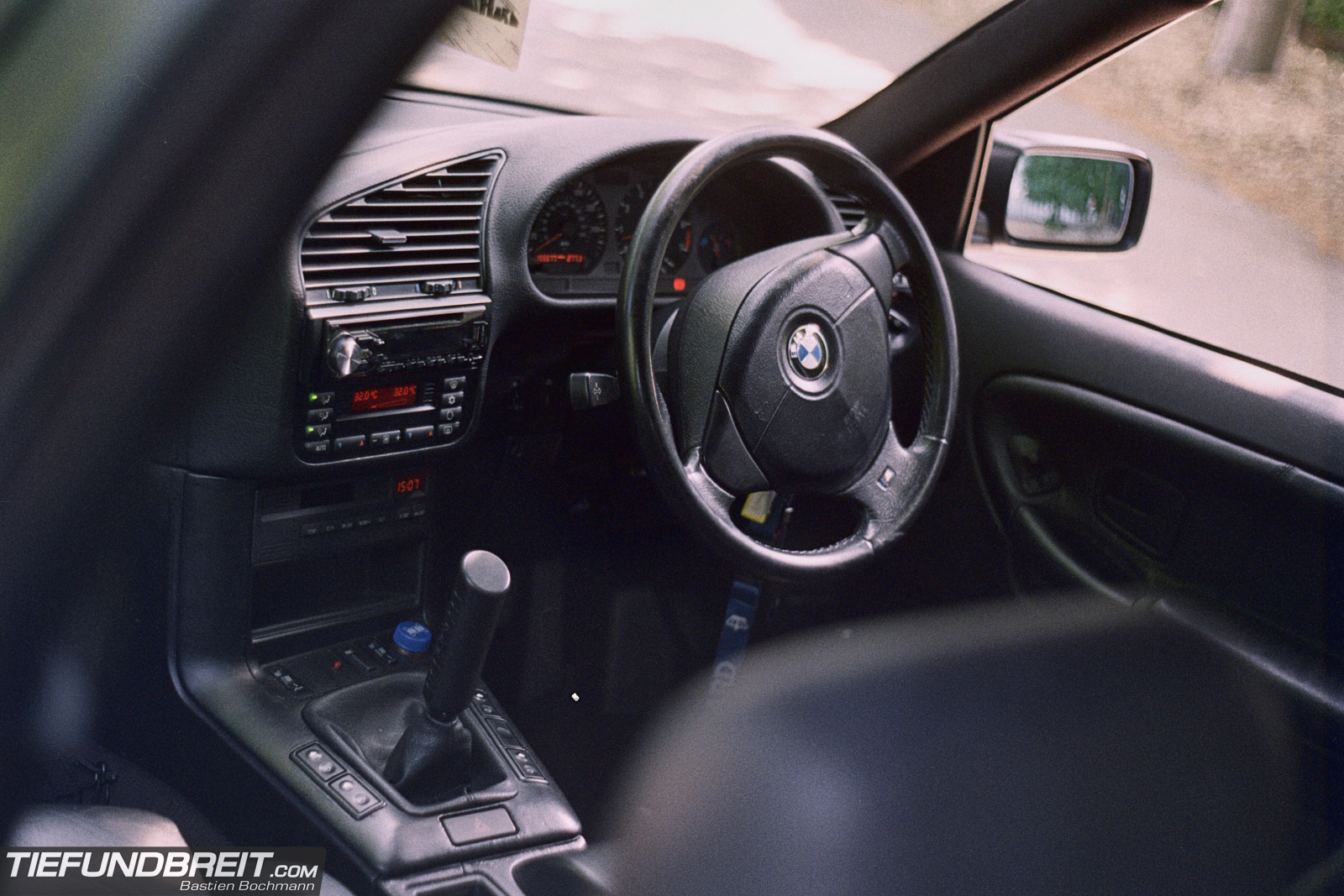 I thought I was done with E36s. I thought they didn't interest me anymore. However, it's now two weeks since I've seen Scott's Touring and I still can't get it out of my head. When I laid eyes on it, I knew I had to shoot it. I actually shot it twice – once on digital for a feature up on Stanceworks. But for my own blog, I wanted to shoot it on film, since it feels so much more personal. So I went and filled some Kodak film with Scott's beautiful Touring.
Here's to you, Scott. I am honored to call you my friend and I may or may not hate you for makine me want another Touring. You've made me proud, man. Your car is everything I ever hoped it would be. Don't you ever make the same mistake I did – you can't imagine how much regret I am feeling right now. And it's all thanks to these stupid cars – today, I call Scott one of my best friends and it wouldn't have happened without cars. I had actually lost a bit of passion for the car scene and such, but meeting up with Scott and seeing his car which I've been following for the past 5 years through the 'net, has definitely reignited that passion within me. Cars are fucking awesome. Thank you.
And to all our other readers – stay tuned for some more coverage coming from our mad weekend at Retro Rides. We've got a lot more stuff to show you! Obviously the show itself. A vintage race-car inspired BMW 2002ti from Germany. And a diesel-powered Dodge Charger. Keep up with us either through the blog, Facebook or Instagram (@tiefundbreit)!